Jens Jensen Preserve, also known as Deer Grove East, is a popular forest preserve for hikers, joggers, and bird watchers alike – it is truly a place where plants, wildlife, and people can thrive.
Deer Grove West is the inaugural piece of land that was acquired by the Forest Preserves of Cook County nearly 100 years ago. Since then, it has served as an oasis for a wide array of species native to our region.
Openlands has formed various partnerships under the O'Hare Modernization Program to play an integral role in the restoration of these preserves.
A Model of Smart Restoration

The restoration of Deer Grove East has proven to be an extremely successful model. It now serves as not only an industry model, but the restoration is also of such a high quality that portions of the preserve have been enrolled in the Illinois Nature Preserve system, offering additional protections for the site in perpetuity.
Openlands and Stantec Consulting Services have worked together since 2008 to both restore Deer Grove East and to study the environmental and economic benefits of the project. The vibrant wildflowers and bird calls make it easy to understand the connection between the restoration of natural areas and an improvement in the appearance of the site. It's a bit harder to see the other benefits, like economic growth and water management that result from restoration.
The revitalization of Deer Grove East has not only contributed to the local economy in the short-term, but it's also expected to yield long-term economic gains from increased visitation, outdoor recreation, and ecosystem services. For example, the restoration will help nearby communities avoid flooding, which will also lead to economic benefits down the road. Deer Grove East has become an important model for the restoration of forest preserves around the county. Look through the entire report linked at the bottom of this page or read about the major findings below.
Major Findings
Following restoration, Deer Grove East attained a 94.7 native floristic quality index, an exceptional score that measures the diversity and type of native plants, making the site an industry model. 
Over 1,400 acres of invasive species were replaced with wetlands and natural landscapes.
The sites at Deer Grove East can now absorb 110 million more gallons of stormwater each year due to deep-rooted prairie plants and revitalized wetlands.
Deer Grove East and its recreational offerings provide an estimated $14 million per year to local economies.
Although the forest preserves are free, residents' willingness to pay for the recreational experiences increased from $19.37 to $27.52 post- restoration.
In the short-term, the local economy has gained $10.6 million from the restoration, which is twice the associated cost of $5.3 million.
Long-term returns of 6:1 are projected over the next 20 years due to better recreational experiences and the improved quality of water and other natural resources. Together, these improvements will convey long-term benefits of $33.5 million.
Combining the long-term and short-term returns, the benefits of restoring Deer Grove East will exceed $44 million.
Using Deer Grove East as a model, if we restore just one-third of Cook County's forest preserves, it would generate more than $7 billion.
Deer Grove East Economic Valuation Report
Revitalizing Native Ecosystems at Deer Grove East

Looking around the wide-open prairies, woodlands, wetlands, and oak savannas at Deer Grove, it's hard to imagine that it was ever overgrown with invasive species that prevented native plants and animals from thriving in the area. If you visited the site a decade ago, you would barely be able to see through the shrubs that surround the preserve, creating a dark and dismal wooded trail. Many of the wetlands in the preserve were dried up and the now-expansive prairies were once used for decades as farmland. Before restoration, the woodlands were a jumble of different species, planted without much thought to their ecological impact. The woods were being suffocated by buckthorn and other invasive species, causing the younger, native trees to die due to a lack of sunlight.
To offset the effects of an expansion at O'Hare, Openlands received funding from the O'Hare Modernization Mitigation Account (OMMA) in 2008 to restore wetlands at five different sites in the Des Plaines River Valley. In 2008, Openlands partnered with the Forest Preserves of Cook County, City of Chicago Department of Aviation, and the U.S. Army Corps of Engineers to begin the savanna, prairie and wetland restoration efforts on the eastern half of Deer Grove. In 2015, we announced that Deer Grove West would also receive significant restoration – just in time for the Forest Preserves of Cook County's 100th Anniversary. We are currently implementing a restoration plan to heal natural processes to this preserve to support more than 300 species of native woodland plants, as well as a wide variety of birds, reptiles, amphibians, and mammals.
With our partners and many volunteers, we've successfully restored the rare, native ecosystems found in Deer Grove East, creating a beautiful and conservation-friendly preserve for visitors to enjoy.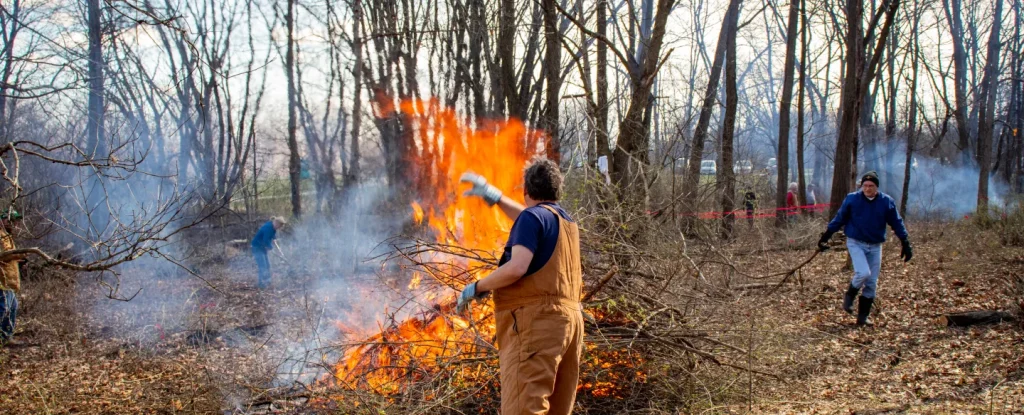 To restore the rare ecosystems found at Deer Grove East, Openlands relied on both a team of dedicated volunteers and professional contractors.
Until the Forest Preserves of Cook County purchased Deer Grove East in 1939, the prairies and wetlands were being used as farmland. This meant that farmers placed drain tiles underground to prevent the land from getting too wet, which allows for planting to begin earlier in the year. However, these drain tiles also lead to natural wetlands drying up and no longer being able to flourish. Even after the Forest Preserves of Cook County acquired Deer Grove East, the drain tiles were not removed, which meant that even though the land was no longer being used for agriculture, it still was unable to return its natural state. Openlands worked with professionals to locate the drain tiles and remove them from the area to allow water to flow naturally and return to the land.  
In the woodland areas, the first major step was determining which trees should stay and which should be cleared, as well as getting rid of the invasive buckthorn that was choking the woods. Many of the trees had been planted in the area without much thought about whether they belonged there and made it harder for the natural oak savanna ecosystem to thrive. With the help of prescribed burns, the clearing of invasive species, and the planting of native species, Openlands was able to restore the oak savanna­ – open canopy oak woodland with lots of low- and mid-growth prairie plants between the trees. While the main portion of restoration is complete, volunteers still help Openlands and the Forest Preserves maintain the land. The Weed Scouts, a part of the Deer Grove Natural Areas Volunteers, patrol the trails looking for and removing weeds or other invasive species that have sprouted up among the native plants.
Following restoration, Deer Grove East is now home to 389 different native plant and animal species and is a great place to spot birds like sandhill cranes, Henslow sparrows, red-headed woodpeckers, and bobolinks. Other animals, like blue-spotted salamanders, chorus frogs, and spring peepers also make their home around the preserve.
While Deer Grove East is an important space for wildlife, it also is representative of three of Illinois' scarcest habitats: prairie, wetlands, and oak savannas. Since Europeans first settled in the area, native habitats around the state have been severely depleted. Over the past 200 years, Illinois has lost 90 percent of its wetland habitats, 99.9 percent of its high-quality prairie, and the vast majority of its midwestern oak savanna. These habitats are essential to protect because they provide beautiful recreation areas for the community, and provide a safe home to native plants and animals.
Not only is Deer Grove East a beautiful place to spend time, but it also acts as an industry model for successful restoration.