If you've been outside to a natural area of pretty much any size in Illinois, chances are you've seen it: walls of a shrubby plant completely blocking off trees, plants, and flowers and overrunning woodland areas. This is common buckthorn and it's our region's most destructive invasive plant.
Common buckthorn is not a species native to the Midwest. It was first brought to North America by European settlers to use as hedging material. While they quickly realized it spread rampantly, it was too late, and buckthorn was unleashed on the land.
Buckthorn forms its leaves early in the spring and keeps them late into the fall, creating dense layer of shade that helps it out-compete native plants. It can be so prevalent in woodlands and forests that it will completely replace existing understory plants, like native wildflowers. It exudes a chemical that harms frogs and toads, it wipes out beneficial soil life, and it leads to erosion.
Buckthorn is a major problem and it has spread to far too many gardens and yards, so it should be removed wherever possible. So let's get started with some tips.
---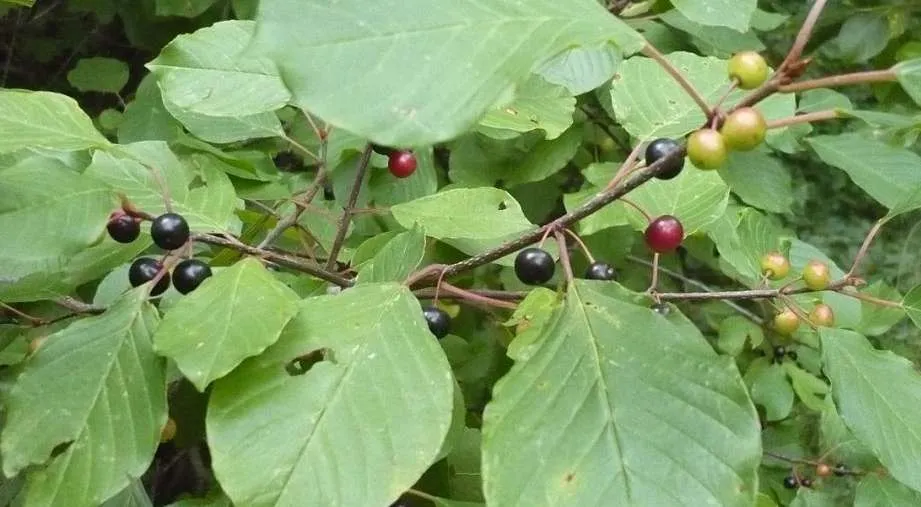 Making the Right Identification
Buckthorn is easily identifiable, especially later in the fall, as its leaves stay green after most trees have lost their leaves for the season. Buckthorn's simple leaves are elliptical in shape, about three inches long, and have veins that curve toward the tip.
Twigs often have thorny projections toward the tips, hence the common name. Cut buckthorn branches reveal the species' yellow sapwood and orange heartwood, which is a useful way to confirm its identification.
Buckthorn's habit varies from a small tree to 25 feet in height, to a shorter, broader shrub. It often grows in thick stands in the understory, crowding out other species and thus diminishing area diversity. It is very shade-tolerant, which also helps buckthorn out-compete native shrubs and tree saplings. Buckthorn also readily re-sprouts when cut, making it difficult to remove. Birds will the dark fruit, which contributes to its pervasiveness.
Many desirable native shrubs can be confused with buckthorn including American plum, black chokeberry, hawthorn and nannyberry. The easiest time of year for identification is late autumn, when native shrubs have lost their leaves but buckthorn remains full of green leaves.
Photo: Gary Fewless via Wisconsin Wetlands Association
---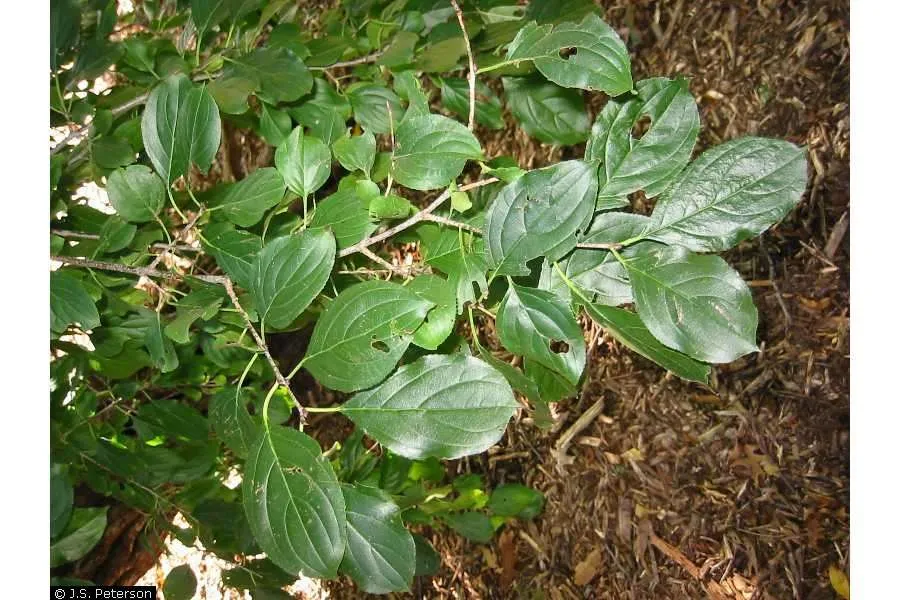 Removing Buckthorn Properly
Take a moment to size up your population of buckthorn on your property: where is its heart and in which direction is it spreading? It's usually helpful to work from the least-infested area toward the most-infested area, but if you're protecting a high-quality area, such as a stand of oak trees, work from there outward.
Hand-pull small plants when soil is damp. An advantage of hand-pulling is that it removes the roots, which reduces resprouting. Use a Pullerbear, Extractigator or similar tool for stems up to 2 inches. Cut larger stems and trunks with a loppers, hand
saw or, when necessary, chainsaw. You'll want to protect your body with goggles, thick gloves, sturdy boots, etc.
Herbicide immediately and very carefully after cutting. Choose the right herbicide for the setting and time of year, and follow all label instructions. Apply carefully to the stump with a disposable paint brush. With large infestations, adding a dye to the herbicide will help you keep track of which stems were treated. And if you do use herbicides, don't let it touch any plants you want to keep.
Be sure you have a plan for disposing of the waste, too, whether that's burning or chipping. In general, it is best to leave noxious weeds like buckthorn on-site. Even dead plants can spread seeds. If chipping or burning aren't an option, contact yard waste facilities to see if they accept noxious weeds.
One last tip: talk to your neighbors. For one, you may want to mention why you're cutting brush, and chances are they'll have buckthorn on their property too. If all the neighbors are removing it from their property, everyone has a better chance of success. Plus, you can team-up on neighborhood workdays and many hands will make light work.
---
Planting an Alternative
It's understandable that you may want to keep a sense a privacy around your home. Luckily, there are several native species you can plant that will provide similar aesthetic features and provide brilliant fall colors while giving a better home to birds and wildlife.
We recommend the following buckthorn alternatives:
Hazelnut or filbert (Corylus americana)
Spicebush (Lindera benzion)
Ninebark (Physocarpus opulifolius)
Nannyberry viburnum (Viburnum lentago)
Blackhaw viburnum (Viburnum prunifolium)
Photos via Possibility Place Nursery and John Raithel
---
Getting the Help You Need
This might sound like a lot of work. In some cases, it certainly can be, but you're making an important commitment to nature and the environment. To keep big jobs from overwhelming you, simply draw an imaginary "line in the sand," and pledge to remove any buckthorn that crosses the line. Another option is waiting until winter when plants are dormant and soils are frozen. This will keep you from trampling any flowers or plant life you do want on your property.
If you're unsure what you're looking at, Openlands can help. Through the Lands in Harmony program, you can spend a hour walking your land with one of our expert ecologists who will help identify the natural features on your property, assess tactics for controlling invasives like buckthorn, and recommend ways to implement conservation-friendly practices. Learn more about the program and sign up now for a free property consultation.