Just an hour's drive from the heart of Chicago, Illinois Beach State Park is home to six and a half miles of pristine Lake Michigan shoreline. This 4,160-acre, two-unit natural area offers abundant and scenic recreational opportunities, with hiking and biking trails replete with wildlife, access to Illinois' largest marina, swimming beaches, picnic shelters, and campsites. With expansive dunes and swales, marshes, prairie, and black oak forests, Illinois Beach State Park's diverse ecosystems contain over 650 plant species, shoreline birds, and rich aquatic wildlife.
The park's northern unit is a dedicated Illinois Nature Preserve, and offers lengthy biking and hiking trails, fishing at Sand Pond, and public access to Lake Michigan via North Point Marina. The southern unit contains extensive camping and picnic areas, nature trails along mixed wetlands and dunes, and a scenic overlook along the Dead River, a perfect spot for birding.
The Lake Michigan dunes area was originally part of the "Three Fires" of the Algonquin Nation. In 1836, the area was incorporated into Lake County as the result of a treaty with local indigenous peoples. Preservation efforts have been in place since 1888, with southern unit established in 1964 as the first Illinois Nature Preserve. Nature Preserves like Illinois Beach represent the highest quality habitat in Illinois. The northern unit was acquired between 1971 and 1982. For more than 50 years, Openlands has advocated for and helped to protect the shoreline ecosystems of Lake Michigan.
Located across Winthrop Harbor, Zion, and Benton Township, Illinois Beach State Park is owned and operated by the Illinois Department of Natural Resources.
---
Directions
The Illinois Beach State Park Visitor Center is located in the park's southern unit, at 1 Lake Front Dr, Zion, Illinois, 60099.
Exit I-294 at Route 173 and head east to Sheridan Road. Head south on Sheridan Road and continue to Wadsworth Road. Take Wadsworth Road east, and you will be in the southern unit of the park. You can access the northern unit via 17th Street off of Sheridan Road. Ample parking is available at both units.
The park is open during the following times:
January to March: 8am – sunset
April to Memorial Day weekend: sunrise – sunset
Memorial Day weekend to Labor Day weekend: sunrise – 8pm
Labor Day weekend to October: sunrise – sunset
November to December: 8am – sunset
---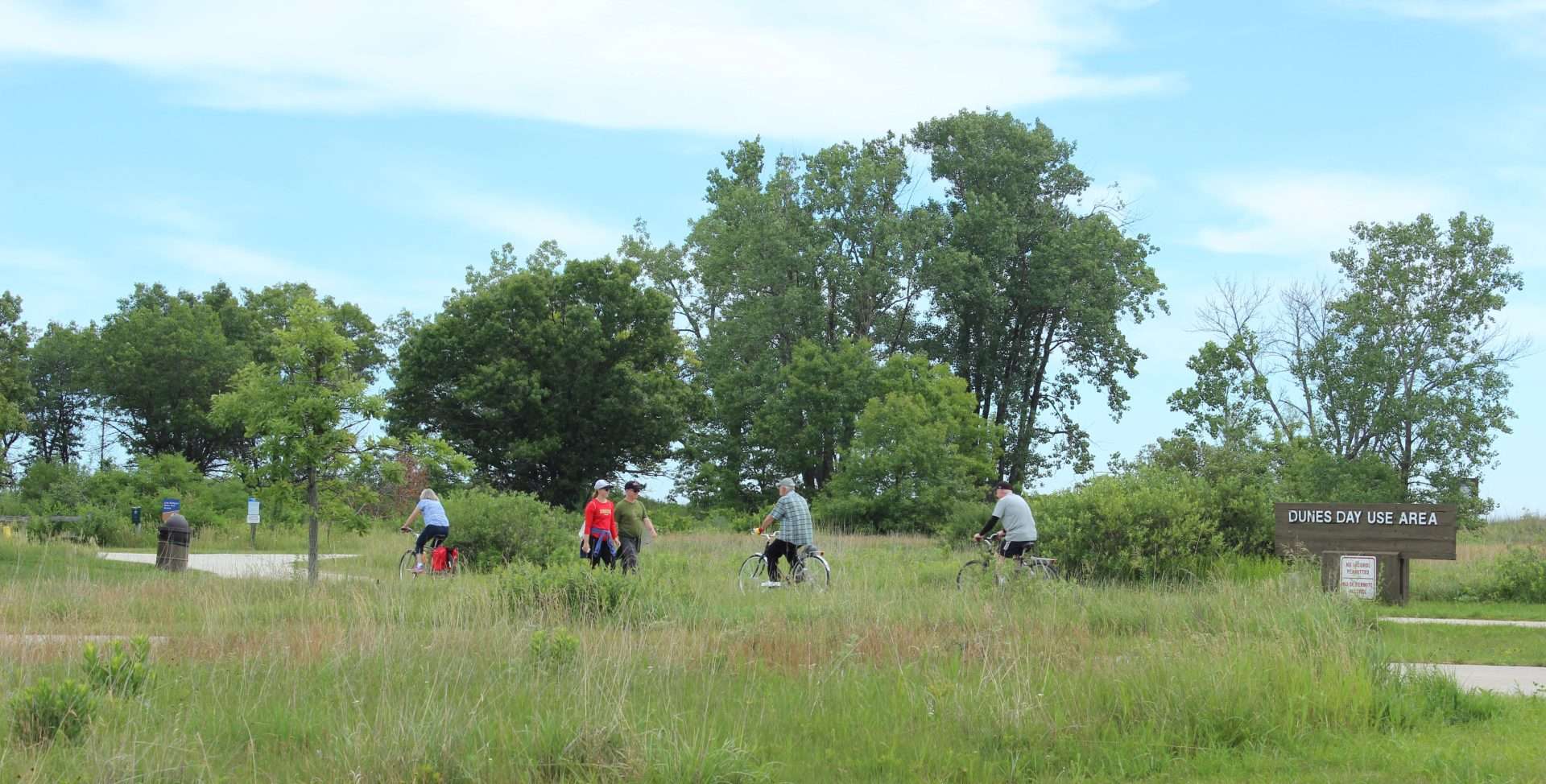 What can you do at Illinois Beach State Park?
Illinois Beach State Park has something for everyone, including beaches, swimming, picnicking, camping, fishing, boating, cross-country skiing, and more!
Visitor Center

: Illinois Beach State Park has one visitor center in the southern unit, which contains restrooms, exhibits, and classroom space.
Swimming

: Both the park's northern and southern units have designated swimming areas in Lake Michigan. There are no on-duty lifeguards, but water conditions are marked in the park each day.
Hiking

: The southern unit hosts five miles of multi-use and nature trails, including Dunes Trail and Dead River Trail. The northern unit contains the 1.8-mile Camp Logan Trail, which is also available for cross-country skiing.
Biking

: There are multi-use trails throughout the northern and southern units for biking, as well as Zion Bike Trail, which connects the two units.
Fishing

: Fishing is allowed along the beach (except in swimming areas) and multiple inland ponds in both units. At Sand Pond, a fishing pier is available. No fishing is allowed in the nature preserve.
Boating

: North Point Marina, managed by the IDNR, is a high-quality facility just adjacent to Illinois Beach State Park, with a protected floating dock system of 1,500 slips and a boat service center. For information about paddling along Lake Michigan, visit our online paddling guide!
Birding

: Multiple parts of the park are perfect for birding, including an outlook along Dead River Trail. Birders can see rare migratory and breeding birds, including Solitary Sandpiper, Willow Flycatchers, Brewer's Blackbirds, and Whip-poor-wills.
---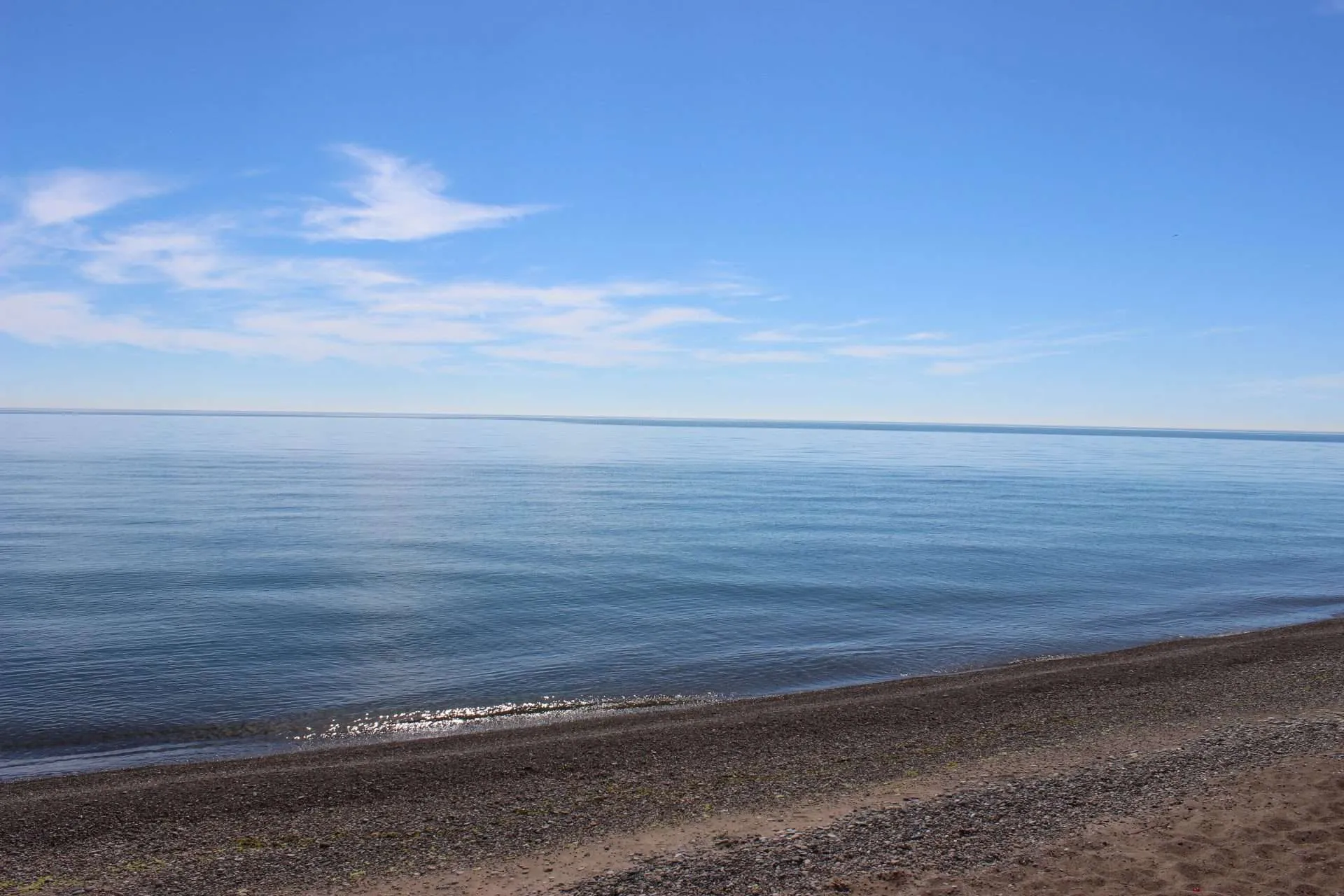 Make a Day or Weekend of It!
Lyons Woods, a 345-acre Lake County Forest Preserve, is just across the road. With 2.5 miles of gravel trails, pine grove, prairie, and oak woodlands, this preserve is perfect for birding and exploring nature.
Greenbelt Forest Preserve and Greenbelt Cultural Center are just a 20 minute drive away from the beach. The preserve has over 5 miles of hiking trails, and a 1 mile self-guided nature trail; the center offers educational programming and festivals regularly.
Explore Waukegan: There are many local attractions to see, including Genesee Theatre, multiple golf courses, a BMX race track, and more!
Glacial Park, one of the top five locations in the region to view migratory birds, is just 30 miles west and offers opportunities to paddle, hike, horseback ride, and more on over 3,400 acres of restored open space.
Discover! Illinois Beach State Park is an excellent way to experience Lake Michigan's shoreline and the diverse ecosystems natural northern Illinois has to offer. If you're a photographer or just an avid Instagramer, bring your camera or phone and share what you find at Illinois Beach State Park! Tag your Instagram posts with #DiscoverYourPlace to be featured on our stream and please share with us the highlights from your adventure.
---
Check out more of our recommendations for getting outside in the Chicago region.