Wandering the trails at Ryerson Woods you may feel as if you're exploring forests far from the Chicago suburbs. This oak woodland is home to some remnants of our region's ecological past and it's a great place to spend the day outside.
Located on the banks of the Des Plaines River in southern Lake County, the Edward L. Ryerson Conservation Area is 565-acre preserve managed by the Lake County Forest Preserves. Ryerson Woods supports some of Illinois' most pristine woodlands and several state threatened and endangered species. Two rare ecosystems — flatwoods and a floodplain forest — can be found here. Much of Ryerson Woods has been protected as an Illinois Nature Preserve.
Ryerson Woods makes a great day-trip for outdoor enthusiasts. The trails are well maintained and the area is pretty flat, so it won't be your most strenuous hike, but there's plenty to enjoy. And part of the beauty of Ryerson comes from its year-round accessibility: the trails are open to cross-country skiing in the winter (when there's at least 4″ of snow) and it's treasure to see in late October as the leaves turn. If you're looking for somewhere new to explore or even if you've been before, make sure it's on your list of places to get outside in our region.
---
[googlemaps https://www.google.com/maps/embed?pb=!1m18!1m12!1m3!1d17216.98761130732!2d-87.91337058678108!3d42.17343928618327!2m3!1f0!2f0!3f0!3m2!1i1024!2i768!4f13.1!3m3!1m2!1s0x880fbe5fb1e9446d%3A0x19b25eaebe90fb20!2sRyerson+Conservation+Area!5e0!3m2!1sen!2sus!4v1542747499486&w=600&h=450]
Directions
Ryerson Woods is located at 21950 N Riverwoods Rd in Deerfield, IL. Exit I-294 at Deerfield Road and then it's a short drive to the northwest. It can also be accessed via the Lake County regional trail system.
---
A Home for Oaks
Ryerson Woods is a great example of the oak woodlands that once covered northern Illinois. Healthy oak trees native to the Chicago region provide food and shelter for a wide array of other plant and animal species. Nine species of oaks once dominated this area, and they're documented to support more than 400 species of birds and butterflies alone. Some warblers time their spring migration to coincide with the oaks' awakening here. But today, it's not easy to find young oaks in yards, parks, or forest preserves. Oak ecosystem protection, therefore, is a high priority for Openlands, the Forest Preserves of Lake County, and the Chicago Region Trees Initiative who are all working to support the health of these woodlands.
---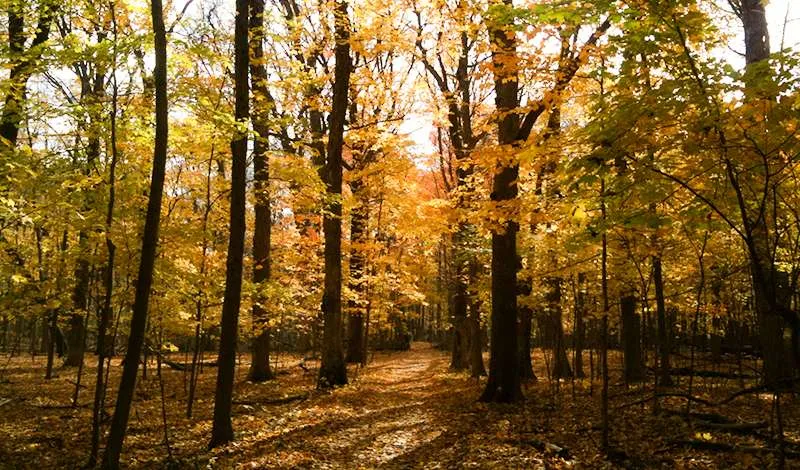 What Can You Do at Ryerson Woods?
Trails

: Ryerson Woods contains over 6.5 miles of trails that are open for walking and hiking, and you can easily pick a route depending on how far you want to explore. For example, a nice short loop circles the woodlands and prairie near the Brushwood Center, if you only have a few minutes for a quiet walk. View a full trail map.
Brushwood Center

: Nestled in the midst of Ryerson Woods is the Brushwood Center. Brushwood Center at Ryerson Woods promotes the importance of nature for nurturing personal and community wellbeing, cultivating creativity, and inspiring learning. They offer some interpretative nature programs, programs for kids, and art exhibitions. Learn more.
History

: In addition to the ecological history that you'll find at Ryerson, you can also explore some of the area's human history. The Brushwood Center, a small farm, and some cabins recall European settlement of the area.
Volunteer

: Grab some work gloves and join other volunteers to save Lake County's natural areas. Workdays are a great opportunity to spend time outdoors, make new friends who share a concern for the preserves and make a meaningful contribution. Be sure to check the Forest Preserves' calendar for volunteering opportunities at Ryerson Woods. Learn more.
Photography

: As you wander through oak forests, and across trails and riverbeds, you'll find some excellent views and perspectives on this storied landscape. If you're a photographer or just an avid Instagrammer, bring your camera or phone and share what you find! Tag your Instagram posts with #DiscoverYourPlace to be featured on our stream and please share with us the highlights from your adventure.
---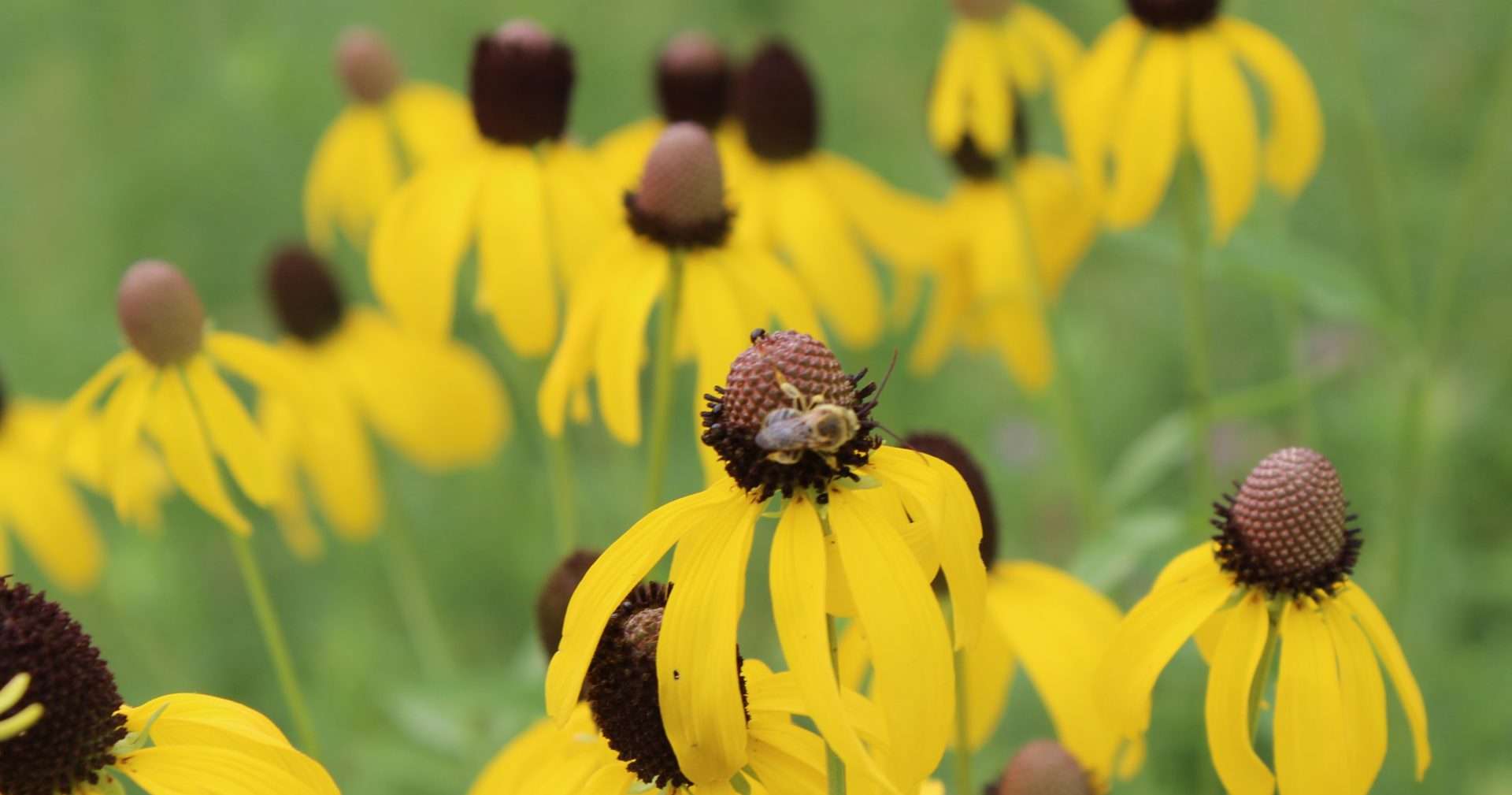 Make a Day of It!
Consider some of these nearby natural areas to make an entire day of your trip to Lake County.
The Openlands Lakeshore Preserve: At the Openlands Lakeshore Preserve, explore some of the region's most stunning nature. Located in Highland Park, Illinois, just 25 miles north of Chicago, the Preserve is open year-round free to the public. The Openlands Lakeshore Preserve is a stunningly beautiful place with unique landscapes formed over the centuries by Great Lakes and glaciers. Learn more.
Deer Grove Forest Preserve

: Deer Grove Forest Preserve is a total of 16.1 miles of paved and unpaved trails. Peddle or jog though the vast open prairie and savanna and take in the sea of colorful native flowers as you go along. Honestly, Deer Grove is such a great place that it probably merits its own day trip to the area. Learn more.
Des Plaines River Trail

: The Des Plaines River begins in Racine County, Wisconsin and flows south through Illinois for about 95 miles. The Forest Preserve Districts in both Cook and Lake counties have worked to protect much of the shores as conserved natural areas, and you can explore the river either on the water or by land. Please keep in mind that if you are paddling the Des Plaines River, you are not permitted to launch or take out at Ryerson Woods. Learn more.
Chicago Botanic Garden

: the nearby Chicago Botanic Garden is a horticulture wonder with plant species from around the world. With 27 spectacular gardens on 385 acres, the Chicago Botanic Garden is a place of ever-changing beauty that you can stroll through daily. Learn more.
Cuba Marsh

: Just around the corner from Ryerson Woods lies Cuba Marsh, home to spectacular wetlands and woodlands worth exploring. Three miles of trails for hiking, bicycling, and cross-country skiing take visitors through open areas of gently rolling hills that feature views of the marsh and scattered groves. Learn more.
---
Openlands has a long history of working in Lake County on significant projects that protect the land and engage people in conservation. These include creating and managing the Openlands Lakeshore Preserve in Fort Sheridan that opened one mile of Lake Michigan shoreline to public access. We have advised on projects including the Route 53 expansion, farmland protection, the Liberty Prairie Reserve, and a successful 2008 referendum allowing the Lake County Forest Preserve District's purchase of 3,000+ acres. Learn more about Openlands' commitment to Lake County, Illinois.
---
Check out more of our recommendations for getting outside in the Chicago region.