Whether you're looking for a nice place to go for a walk, a place to spend the day outside with your entire family, or wanting to step back in time and feel what it's like to wander the prairies, you can find it at the beautiful Deer Grove Forest Preserve.
Located in suburban Palatine and managed by the Forest Preserves of Cook County, Deer Grove Forest Preserve is split into to units, East and West. Deer Grove West is a heavily wooded area and supports over 300 unique species of native woodland plants along with a variety of birds, mammals, reptiles and amphibians. Deer Grove East, pictured above, is home to an open prairie along with shaded savannas. Together they are a jaw-dropping display of what Illinois' landscapes resembled prior to European settlement, and at 1,800 acres, you'll have no trouble finding a spot to enjoy the peace and quiet without the busy bustling of the city.
A paved mixed-use trail wraps around Deer Grove East and some dirt trails meander through the wooded areas. Deer Grove West is home to many more dirt trails winding through the woodlands. Take the time to explore them all, it's worth it, we promise. You can cross between the two on Quentin Rd, which bisects the preserve, but know that it can be a busy street.
Deer Grove is great for a day outside: the trails are relatively flat and there's enough variety in the landscapes that you can easily spend a day there hiking. Picnic areas and restrooms are availabe on-site, and bring plenty of water.
[wpvideo mMWnRMDL]
---
[googlemaps https://www.google.com/maps/embed?pb=!1m18!1m12!1m3!1d5182.417757637639!2d-88.0532492404772!3d42.14166488405399!2m3!1f0!2f0!3f0!3m2!1i1024!2i768!4f13.1!3m3!1m2!1s0x880fa37ed678b585%3A0x64bfbaa66087fd9c!2sDeer+Grove+East!5e1!3m2!1sen!2sus!4v1542820107796&w=600&h=450]
Directions
If traveling by car, exit at Route 53 from I-90/I-290 and travel north to Dundee Road, then head west until you reach Deer Grove. Likewise, from I-94, you can exit at Dundee Road and travel west.
You can also bring your bike on the Metra and take the UP-NW to Palatine, and take a short ride north to Deer Grove.
---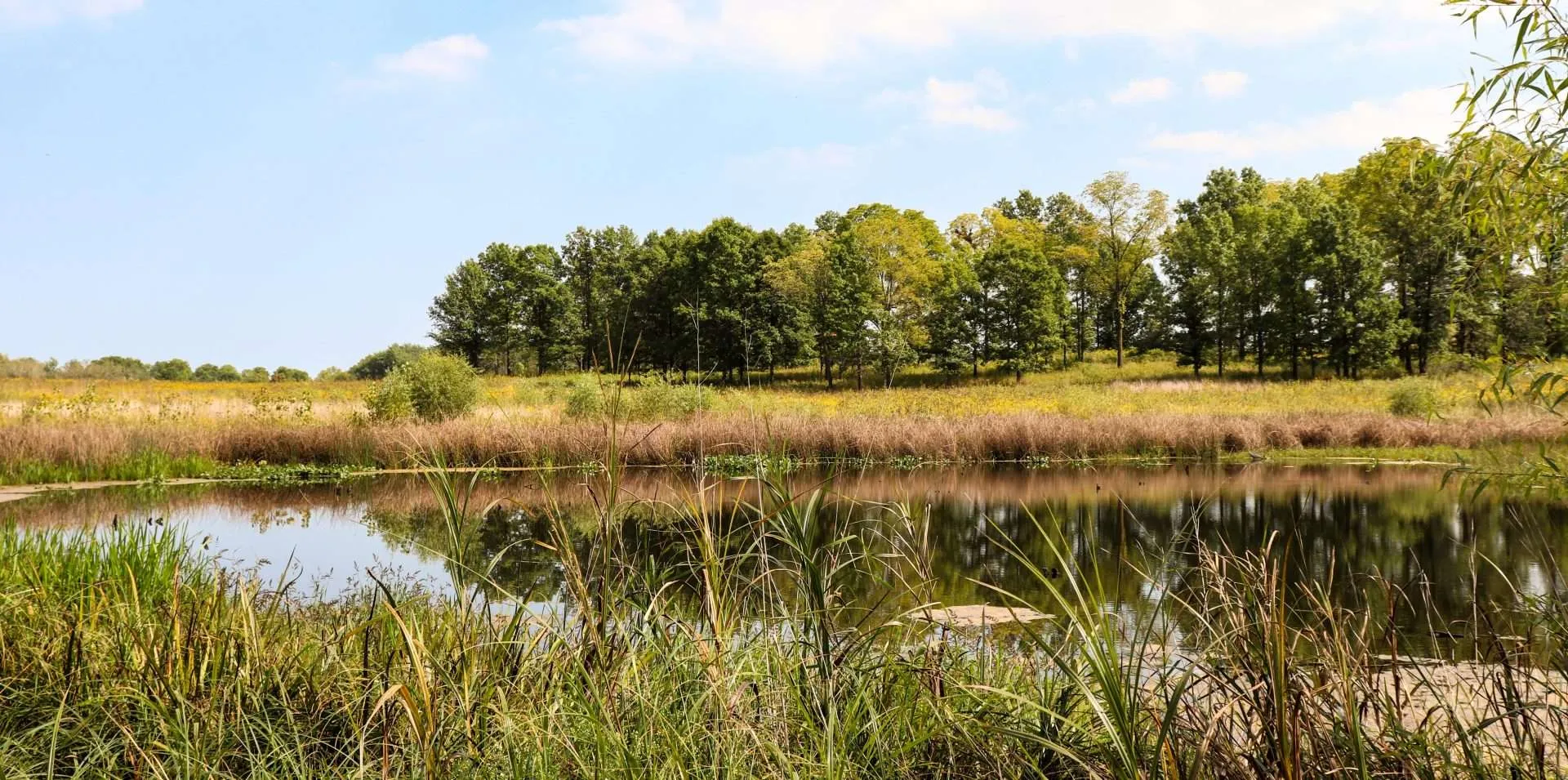 Deer Grove Interpretative Trail
Deer Grove is one of the oldest preserves in the Cook County forest preserve system, and since 2008, the Forest Preserves of Cook County and Openlands have partnered to restore the preserve. Restoration of native ecosystems is a way to both provide habitat for plant and animal species, while also creating open spaces that help bolster local recreation and manage stormwaters naturally. Over 1,400 acres of wetland, prairie, and oak savanna habitats have been restored through the project. In 2017, portions of the forest preserve were enrolled as a land and water reserve in the Illinois Nature Preserve system, providing additional conservation protections and denoting the high-quality ecological restoration.
In 2018, the Forest Preserves of Cook County and Openlands opened a new interpretative trail in Deer Grove East, with elements drawing the visitor's attention to different basic nature themes: land, sky, and water. The four interpretative areas were installed along the forest preserve's 2.8-mile paved trail. They each offer seating and rest areas away from the traffic of the main trail system.
Honestly, we can encourage you six ways from Sunday to explore Deer Grove, but at the end of the day, it sells itself:
---
What can you do at Deer Grove Forest Preserve?
Biking, Hiking, Horseback Riding, and Running: The Deer Grove Trail System is a total of 16.1 miles of paved and unpaved trails. Peddle or jog though the vast open prairie and savanna and take in the sea of colorful native flowers as you go along. You can see a map of the trail system here. The Deer Grove Trail System also links with the Palatine Trail enabling bicycling past the boundaries of the preserve.
Camping: Yes that's right, now you can camp right in Cook County! This is perfect if you're looking for a weekend getaway from the city without going far at all. If you're not a frequent camper, don't fret, you can rent gear so that you don't have to go out and buy camping equipment for just one weekend. The preserves also offer free programs for campers to keep the whole family entertained. Reserve your campsite here. Camping is only available in Deer Grove East.
Birding: Plenty of wetlands, woodlands, and restored prairie make Deer Grove a beautiful habitat for birds. Wake up bright and early and catch them at their most active time near sunrise. Their songs and calls bring the preserve to life as the sun begins to rise. See if you can find the Sandhill crane with its baby this season!
Picnicking: Picnic shelters are available throughout the preserve at most parking areas, as shown on the map. Take a nice shaded lunch break after your activities.
Winter activities: There are still opportunities to get outside in the wintertime when you're vitamin D deprived and suffering from nature withdrawals. The trails at Deer Grove double as cross country ski trails and you can also find a sledding hill near the main parking lot off Quentin Road.
Model Airplanes: Deer Grove East has a field dedicated to flying model airplanes. The field is located off of Dundee Road as shown on the map.
Explore!

Learn about the different prairie plants and grassland birds. If you're a photographer or just an avid Instagramer, bring your camera or phone and share what you find by tagging your photos with #DiscoverYourPlace!
---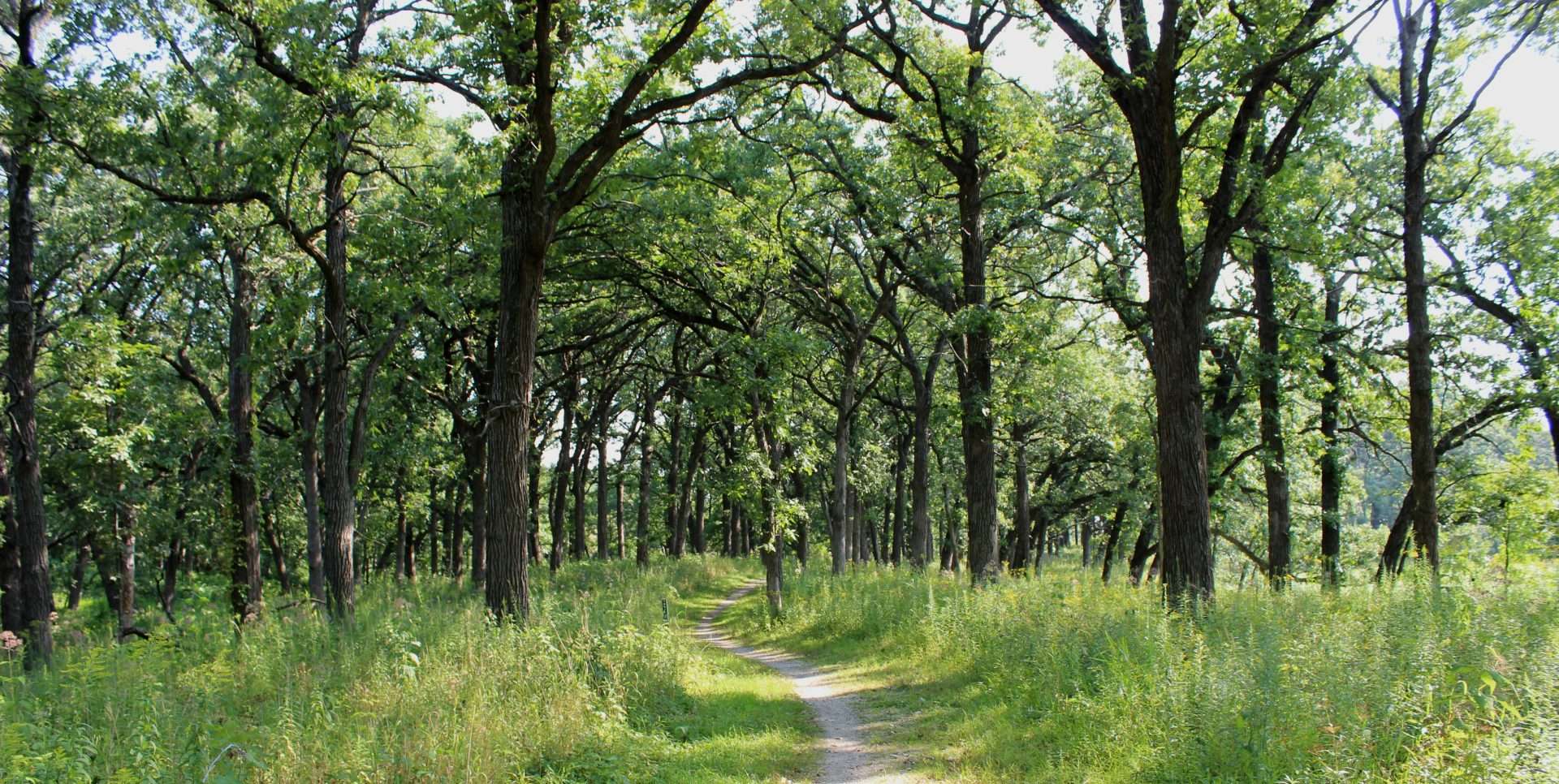 Make a Day of Your Trip
Crabtree Nature Center: So you've decided to camp and the kids are getting cranky, take them to Crabtree Nature Center just 15 minutes away from Deer Grove! It features a huge outdoor play area for kids. Inside the center you can learn about the animals that live there and even see some live turtles and snakes!
Cuba Marsh Forest Preserve

: Just around the corner from Deer Grove Forest Preserve lies Cuba Marsh, home to spectacular wetlands and woodlands worth exploring. Learn more.
Busse Woods

: A short drive to the southeast of Deer Grove is another phenomenal unit of the Cook County Forest Preserves — Busse Woods. It is a great place to enjoy fishing, paddling, birding, and more, as well as the extensive eight mile trail system. Busse Woods is also the start of the Salt Creek Water Trail.
Ryerson Woods

: Just a short drive from Deer Grove, Ryerson Woods' well maintained trail system and ecological treasures make a great day trip for outdoor enthusiasts.
Farmers' Market: Stick with the "au naturel" theme and head over to the Palatine Farmers' Market every Saturday, May-October from 7am-1pm.
---
Deer Grove is truly a wonder to behold, so we cannot encourage you enough to make the trip. We restore landscapes like Deer Grove not just for nature, but also so that people can better enjoy these spectacular treasures. For more information on the restoration at Deer Grove, please contact land@openlands.org.
Check out more of our recommendations for getting outside in the Chicago region.