In the west of Lake County lies one of Illinois' unique natural communities, Volo Bog. Managed by the Illinois Department of Natural Resources, Volo Bog State Natural Area contains a few trails for you to explore including a half-mile interpretative boardwalk and an approximately three-mile trail with views of the tamarck forests. In 1970, Volo Bog was designated as an Illinois Nature Preserve and in 1972 as a National Natural Landmark.
Over 10,000 years ago, during the end of the last Ice Age, a chuck of retreating glacial ice lodged itself deep in the ground at what is now Volo Bog. Several thousand years later the remnant lake began to fill with salt and vegetation, creating the wetlands present today. Volo Bog is technically known as a quaking bog because vegetation floats atop the open water. Yes, all the surrounding plant life and trees in the picture above are floating. Over time, the absence of waves will allow the plant life to slowly expand further onto the water, eventually covering the entire site.
As you explore this natural area, you'll quickly transition between several types of habitats, including tamarack forests, marshlands, and shrublands. If you're a photographer or just an avid Instagrammer, bring your camera or phone and share what you find at Volo Bog! Tag your Instagram posts with #DiscoverYourPlace to be featured on our stream and please share with us the highlights from your adventure.
---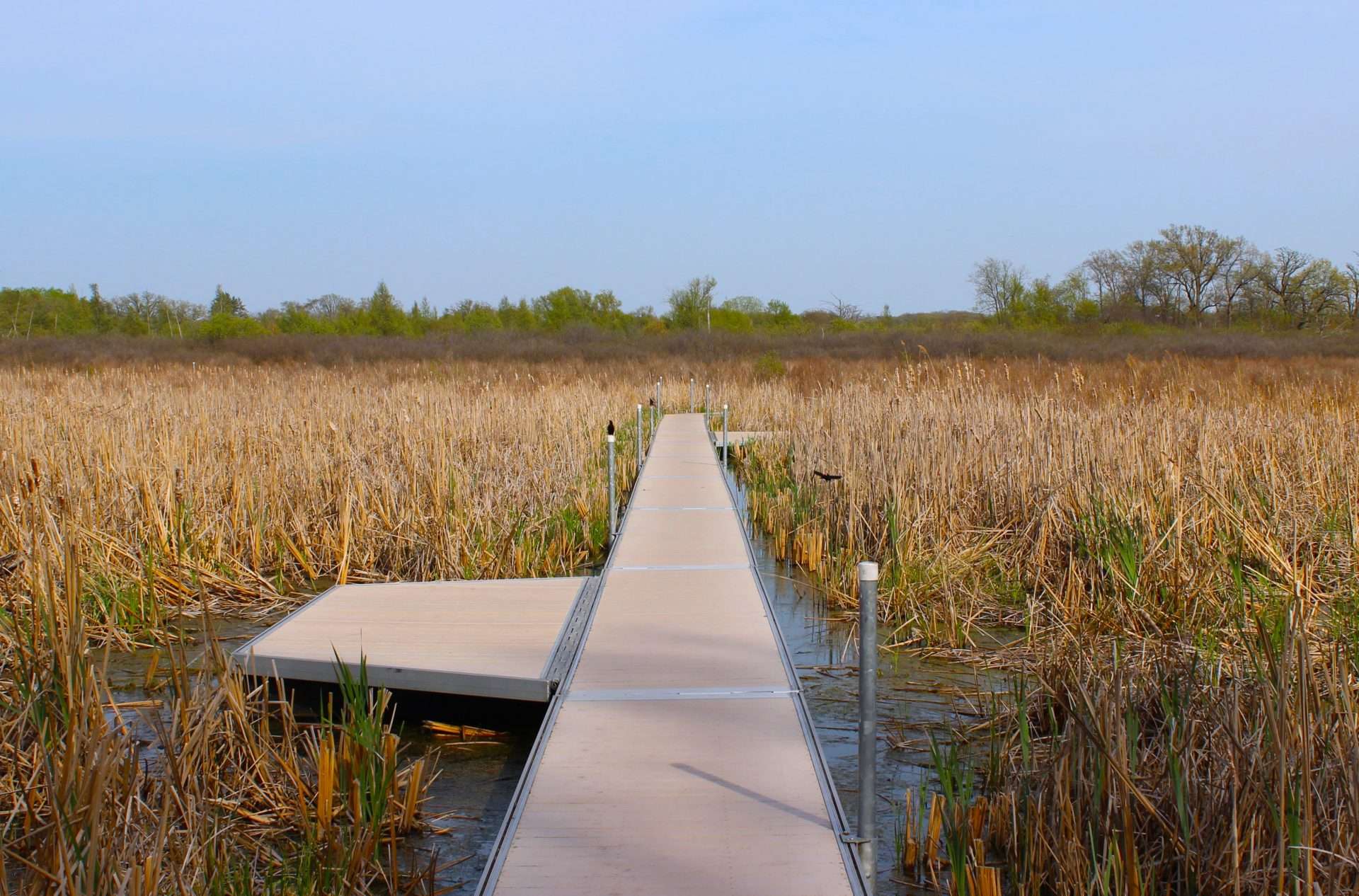 Getting There
Volo Bog is little over an hour's drive from downtown Chicago. There are several road routes across Lake County to reach Volo Bog, and the site is accessible on Brandenburg Road, just north of the intersection of IL-120 and US-12. Be sure to swing by the visitors' center when you arrive to get some more information and you can plan on packing lunch as there are multiple picnic areas at Volo Bog.
Site information via Illinois Department of Natural Resources.
[googlemaps https://www.google.com/maps/embed?pb=!1m18!1m12!1m3!1d19836.029081332013!2d-88.19012301759679!3d42.35012636950789!2m3!1f0!2f0!3f0!3m2!1i1024!2i768!4f13.1!3m3!1m2!1s0x880f77c89aeb19f1%3A0x8ecd1ebed444ce37!2sVolo+Bog!5e0!3m2!1sen!2sus!4v1527876031216&w=600&h=450]
---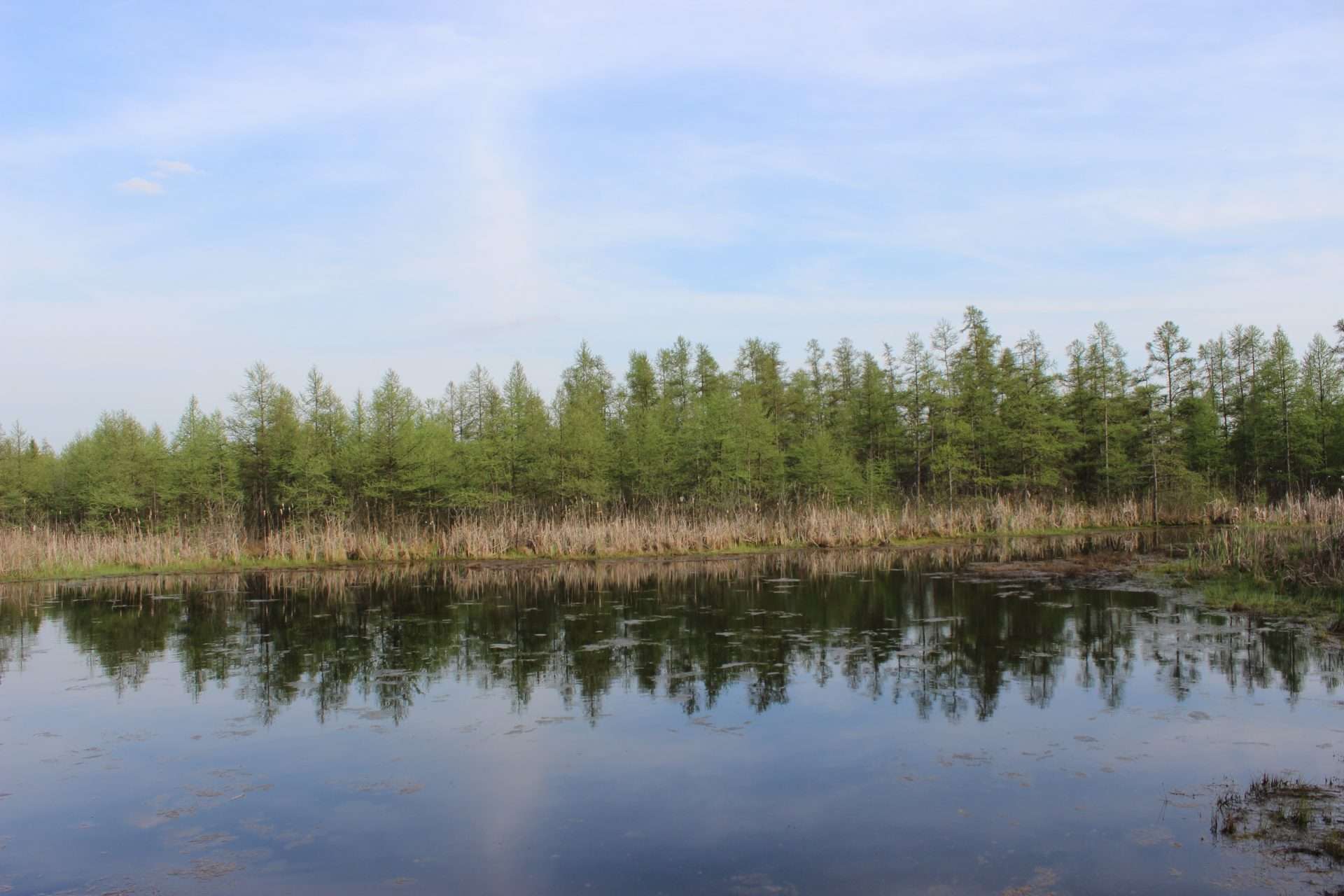 The Eye of Volo Bog
The center of Volo Bog is called the Eye, and it is far more than a simple, ordinary pond. The Eye of Volo Bog is the only remaining open-water quaking bog in Illinois and the southernmost quaking bog in North America to show all the stages of bog succession.
From a birds-eye view, Volo Bog looks like a eye (hence the nickname maybe?), with five distinct layers of vegetation surrounding the 'pupil.' Each of the five rings support different varieties of plants and each marks different durations of time that plants have expanded over the open water. The three inner-most rings, made up herbs and shrubs, are floating on water that's 50 feet deep! Here you'll see plants like white water lilies, water shields, and highbrush blueberries, as well as tamarack and bog birch trees. You may even notice a scent of peat in the air.
As you walk the boardwalk, keep an eye out for the changes in plant life that you pass, and the signage along the way will point out some of the unique features.
---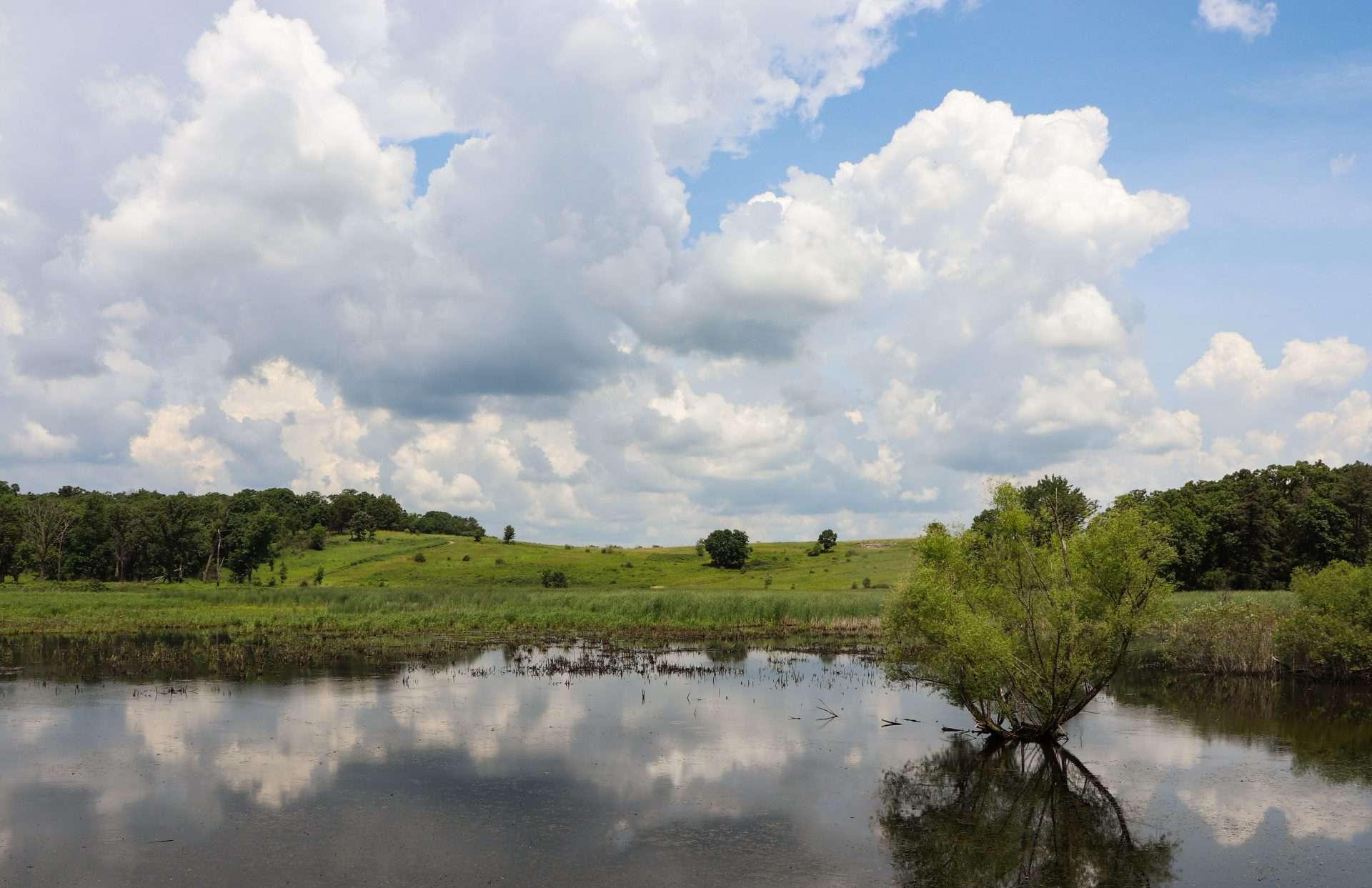 Glacial Park
Make a Day or Weekend of Your Trip
In addition to your visit to Volo Bog, here are a few suggestions to make a full day or weekend of your trip.
Paddle the Fox River Water Trail: The Fox River Water Trail stretches across northeast Illinois from the trail's origin in Chain'O'Lakes. There are several launch points near Johnsburg and McHenry that allow for shorter or longer trips. Learn more…
Visit Glacial Park: Nearby Glacial Park encompasses 3,400 acres of restored open space including prairie, wetlands, oak savanna, and delta kames. Over 400 of these acres are a dedicated nature preserve, and it is home to 40 state-endangered and threatened plant and animal species. Additionally, Glacial Park is ranked as one of the top five locations in the region to view migratory birds. Visitors can enjoy a wide range of activities from horseback riding to hiking to historic site visits. Learn more.
Paddle the Nippersink Creek Water Trail: Winding through Glacial Park and the surrounding communities is the Nippersink Creek Water Trail. Paddling the Nippersink is among the best ways to experience the landscapes of Hackmatack National Wildlife Refuge, and the Nippersink watershed is a major focus for Openlands' restoration at the refuge. Learn more.
Moraine Hills State Park: From hiking and biking, to lush habitats, rare plants and abundant wildlife, Moraine Hills State Park is home to a recreational bounty in northeast Illinois. Located three miles south of the City of McHenry in McHenry County, the park is located near the Fox River and McHenry Dam, with about half of the park's 2,200 acres composed of wetlands and lakes. Learn more.
Visit the City of McHenry: The City of McHenry, situated along the Fox River and 10 miles from the Wisconsin border, is a vibrant community with a charming downtown. Stopping over in the local towns is a great way to show how conservation and eco-tourism can benefit local economies. Learn more.
---
Check out more of our recommendations for getting outside in the Chicago region.
Learn more about Openlands' commitment to Lake County, Illinois.