The following entry was written by Openlands Education Programs Coordinator, John Cawood. In his position, John helps to manage our Birds in my Neighborhood® program.
Want to go on a self-guided bird walk? Here are some tips!
Recently I had the joy of leading a bird walk with fourth grade students in Ms. Coleman's class at Lavizzo Elementary, as a part of Openlands Birds in my Neighborhood Program. Lavizzo is in Chicago's Roseland neighborhood on the south side, just west of Lake Calumet, and there is a high level of bird activity year-round. How do I know? The kids told me! They told me of the sparrows, blue jays, robins, cardinals, hawks, ducks, and geese that they had seen in their neighborhood. They told me that sometimes the birds are building nests, looking for food, singing in the trees, or soaring high in the sky. Then each student researched a bird and told me all about what they had learned.
---
Before we went out on a bird walk around the schoolyard, they also told me what you need to do in order to see birds. Here are their suggestions:
Be quiet, so that you don't scare the birds away. Also, if you are quiet then you might even be able to hear them sing.
Try not to shout when you see a bird; just point so that other people can see the bird too.
Be sneaky. Move slowly and quietly so you don't scare the birds away.
Be observant. Birds could be on the ground, behind a bush, in a tree, or in the sky, so look everywhere!
If you are using binoculars, be very careful with them. Make sure they are focused so that you can see through them clearly.
If the others in your group don't seem to be doing the things you need to do to see birds, quietly remind them. That if they are observant, quiet, and slow moving, everyone has a better chance of seeing more birds.
This is a great list! Ms. Coleman has a lot of smart kids in her class. If you decide to go on a bird walk in your neighborhood, using their list will definitely help you to see more birds.
---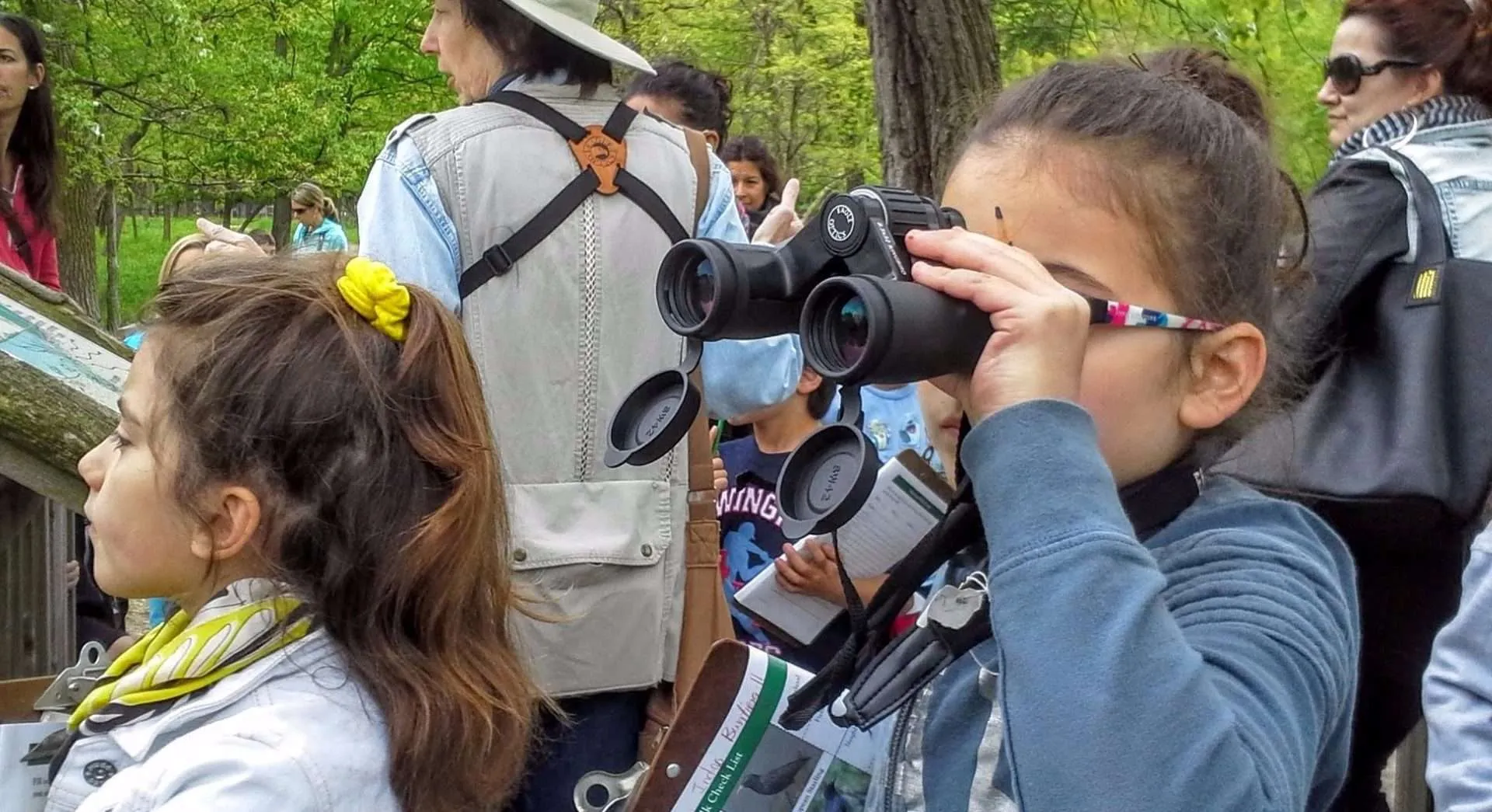 If you are looking for suggestions for binoculars (you don't need binoculars to see birds, but they do help with Rule #4 on the Lavizzo List), Birds in my Neighborhood uses the Leupold BX-1 Yosemite 8×30 model. They cost around $100, and are very sturdy and easy to hold on to. You can also hit Rule #4 by going birding with multiple people. Having a larger group presumably means that there are more eyes looking around for birds, but don't forget Rule #6!
If you need a guide to help you along the way, Forest Preserves of Cook County offer a printable bird ID checklist. Our friends at the Field Museum offer some excellent guides to ID common Chicagoland birds including common sparrows, common winter birds, and common summer birds.
Lastly, don't let these lists intimidate you – one of the best parts of birding is that anyone can do it!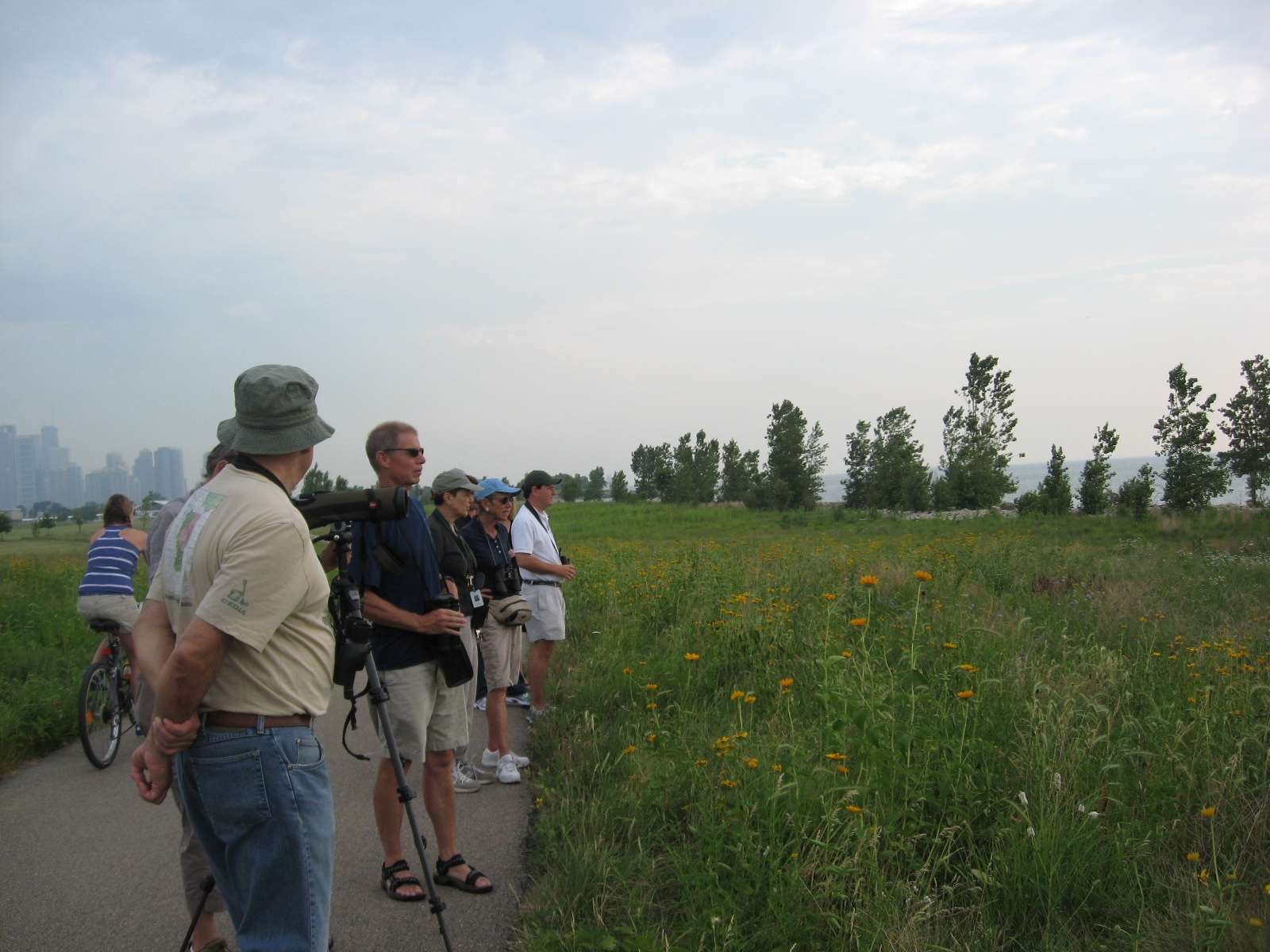 Where to Go
During migratory season in the spring (April-June) and in the fall (September-October), there is no better birding spot in the Chicago area, and arguably the entire Great Lakes region, than Chicago's Montrose Point Bird Sanctuary. If you travel further north, Illinois Beach State Park provides great birding opportunities along Lake Michigan, as well as in its expansive wetlands. Situated along the border of the Mississippi and Atlantic Flyway, the Great Lakes region is immensely important for migratory birds.
Forests, grasslands, wetlands, and open water like at Hackmatack National Wildlife Refuge, Midewin National Tallgrass Prairie, or Deer Grove East are great locations to find birds. But you can even witness an impressive array of birds in a local park or in your neighborhood. Be sure to post the list of everything you see on www.ebird.org, and check out their hotspot map, which shows what everyone else is seeing in your area.
Bird life in the Chicago region is breathtaking at this time of year, so have a wonderful time on your trip – be it in your own neighborhood, at your local park or forest preserve, or at a larger natural area.
Finally, if you're a photographer or avid Instagramer, bring your camera or phone and show the world the birds you spot! Tag your Instagram posts with #DiscoverYourPlace to be featured on Openlands' stream and please share with us the highlights from your adventure.
---
Birds in my Neighborhood is taught by volunteers at Chicago Public Schools that have gardens created through Openlands Building School Gardens program. The goal is to acquaint students and teachers with the common birds in their garden, neighborhood, and city through in-class lessons and field trips. Each student is given a journal as an educational tool with prompts for writing about birds.
For more information, please contact schools@openlands.org.