Just over an hour from the Chicago Loop lies Indiana Dunes National Park (IDNP). IDNP spans over 15,000 total acres, which include 15 miles of pristine Lake Michigan shoreline, and 50 miles of trails. The landscape of this area was shaped over 14,000 years ago by the last great continental glacier, and today includes dunes, oak savannas, swamps, bogs, marshes, prairies, rivers, and forests. The biological diversity within Indiana Dunes is among the highest per unit of any site in the National Parks system. Over 350 species of birds have been observed, 113 of which are considered to be regular nesters, along with more than 1,100 native plant species. In addition to these plant and bird species, Indiana Dunes is home to 46 mammals species, 18 amphibians, 23 different reptiles, 71 species of fish, 60 butterflies, 60 dragonflies/damselflies, and countless other vital species. 
Conservation efforts surrounding the Indiana Dunes and its unique ecosystems date back to 1899. The First World War halted protection due to a shift in national priorities, but in 1926 the site was designated as Indiana Dunes State Park. In 1966, the site was officially authorized as Indiana Dunes National Lakeshore and Openlands played an integral role in this designation. In February 2019, Indiana Dunes was officially "upgraded" to a National Park. Today, extensive conservation work continues at Indiana Dunes in the forms of water quality monitoring, wetlands restoration, invasive species removal, and preventing shoreline erosion.
Indiana Dunes National Park is owned and operated by the National Park Service. Entrance and permit fees apply.
---
Directions 
Indiana Dunes National Park has multiple points of entry, but the Indiana Dunes Visitor Center is located at 1215 North Indiana State Road 49 in Porter, Indiana at the intersection of I-94 and Indiana Route 49.  Standard park hours are daily from sunrise to sunset, and winter hours are daily from 8:30am to 4:30pm. The park is closed on all major holidays.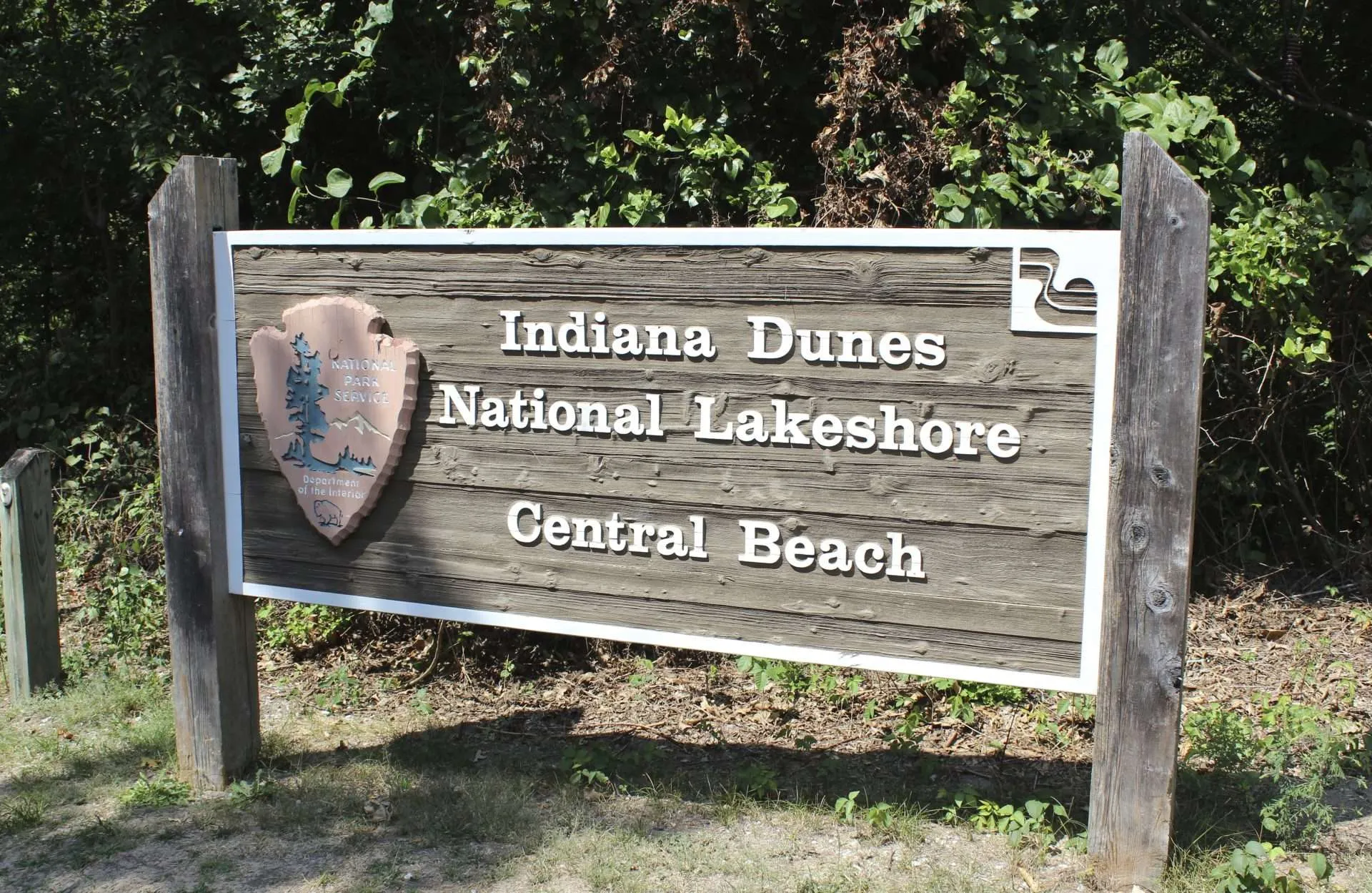 What can you do at Indiana Dunes National Park? 
Indiana Dunes National Park offers year-round recreation opportunities, including beach-going, swimming, birding, camping, fishing, paddling, hiking, horseback riding, picnicking, cross country skiing, snow shoeing, and more!
Visitor Centers

: Indiana Dunes National Park has two visitor centers within the park. The Indiana Dunes Visitor Center, also known as the Dorothy Buell Visitor Center, contains a bookstore, brochures, art, an activity room, and additional parking. The Paul H. Douglas Center for Environmental Education offers interactive exhibits and access to the Miller Woods trail system.
Beach Access: With 15 miles of Lake Michigan lakefront, the park is able to offer a variety of water based activities. There are a handful of parking lots allowing beach access as well.

West Beach: Located at the southern tip of Lake Michigan, West Beach is the only beach with life guards. In additional to water based recreation, West Beach offers access to the West Beach Trail System and breathtaking views of Lake Michigan from the dunes.

Hiking: Indiana Dunes National Park offers 50 miles of trails throughout the park along 14 different trail systems. Trails range from a casual stroll to an all day adventure. Some of the most popular systems are listed below:
Snow Shoeing: Indiana Dunes trail system is open in the winter and a great option for snow shoeing, wildlife viewing, and winter photography.

Historical Buildings

: Indiana Dunes National Park hosts a variety of National Historical Landmarks and other significant structures including the Bailly Homestead, Chellberg Farm, and the 1933 Chicago World's Fair Century of Progress Homes.
Geocaching: Geocaching is an interactive activity that involves using a Geocaching app or GPS to find hidden containers. Geocaching at Indiana Dunes National Park can be found at the Chellberg Farm/Bailly Homestead Trail System.
---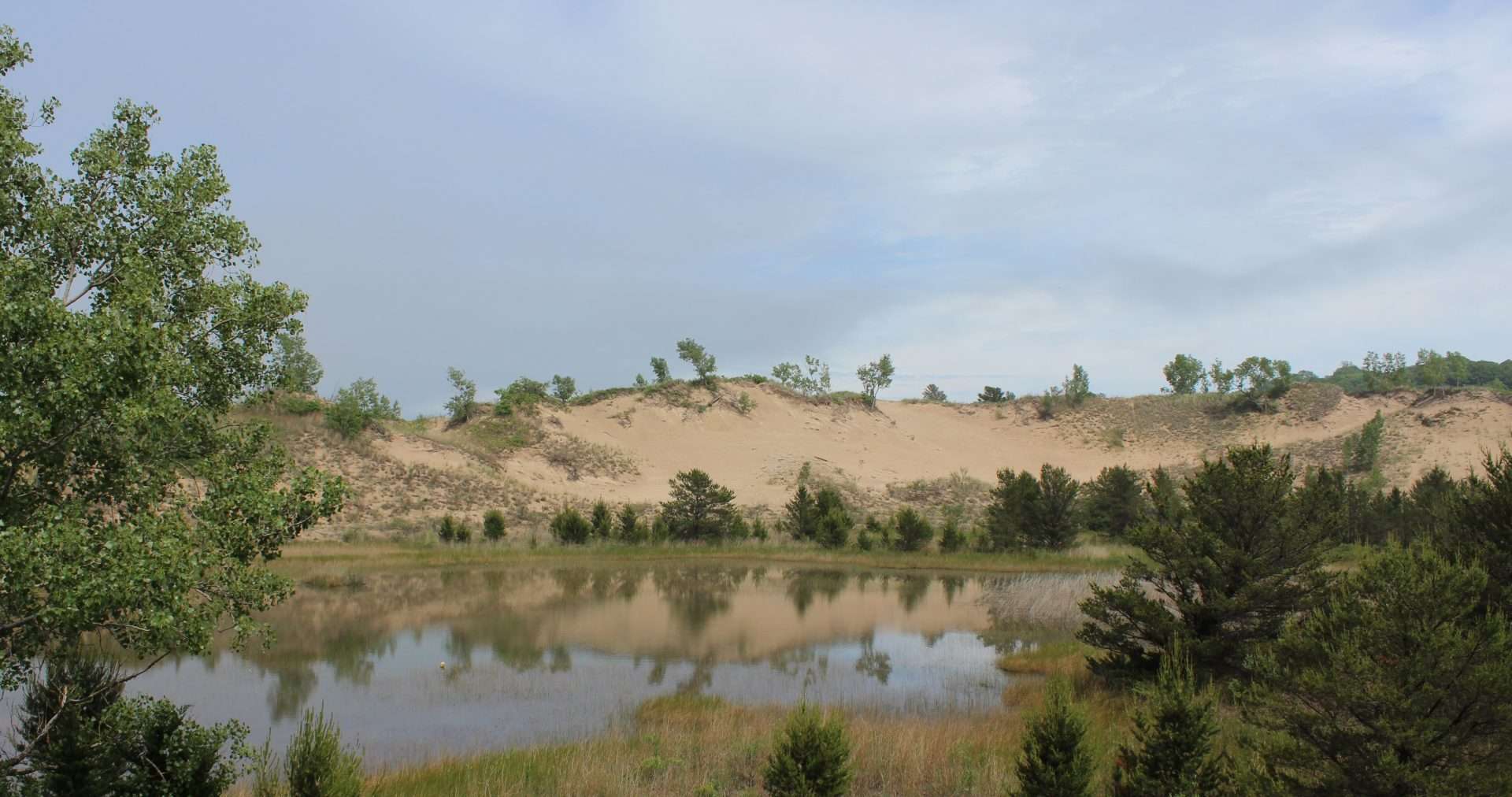 Make a Day or Weekend of It!
Dunewood Campground: Just under 1.5 miles from Lake Michigan lakefront, this camp ground within the park offers 66 campsites with restrooms and showers. There is a $18 per night camping fees, and all sites are first come, first serve with no advance registrations. Leashed pets are welcome.
Lake Michigan Water Trail: Experienced kayakers are encouraged to paddle along the Lake Michigan Water Trail, and experience the dunes and National Park like never before!
Upcoming Events: Check out the Indiana Dunes National Park calendar for upcoming events such as gardening at Chellberg Farm or ranger led hikes.
Old Lighthouse Museum: Just 20 minutes from the park, this museum is located in the harbor of Michigan City, Indiana. The lighthouse is open Tuesday through Sunday from 1-4pm during the season.
Wolf Lake Trail System: As you head back to the Chicago area, you can spend some time enjoy the open spaces and trails around Wolf Lake.
Discover! Indiana Dunes is an excellent outlet for camping and recreation, but it is also one of the most biologically diverse areas in the country. Enjoy your time and discover something new at IDNP. If you're a photographer or just an avid Instagramer, bring your camera or phone and share what you find! Tag your Instagram posts with #DiscoverYourPlace to be featured on our stream and please share with us the highlights from your adventure.
---
Check out more of our recommendations for getting outside in the Chicago region.