Sitting just over 15 miles from the heart of the Loop and straddling the Illinois-Indiana border, Wolf Lake is part of a network of recreation areas on Chicago's south side. Over the years, Openlands has worked to expand the area's trail system, which connects communities such as Hegewisch, South Deering and Whiting, and we encourage you to discover Wolf Lake for yourself!
The origin of the lake's name is unknown, but local residents have offered a few theories: some believe that "Wolf" was a Native American chief while others contend that years ago the surrounding area was teeming with wolves. Neither of these claims have been verified, but they still offer an interesting look into the lake's history.
Wolf Lake also lies in the heart of the Calumet region, a natural area of over 15,000 acres of river systems, parks, trails, rare dune and swale, and savanna. Openlands has focused on empowering community groups and local governments to care for the region's natural resources. As we promote a regional culture of conservation, Openlands has helped to develop an interconnected network of protected greenways and trails and to restore public access to the region's natural treasures.
The area around Wolf Lake is home to numerous open spaces, recreational opportunities, and cultural institutions, including two sites managed by the National Park Service. The area is easy to reach no matter where you're coming from, and there is plenty to enjoy for an entire weekend.
---
Directions
To access the Wolf Lake trail system, we recommend parking either at Eggers Grove or Whiting Park. Eggers Grove can be accessed via the CTA 30 or 100 bus routes. Whiting Park in Indiana is a terrific way to bookmark the day as it sits on the shores of Lake Michigan while offering access to the Wolf Lake trail system. Both Eggers Grove and Whiting Park can be reached via US-Route 41.
---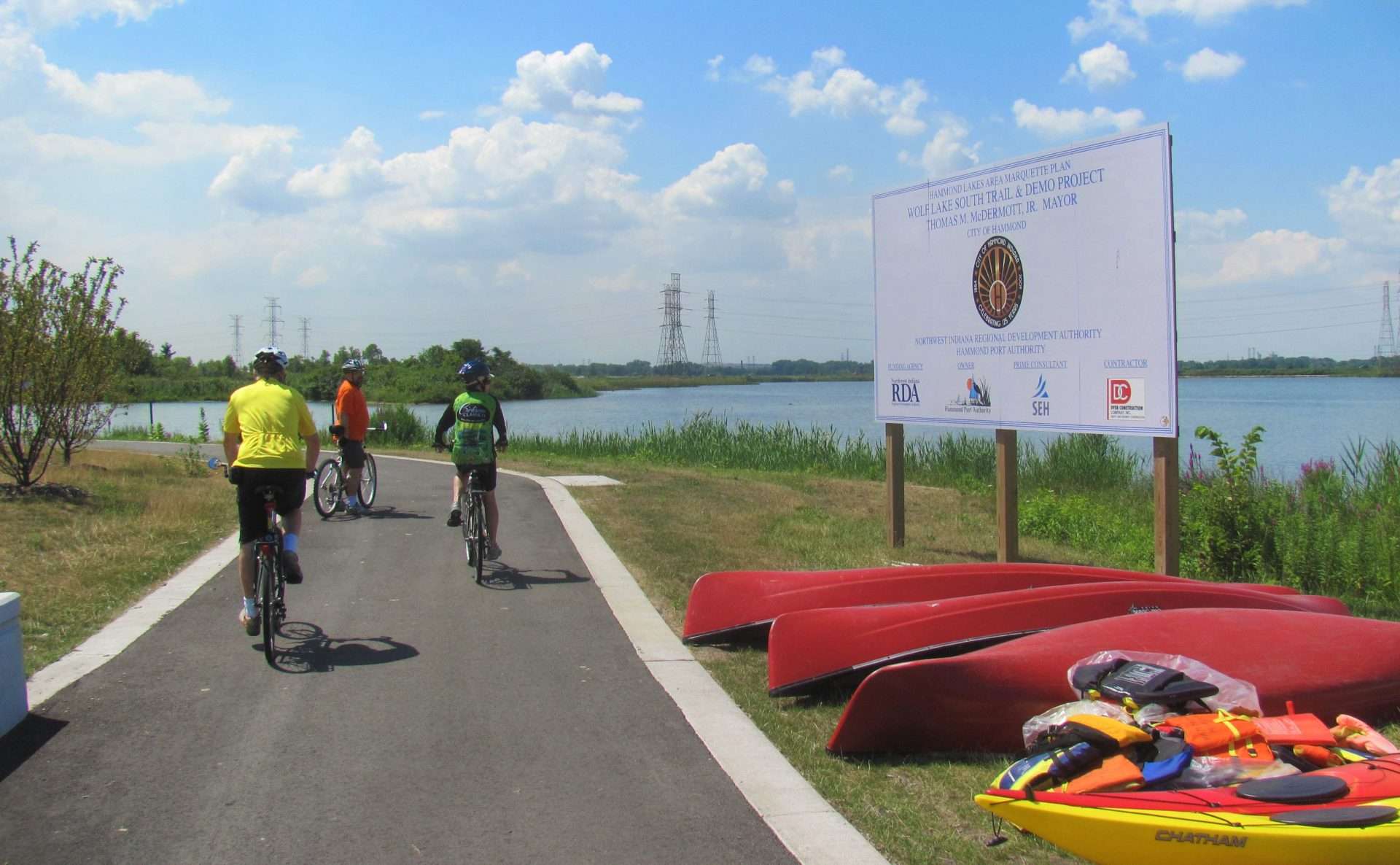 What can you do at Wolf Lake?
Biking, walking, and running

: Wolf Lake boasts an impressive trail system surrounding the natural area, but be sure to venture across the boardwalk which bisects the lake. The famous Burnham Greenway runs along the western shore, connecting areas like Eggers Grove to William W. Powers State Recreation Area.
Paddling

: The Hammond Port Authority facilitates rentals of canoes, kayaks, paddle boats, and paddle boards as well as oars and life vests. You can even try windsurfing!
Enjoy the open space: The trails at Wolf Lake connect a number of open space sites such as Calumet Park to the north end of the trail system to Powderhorn Marsh at the southern end.
Birding and Wildlife Viewing: The wetlands surrounding the lake are home to a variety of bird species such as gray catbirds, yellow-headed blackbirds, yellow warblers, marsh wrens, song sparrows, eastern kingbirds and red-eyed vireos, and it attracts many migratory birds as they pass over Lake Michigan.
Picnicking: Picnic areas are accessible throughout the trail system and surrounding parks, but certainly consider Wolf Lake Memorial Park on the eastern shore for some spectacular views.
Make a day or weekend of it!
Pullman National Monument

: Pullman National Monument commemorates the diverse history of the American labor movement and sits in proximity to Wolf Lake. The site was designated as a national monument by President Obama in 2015. (P.S.: NPS typically waives admission fees to national monuments on federal holidays such as Memorial Day and Labor Day.)
Indiana Dunes National Lakeshore

: The National Park Service also manages 15 miles of public lands on the south shore of Lake Michigan. Indiana Dunes National Lakeshore offers opportunities to hit the beach, explore unique wetlands, hone your bird-watching skills and enjoy 50 miles of trails.
Pavilion at Wolf Lake Memorial Park

: Sitting on the shores of Wolf Lake, the Pavilion is one of northwest Indiana's best outdoor venues for concerts, films, and festivals, regularly hosting events in the summer months.
Big Marsh, Hegewisch Marsh and Beaubien Woods

: These three sites offer excellent opportunities to get outside in the Chicago area as well. Big Marsh is home to the new mountain bike park – the only such park in the Chicago region. Hegewisch Marsh is part of the Calumet Open Space Reserve and one of the best birding spots nearby. Finally, Beaubien Woods is managed by the Forest Preserves of Cook County and offers paddling access to the Calumet River.
Discover! Learn about the different ecosystems found in the Wolf Lake area, enjoy the miles of trails and the day watching the sunset color the skies over Lake Michigan. If you're a photographer or just an avid Instagramer, bring your camera or phone and share what you find at Wolf Lake! Tag your Instagram posts with #DiscoverYourPlace to be featured on our stream and please share with us the highlights from your adventure.
---
Check out more of our recommendations for getting outside in the Chicago region.