This year marks the 100th Anniversary of the Migratory Bird Treaty between the United States and Canada. In 1916, this landmark agreement made it illegal to hunt, capture, kill, sell, or even pursue migratory birds. (See the original 1916 treaty here: Convention between the United States and Great Britain for the Protection of Migratory Birds.)
To celebrate this treaty, Openlands wants to make Chicagoans aware of Important Bird Areas nearby. Important Bird Areas or IBA's are internationally recognized places that are chosen for their unique role in providing habitat for birds. These habitats play a vital part in the lives of birds who are endangered or threatened, either by providing breeding grounds, pathways for migration, or places to spend the winter.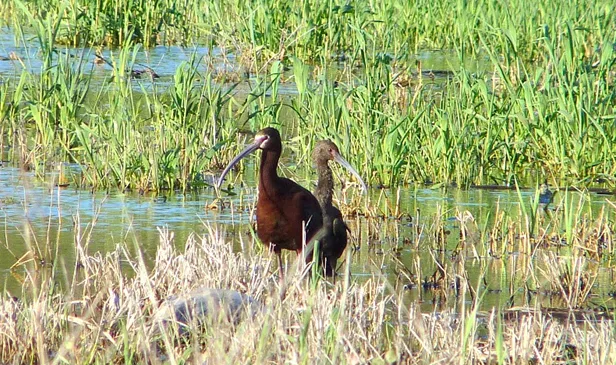 Through environmental policy and advocacy, habitat protection, and land acquisition and restoration programs, Openlands has positively impacted IBA's around Chicago. Just south of the city, we've helped to establish natural areas like Midewin National Tallgrass Prairie and save places like Goose Lake Prairie State Park. We've restored vital wetlands and other habitats at Tinley Creek-Bartel Grassland and Illinois Beach State Park, and have used our policy wing to advocate for several additional sites. We fought for the Chicago Lakefront Protection Ordinance that keeps our lakefront protected for migrating birds along the Mississippi Flyway.
Here is a list of Important Bird Areas Openlands has helped to protect:
Tinley Creek-Bartel Grassland
Chicago's Lakefront
Bergman Slough
Lake Renwick
Lake-McHenry Wetlands Complex, a part of Hackmatack National Wildlife Refuge.
Notably, Openlands and the Forest Preserves of Cook County have worked together since 2001 to expand over 900 acres of continuous grassland habitat at Tinley Creek-Bartel Grassland in southern Cook County. Bartel Grassland was an existing IBA on its own, but in September 2015, Audubon Chicago Region approved adding the Tinley Creek Wetlands restoration areas to Bartel. This more than doubled the overall acreage for this Important Bird Area.
In the end, Openlands wants to make sure these special places are accessible to people from all walks of life. Through our Birds in My Neighborhood Program, we are able to engage Chicago Public School students with nearby nature areas. The program has taken educational visits to Tinley Creek-Bartel Grassland, introducing these children to a rare and unique world of nature and experiences they will never forget.
We hope you venture out and find an Important Bird Area near you!