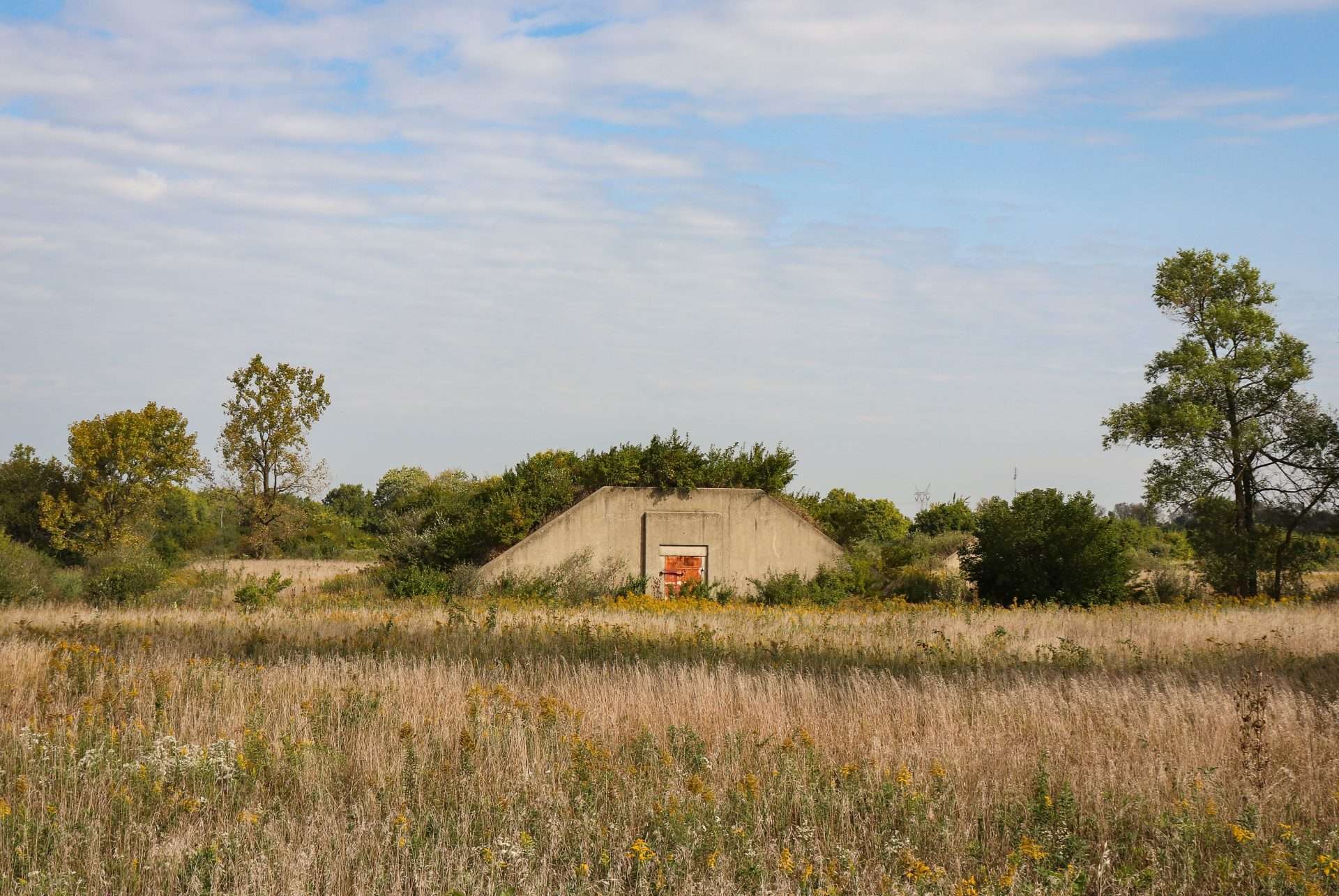 Illinois didn't earn the nickname 'the Prairie State' for nothing, but it is no secret that our namesake has virtually disappeared from the natural landscape. Once home to over 20 million acres of prairie, Illinois now holds less than 2,500 acres of remnant virgin prairie. Yet if you are looking to experience the enormity of the prairie and glimpse the natural history of our state, look no further than Midewin.
As the largest open space in the Chicago region, the 19,000-acre Midewin National Tallgrass Prairie is the first such protected tallgrass prairie in the country and it is managed today by the U.S. Forest Service. Midewin sits just an hour's drive from downtown Chicago and began its journey to federal protection in the early 1990s when the U.S. Army announced plans to close the Joliet Arsenal.
The importance of Midewin cannot be overstated. Its expansiveness makes it ideal habitat for grassland birds; in addition to native prairie, it contains a variety of ecologically-significant habitats and natural areas; and in 2015 it became a new home for a herd of American bison. But Midewin was also envisioned as a place to connect the residents of Illinois to the nature that surrounds them.
Foresight and planning over the last 20 years coupled the restoration of a unique prairie ecosystem with unparalleled opportunities for outdoor recreation, wildlife viewing, environmental education, research, and volunteerism, which made Midewin a contemporary model process for the expansion of public open space. Here are a few options for you to enjoy these public lands, but certainly take a chance to discover Midewin National Tallgrass Prairie in your own way.
---
Directions
Midewin National Tallgrass Prairie is located in Will County and sits on IL Route 53, just an hour's drive from downtown Chicago. Additional directions can be found on the U.S. Forest Service website.
[googlemaps https://www.google.com/maps/embed?pb=!1m18!1m12!1m3!1d2995.470488270118!2d-88.13403178444379!3d41.34212630676239!2m3!1f0!2f0!3f0!3m2!1i1024!2i768!4f13.1!3m3!1m2!1s0x880e7c58822a1dc5%3A0xb81f645742bab0b4!2sMidewin+National+Tallgrass+Prairie!5e0!3m2!1sen!2sus!4v1461678821807&w=600&h=450]
---
What can you do at Midewin National Tallgrass Prairie?
Bison Viewing

: You are invited to view Midewin's bison herd, but the herd grazes in a large pasture so we can't guarantee you can get up-close-and-personal. We recommend you bring binoculars, just in case.
Biking, Hiking, and Running: Midewin boasts an expansive 22-mile trail system, 12 of which are for hiking only. We recommend starting at the the Iron Bridge Trailhead to view the bison and to see former U.S. Army bunkers via the Group 63 Trail. Some of the best views at Midewin are along the Henslow Trail. Cyclists can also make use of many of these trails.
Horseback Riding: Trails are shared between hikers, bikers, and horseback riders. The Henslow Trail is a crushed limestone screened trail, while most other trails are on old road beds. Horseback riders are welcome to enjoy the multi-use trails through the tallgrass prairie.
Birding and Wildlife Viewing: Midewin is home to 16 endangered and threatened species including the upland sandpiper. Swing by the Visitor Center located on Route 53 to learn about the best wildlife viewing areas.
Picnicking: Picnic areas are accessible throughout Midewin, but definitely consider the shady Hoff Road Trailhead or the peaceful Turtle Pond.
Archaeology

: In 2016, the Kankakee Protohistory Project began a multi-year excavation project at a Midewin site occupied during the early 17th century in order to help reconstruct the entangled human and environmental histories of the Kankakee River.
Winter activities: Don't let winter keep you indoors! Midewin public trails are open year-round including access for snowshoeing and XC-skiing (snow conditions permitting).

Discover!

Learn about the different prairie plants and grassland birds, introduce yourself to the bison or enjoy the expanses of Midewin. If you're a photographer or just an avid Instagramer, bring your camera or phone and show the world the mosaic of purples, yellows and blues! Tag your Instagram posts with #DiscoverYourPlace to be featured on our stream and please share with us the highlights from your adventure.
Make a day or weekend of it!
Kankakee Water Trail

: Explore the Kankakee River Water Trail by canoe or kayak. Recently named a national water trail by the National Park Service, the Kankakee meanders through islands, cliffs, and wetlands in Illinois.
Wauponsee Glacial Trail

: The Wauponsee Glacial Trail travels 22.29 miles from Joliet south through Manhattan, Symerton and Florence and Wesley townships to Custer Park. Trail access is at the east edge of Midewin.
Des Plaines Fish and Wildlife Area

: The Illinois Department of Natural Resources maintains the nearby Des Plaines Fish and Wildlife Area open for additional recreation opportunities, hunting and fishing.
Abraham Lincoln National Cemetery

: The Abraham Lincoln National Cemetery, named for the President who founded the National Cemeteries, sits adjacent to Midewin as an armed-services burial site, and is open to the public.
Downtown Joilet

: Just a quick 20 minute drive north on Route 53 you will find downtown Joliet.
Midewin National Tallgrass Prairie is one of the best natural treasures in our region. Whether you're planning your first trip or your 20th, we invite you to enjoy these public lands and discover Midewin in your own way.
---
Check out more of our recommendations for getting outside in the Chicago region.