Pack a lunch and take a trip back in time, exploring the landscapes, habitats, and views found in our region long ago! Located in the south suburbs and managed by the Forest Preserves of Cook County, Orland Grassland is an exceptional display of the expansive prairies that used to stretch across the region. More than 10,000 years ago, glaciers left behind this rolling landscape and made Orland Grassland one of the higher elevation points in Cook County. On a clear day you can even spot the Chicago Skyline!
Orland Grassland is one of the largest grassland habitats in all of Cook County. Starting in 2002, this 960-acre preserve has been transformed from farmland back into a grassland complex with prairies, wetlands, open ponds, oak savannas, and woodlands. Openlands helped restore the landscape at Orland Grassland and today, much of the preserve is enrolled in the Illinois Nature Preserve system and it is a designated important bird area by Audubon Society.
A five-mile paved trail rings Orland Grassland with several unpaved trails winding through the restoration areas. The south unit of Orland Grassland also featured a 1.6-mile paved trail if you're looking for a shorter trail (or a longer extension of the main trail). The unpaved trails are marked with handmade signs created by Cub Scout Troop #372 of Orland Park. Be sure to check out the interactive trail map from Forest Preserves of Cook County before your visit.
---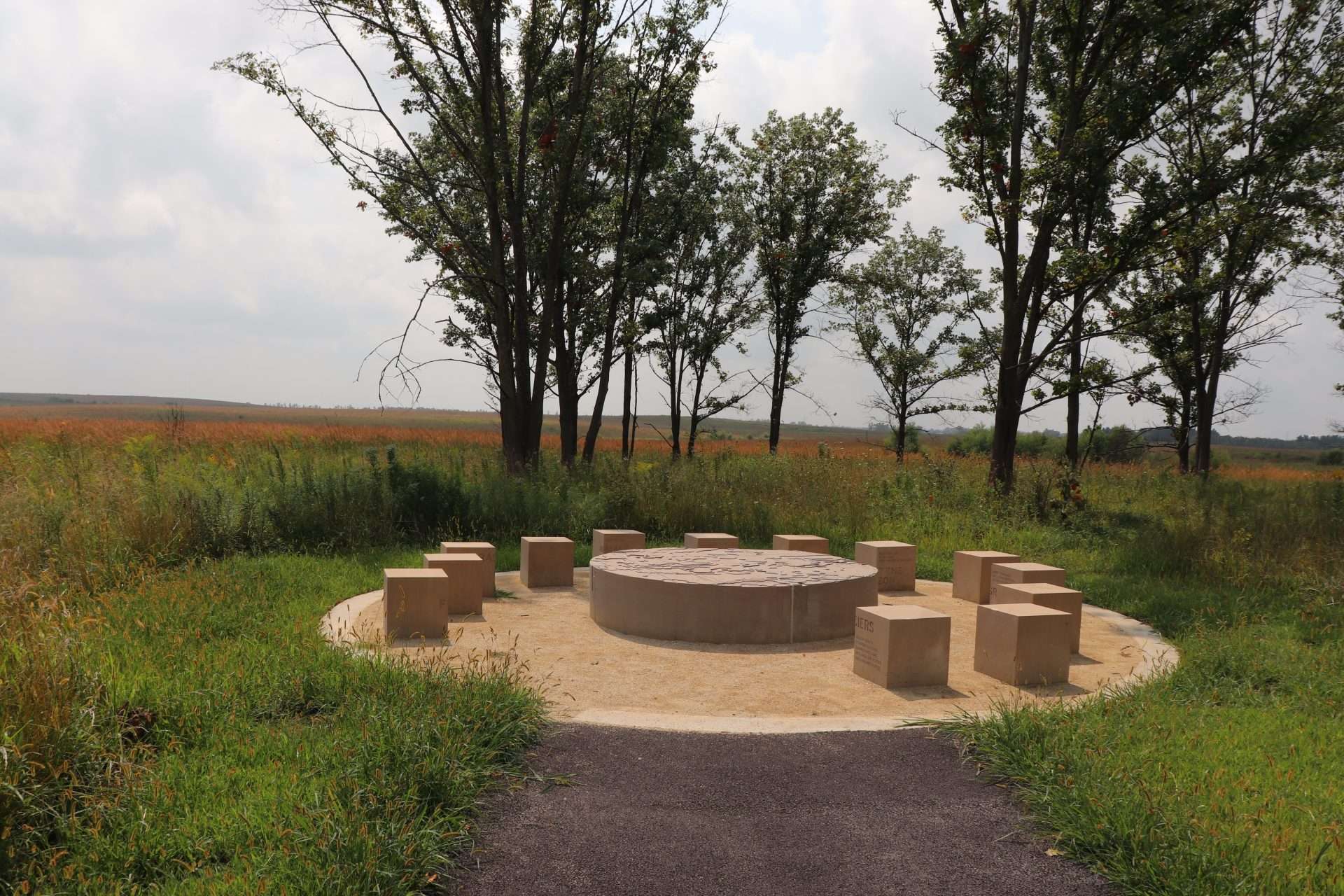 Getting There
Orland Grassland is located at LaGrange Road and 167th Street in Orland Park, Illinois, just off Interstate-80. Parking is available at both the north unit and south unit.
[googlemaps https://www.google.com/maps/embed?pb=!1m14!1m8!1m3!1d16401.421872499846!2d-87.86196832627508!3d41.583359699311956!3m2!1i1024!2i768!4f13.1!3m3!1m2!1s0x880e6aaec53955d3%3A0x6ac184fd9e792e7d!2sOrland+Grassland!5e0!3m2!1sen!2sus!4v1535403376420&w=600&h=450]
---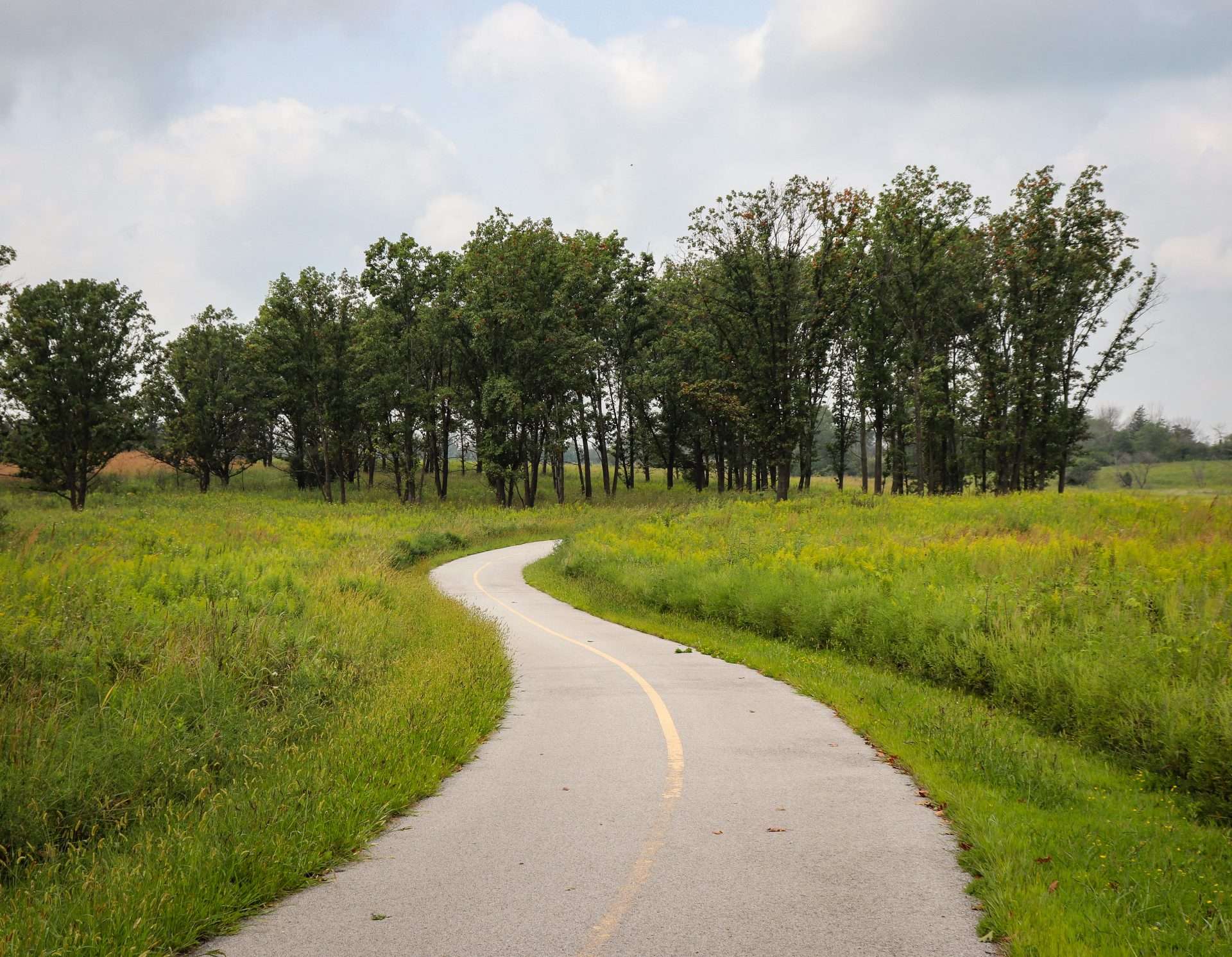 What can you do at Orland Grassland?
Trails:

Orland Grassland is home to an expansive paved trail system, open for mixed use and allowing everyone to enjoy this unique prairie landscape. A five-mile paved trail rings the main unit of the preserve, with a 1.6-mile trail surrounding the adjacent south unit. See a trail map here.
Birds and Wildlife:

Orland Grassland is one of the best birding locations in the Chicago region. The vast grasslands provide an excellent summertime home to many species, and you're sure to see an array of colors during spring and fall migration. It is also home to a vibrant display of prairie wildflowers such as blazing star, beragmot, siphlium, and lupine. The designations as an Important Bird Area and Illinois Nature Preserve exist to protect the rich diversity of wildlife at Orland Grassland.
Get Involved

: In coordination with the Forest Preserves, the Orland Grassland Volunteers organize workdays where people can volunteer to clear invasive brush, replacing it with a great variety of native species. The group also hosts events to raise awareness about native biodiversity, encourage volunteer participation, and just show off the place.
Discover! If you're a photographer or just an avid Instagrammer, bring your camera or phone and share what you find at Orland Grassland! Tag your Instagram posts with #DiscoverYourPlace to be featured on our stream and please share with us the highlights from your adventure.
---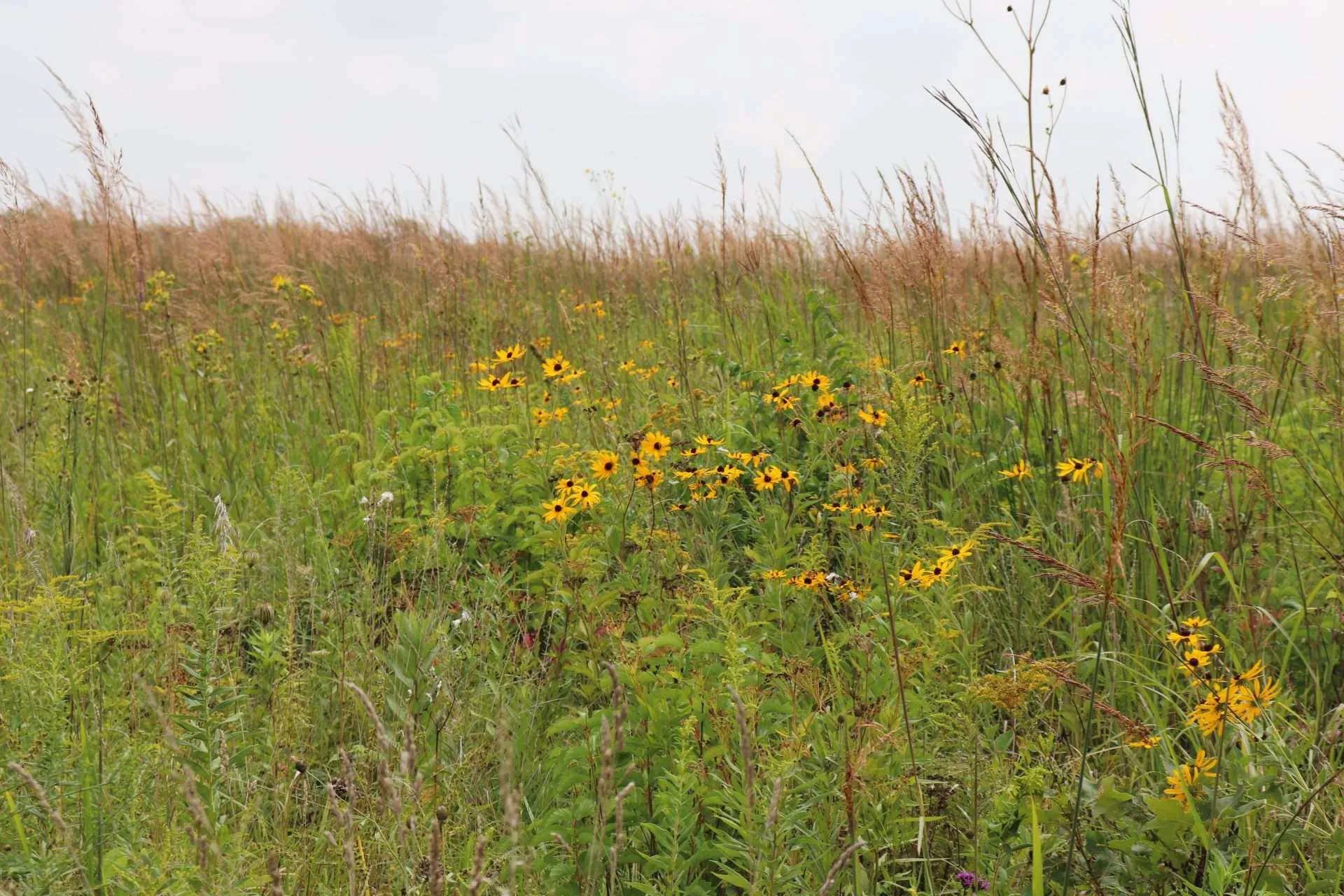 Returning Prairie to the Prairie State
As you travel around Illinois, you're met with some remnants of the rolling lands and the vast, treeless expanses that impressed European settlers as they arrived in the region. But these lands are only remnants. Starting in the late 1800s, Europeans began draining the wetlands at places like Orland Grassland to clear the land for farming. It was a pattern felt across Illinois and the Midwest as farmland, roads, and buildings changed the prairie into a source of economic wealth for our society.  Today, of the 22 million acres of prairie that once existed in Illinois, only .001 percent remains, but glimpses of the past remain in places like Orland Grassland.
The goal of restoration at Orland was to recreate a visual experience that mimics pre-European settlement prairie, while rebuilding thriving habitats. As you walk through Orland, you'll see seas of prairie grasses ringed by trees on the preserve's perimeter, maintaining views unobstructed by buildings along most of the trail. Given the site's (relatively) high elevation, no dirty water enters the preserve; there's no runoff from streets and no sewers draining onto the site, only rain. This makes the grassland some of the more pristine lands in Cook County.
The restoration has also made Orland Grassland one of the best spots in southern Cook County to see grassland birds. Henslow sparrows, meadowlarks, clay-colored sparrows, and bobolinks all make their homes here. Orland Grassland sits close to Bartel Grassland and Bobolink Meadow, both of which are phenomenal grassland bird habitats that Openlands has helped restore. By identifying and restoring conservation areas in proximity to one another, we create the habitat on the scale needed for wildlife to thrive.
As part of the restoration, Openlands and Audubon Great Lakes organized a program to recruit and train a volunteer stewardship group for Orland Grassland. Activities include identifying volunteer leaders, providing technical and logistical support in creating goals and conducting work days, and initiating a newsletter. You can get involved with the Orland Grassland Volunteers today!
Openlands and the Forest Preserves are committed to restoring prairie across the region. Restored grasslands and healthy forests remove carbon from the atmosphere. And natural areas, trails, parks, and preserves link our region together in a vibrant web of green that allows plant and animal species to move and adapt. Preserves like Orland Grassland not only are bringing back the natural heritage of Illinois, but helping prepare our region to address the challenges of climate change.
---
Check out more of our recommendations for getting outside in the Chicago region.
Read more about our efforts to support the Forest Preserves of Cook County through the Next Century Conservation Plan.