If you've visited the Openlands Lakeshore Preserve recently, you might have noticed some changes happening along the lakefront due to high water levels in the lake. It's called erosion, and we'll be the first to admit that it's pretty bad right now. Erosion is a natural process that gradually removes soil, rock, and sediment from wherever it's been sitting on the land such as a beach or a riverbank. Erosion at the Lakeshore Preserve is so substantial at the moment that we even had to remove a lakefront art installation to prevent it from washing away into the Great Lakes!
Before we say any more though, please trust us that the Openlands Lakeshore Preserve is still completely safe for you to visit. You can still enjoy the sights, sounds, trails, and art installations. We ask that you stay on the paved trails and be sure to keep your pets leashed and off the beach areas. If you're an avid science geek, an expert geohydrologist, or even someone who just enjoys walking along the lakefront, we encourage you to visit the Lakeshore Preserve and see with your own eyes how the Great Lakes are shaping the surrounding lands.
You may have read in the news that water levels in the Great Lakes are at historic highs – while they're not currently the highest we've ever recorded, it's still pretty significant news. There is no easy answer for why that is, and it's affecting shorelines in a number of ways.
---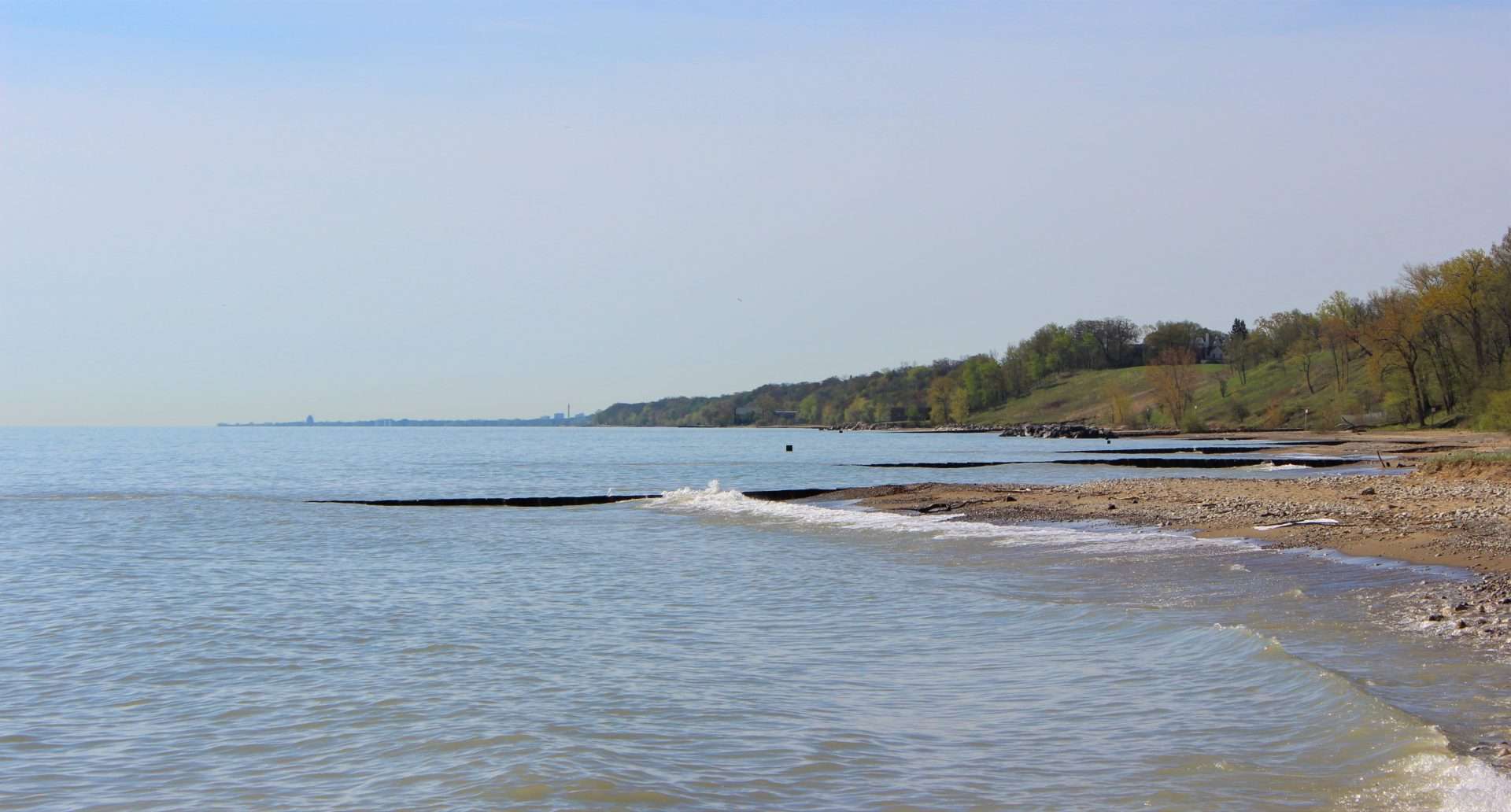 Water levels in the Great Lakes have historically fluctuated. Low levels in the late 1960s were followed by record highs in the mid-1980s. The water levels of the Great Lakes are pretty much determined by simple cycles of ice cover, precipitation, and evaporation. In the scheme of things, human withdrawal is actually rather insignificant. (Here's a fantastic article explaining that in more detail.)
Ice coverage in the winter months is a significant determining factor of water levels. When there is more ice coverage, less water will evaporate from the lakes. As our climate changes, the Great Lakes region is predicted to experience greater fluctuations in winter temperatures: winters could be warmer-than-average or colder-than-average, or a week of low 20s followed by a week in the high 50s could become normal, all affecting ice coverage. For example, lake levels were lower between 2008-2010 than currently since the last few winters have been generally colder. The colder winters led to higher ice coverage, meaning less wintertime evaporation.
In terms of climate change, the region is also predicted to receive much more precipitation than normal, meaning water inputs to the Great Lakes will be higher. We cannot say one way or another how the stable cycles of evaporation and precipitation, cycles that have been steady for thousands of years, will be affected. Increased evaporation and precipitation could balance each other out – leaving the lakes at similar water levels to what has been historically observed – or one process could completely outweigh the other, causing a sharp rise or fall in water levels. While it would be inaccurate to use climate change as an explanation for the current lake levels, we can expect that in a changed climate we will generally experience more fluctuation in water levels as periods of evaporation outweigh precipitation and vice versa.
---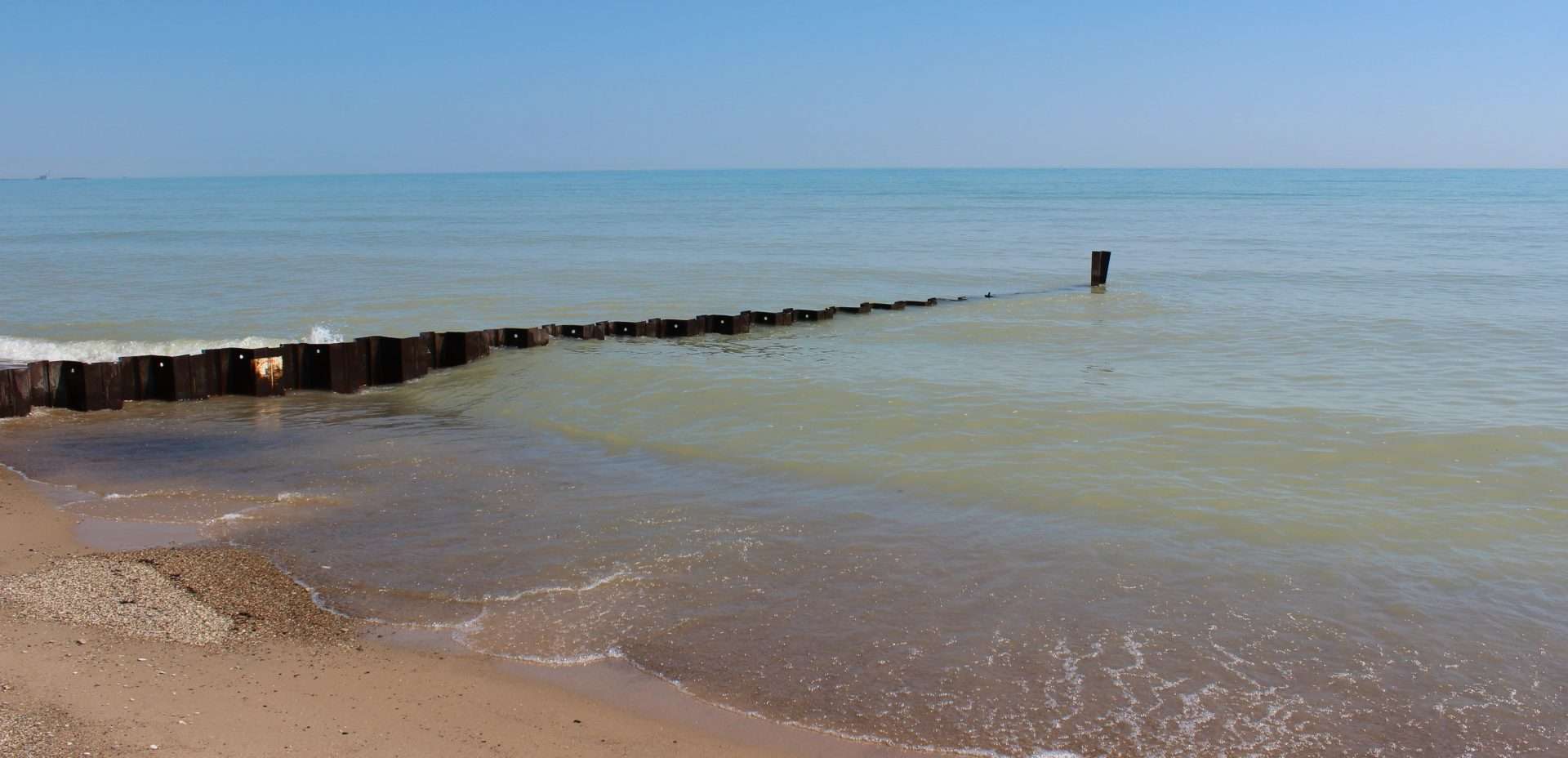 The point is that the water levels in Lake Michigan have physical impacts felt up and down its shoreline. Along this part of the lake currents typically flow north to south. Since European settlement, the Illinois shoreline has been altered in a number of ways for a variety of reasons, all of which interrupt these currents in site-specific ways and regionally. The impact of various alterations, when combined with high water levels, can cause erosion even to reinforced areas like at the Openlands Lakeshore Preserve.
Along the North Shore, we have many, many artificial alterations to the shore including hundreds of metal groynes jutting into the lake (pictured above). When they were installed much earlier in the 20th century, these groynes were intended to prevent erosion, but they were installed with an incomplete understanding of on-shore, near-shore, and off-shore conditions and currents, exacerbating the erosion we see today.
The Openlands Lakeshore Preserve does have many of these metal groynes, but also large revetment rocks and some of the latest coastal engineering strategies, all intended to reduce erosion. While we are working on a solution to stabilize the beach and toe of the bluff, erosion still persists. The significant erosion we see at the Lakeshore Preserve is occurring in places that have no erosion control or in areas where the water level is simply so high, it is washing away soils behind the control measures. It remains a fact of life that erosion is a natural process and it cannot be prevented altogether, no matter the strategy you try.
---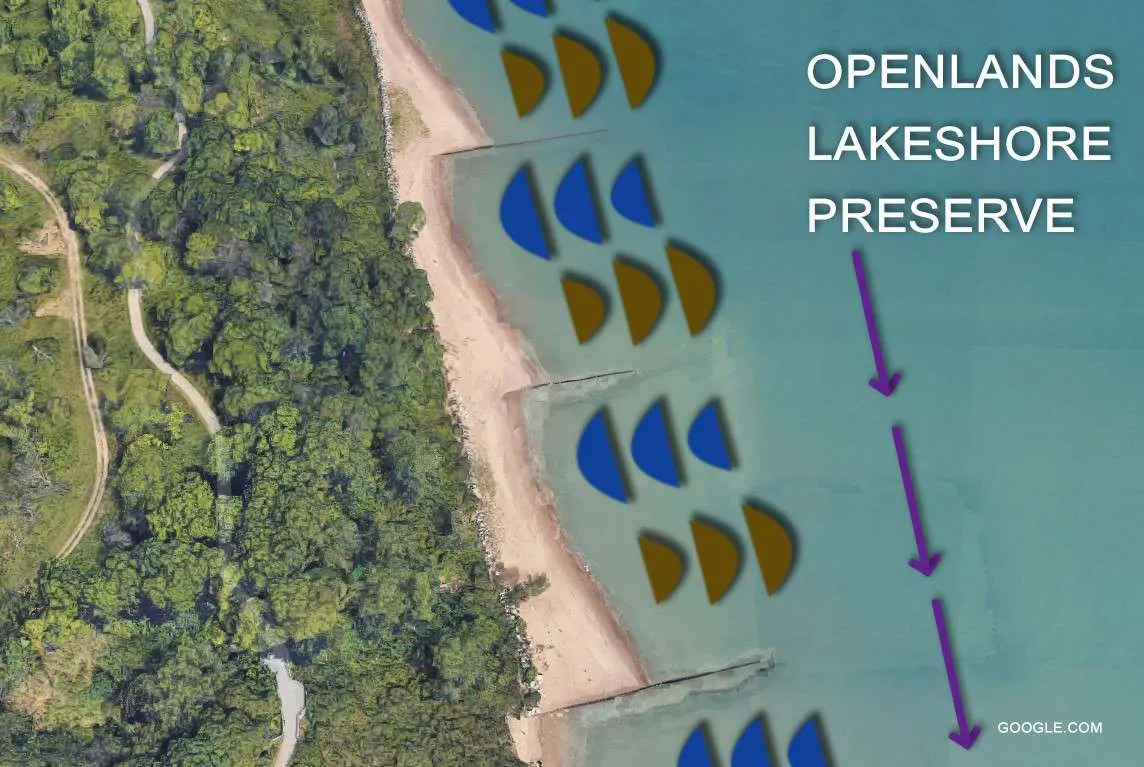 With the traditional groyne solution, we see patterns of erosion that follow the southerly current (above in purple). As waves reach the shore (above in blue), sand and soil is carried away and is deposited immediately north of the next groyne (above in brown). This is called littoral drift. The satellite image above shows how wedges of beach have formed over time in between groynes. The immediate effect of this pattern is fragmentation of shoreline areas like the Lakeshore Preserve, Illinois Beach State Park, or other popular beaches of the North Shore.
If you're a homeowner on the Lakefront, this may all sound rather concerning. There are a few things you can do: contact your city council and tell them you're concerned about coastal erosion. There is significant attention being paid to the issue and support for North Shore municipal councils to develop a comprehensive plan for coastal areas, but statements of support from the public will aid the projects and implementation. Keep in mind that regional plans like this do take time, careful monitoring, and significant analysis to find the right solutions, but there are some more immediate steps you can take.
Try to prevent any man-made alterations to the shoreline on your property if possible. Finally, reducing runoff from rain and stormwater will help reduce erosion. Make sure that surface runoff flowing over your property is either captured by a rain garden, is diverted directly into sewers, or is piped down into the lake. Rain gardens are an excellent solution because they capture rainwater where it falls, preventing bluff and ravine erosion and keeping sediments and pollutants out of the Great Lakes.
View more resources for ravine homeowners and technical experts. We also encourage you to read through the excellent resources offered by the Illinois Department of Natural Resources Coastal Management Program. Homeowners looking for initial recommendations can contact lakeshorepreserve@openlands.org.
---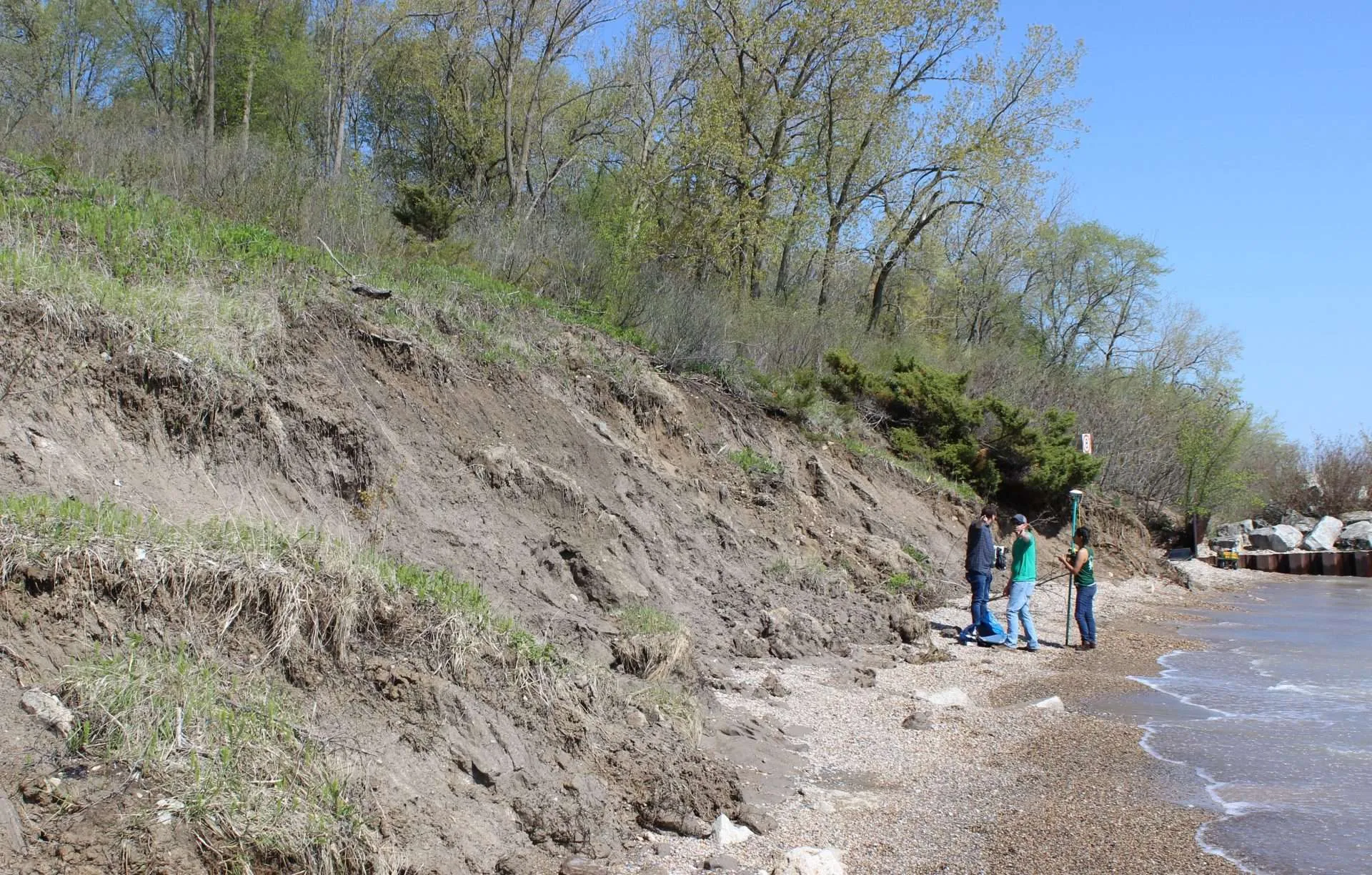 As a lakefront landowner, Openlands is also concerned about this erosion. The Lakeshore Preserve is home to several natural bluffs, and at the base of one of these – where there is no erosion control – we have been seeing some substantial erosion for the past year. As erosion has increased, the natural slope of the bluff has been affected and we expect this to continue until the bluff finds its angle of repose again. An angle of repose is the steepest angle the slope of the bluff can take while the soil remains stable. The picture above shows recent conditions: when the slope holds its natural angle, it should stretch to the waters edge with some beach to protect it and without that significant dropoff at the base shown above. The bluff here will find its slope again, but will continue to reshape higher up the slope and upland areas as it does. Once again, erosion is a natural process and below you can see its effects on two sites at the Openlands Lakeshore Preserve over a year's time.
Click on each of the images below to see the impact on the bluff from August 2017 – May 2018.
Click each image below to see the changes to the Lake Prism Art installation from May 2017 – May 2018.
---
We aim for the Lakeshore Preserve to function as a learning laboratory as a way to monitor changes in our climate and landscapes, and that it will serve as a model for communities and landowners along the North Shore. To that end, we have been working since the summer of 2018 with researchers from the Illinois State Geological Survey at the University of Illinois at Urbana-Champaign to monitor the erosion. Using drone footage and images, researchers will analyze erosional forces and sand migration over the course of eight months via a series of digital 3D models, which will map changes to the bluffs and beach. New studies like this are needed to build a more-complete and in-depth understanding of the natural forces at work.
As a component of the learning laboratory, the Openlands Lakeshore Preserve is the second site on the North Shore to receive this kind of study, and the data will be tested in several ways to provide local municipalities, agencies, and elected officials with the most useful interpretation to address their communities' unique needs.
---
Changes like erosion are reminders that landscapes are alive, and that they can be altered by both humans and nature, so we need to be conscious of our impact and work to restore landscapes wherever possible. Again, we encourage you to visit the Openlands Lakeshore Preserve; it is a spectacular example of the ravine and bluff ecosystems unique to the North Shore and it is open to the public year-round. Begin planning your visit.