Hackmatack: Explore the Refuge
Building the 11,200 acre refuge that the U.S. Fish and Wildlife Service envisions will take years of restoration and land protection efforts. The refuge aims to restore and connect a native glacial landscape that includes large blocks of grassland, wet prairies, oak savanna, and natural stream watercourses in both Illinois and Wisconsin. As land is protected for Hackmatack, the refuge will offer growing opportunities for wildlife viewing, hunting, fishing, photography, environmental education, and more.
While Hackmatack is still in its early years of creation, there are a number of sites within the refuge that will eventually offer public access as Hackmatack's many partners, like Openlands, work to restore and develop them with visitor amenities.
In the meantime, we encourage visitors who are excited about Hackmatack to explore other beautiful open spaces within the greater refuge area. These parks and preserves showcase the stunning glacial landscape of this bi-state area, and the natural legacy that Hackmatack aims to protect. You can paddle the Nippersink Creek, fish at Winding Creek, hike and go birding in the grasslands and forests of Glacial Park, watch sandhill cranes migrate across the North Branch Preserve, and more at sites already open to the public.
Click on the map to explore refuge sites open for public access.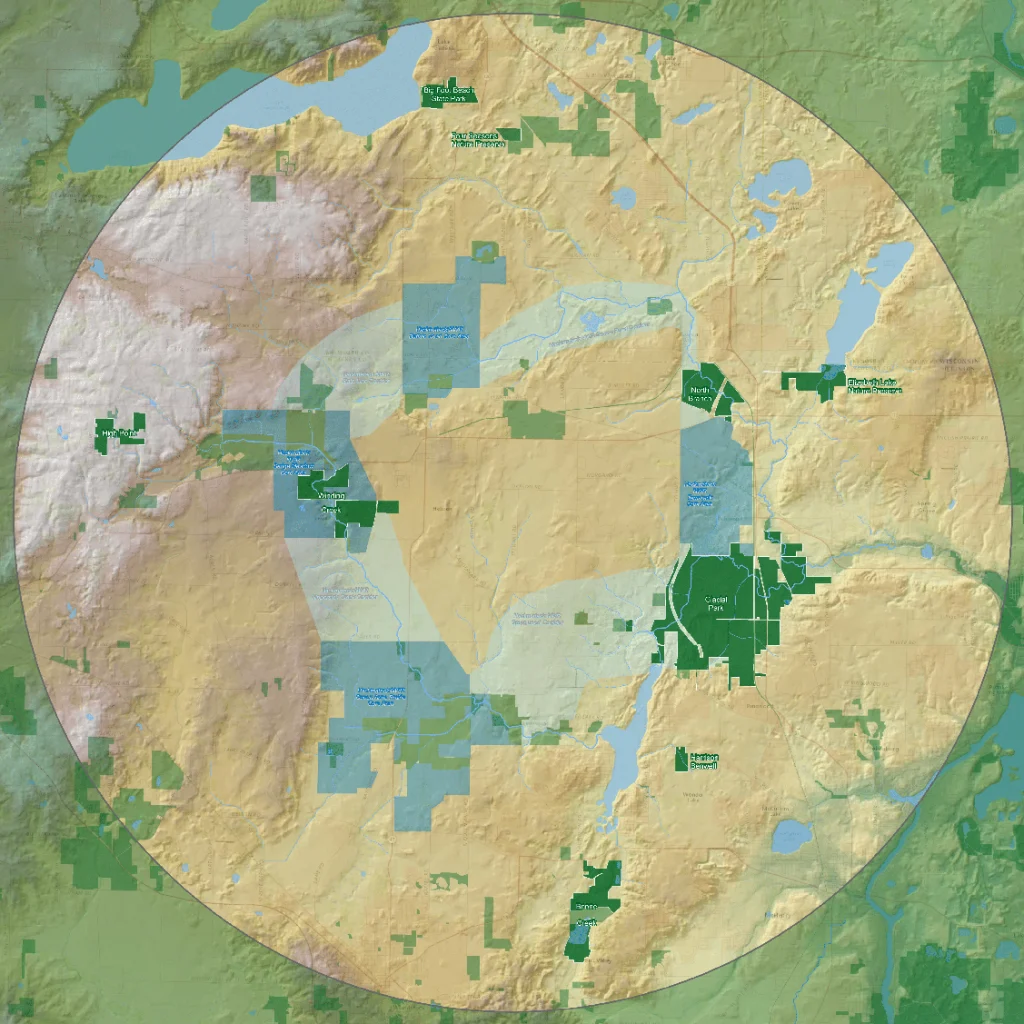 The diverse habitat found in the Hackmatack National Wildlife Refuge area, which includes oak savanna, prairie, and wetlands, is home to many species. Hackmatack contains 109 species of concern that were identified during the 2012 U.S. Fish and Wildlife Service ecological assessment within the greater Hackmatack area, including 49 bird species, five fish, five mussels, one amphibian, two reptiles, and 47 plants. These include federal and state threatened and endangered species, and U.S. Fish and Wildlife Service Birds of Conservation Concern. Notable species include the red-headed woodpecker, upland sandpipers, bobolink, lake sturgeon, and the eastern prairie fringed orchid.
The geographic shape of Hackmatack aims to protect native wildlife and habitat by creating four core protected areas connected by multiple corridors that support wildlife habitat and movement. U.S. Fish and Wildlife Service has structured Hackmatack around the many small waterways that comprise the Nippersink watershed. Portions of the Nippersink Creek are recognized as Biologically Significant Streams by the Illinois Department of Natural Resources. Overall, the Nippersink consistently ranks as one of the highest quality streams in the state of Illinois.
Hackmatack is unique as it also falls under the U.S. Fish and Wildlife Service's designation of an Urban National Wildlife Refuge. As an Urban Refuge, the U.S. Fish and Wildlife Service provides programming to connect urban communities to natural spaces that are close to large metropolitan areas, like Hackmatack. Hackmatack provides residents with many opportunities to engage with conservation, including educational programs, research, and stewardship opportunities.
---
For more information on Hackmatack National Wildlife Refuge, please contact land@openlands.org or call 312.863.6257.