Spring 2019 was one of the wettest ever in northern Illinois.
The increased frequency of weather systems that cause sporadic, torrential storms are symptomatic of climate change in the Chicago region. Jim Angel, Illinois' former state climatologist, recently stated that more intense storms and heavy rains that drop several inches at a time are becoming more frequent across northern Illinois.
According to the National Weather Service, three of the five wettest years on record in Chicago have occurred in the last decade, including 2018, which ranked fourth with over 49 inches of precipitation (the annual average is around 36 inches). And we are starting to see these weather patterns happen annually. During one 24-hour period in July 2017, Lake County, IL received over seven inches of rain. The Governor declared a state of emergency. In 2018, Lake County was under flood conditions on six separate occasions. And this past May was the wettest ever for the month, surpassing the record set only last year.
Our region – everything from rural towns to densely populated urban areas, farmland, housing, routes of transportation, and schools – was not built to withstand the "new normal" of seasonal flooding. For many of us, the impacts of flooding are felt during our daily commute, but for far too many of us, the effects are felt worst when water is pouring into our basements or when an entire year's crops – and income – are lost to intense farmland flooding.
Farm fields in Illinois are currently so saturated that less than half of the typical crop of corn and soybeans, the state's two largest crops, has been planted this year.
These are exactly the type of climate impacts on the Midwest we were warned about last year in the Fourth National Climate Assessment, and that means we need to get to work on implementing climate solutions.
The increased intensity of rain is forcing us to rethink how we can design our communities to not flood.
Photo (top), flooding in Suburban Burbank, 2014: Heather Charles/Chicago Tribune
---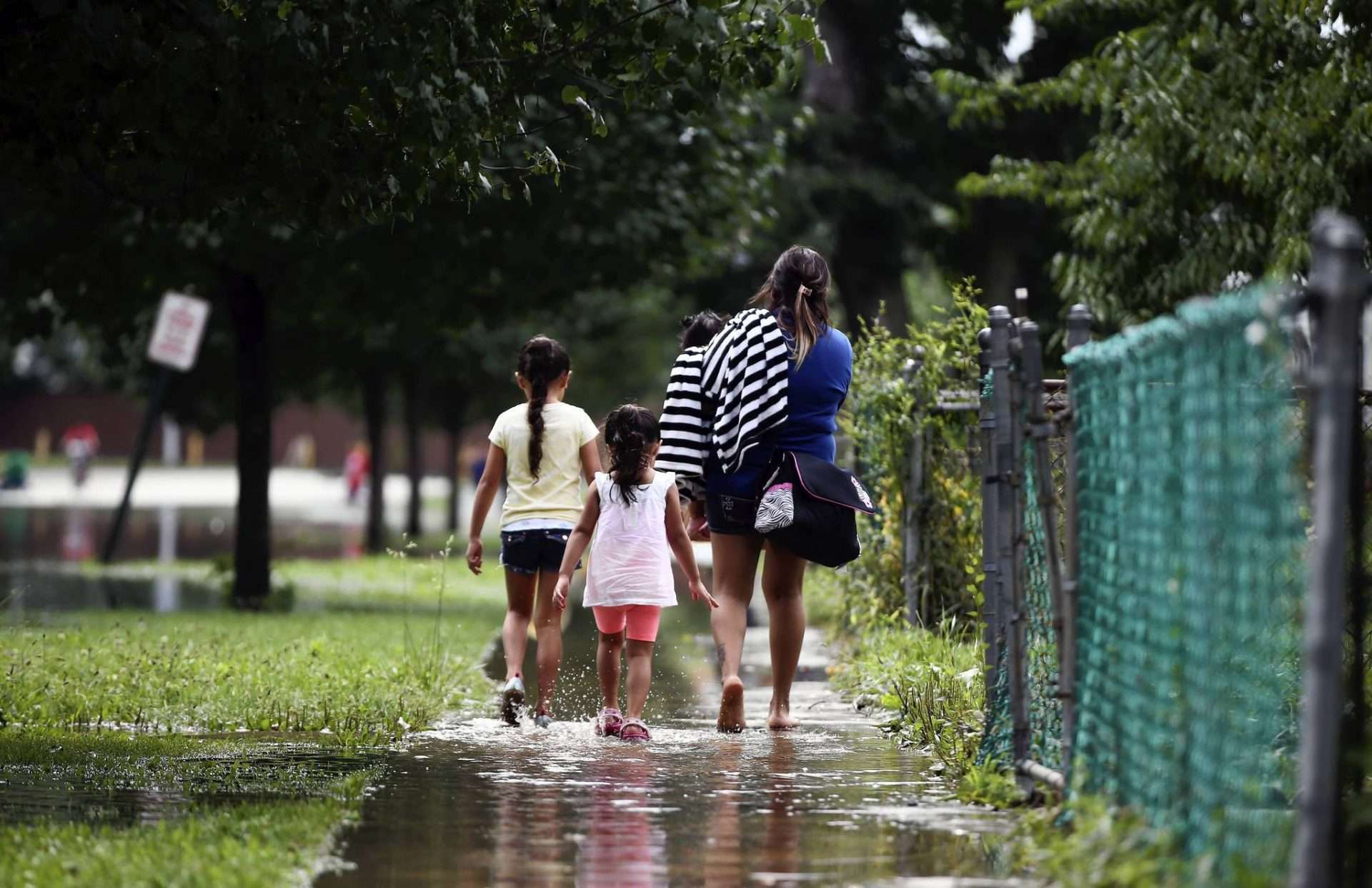 Increases in rainfall prompted the Illinois State Water Survey to update Bulletin 70, which measures the frequency of rainfall and the intensity of rainstorms in Illinois. The Illinois State Water Survey found that infrastructure was up to 25 to 40% inadequate to handle current storms. Updating Bulletin 70 is important because it is the basis for engineers to size stormwater pipes, detention ponds, bridges above rivers and streams, nature-based solutions, and other infrastructure to handle expected rain and snowmelt. While this is a critical first step, it still leaves us vulnerable to climate change. It is critical to add the amount flooding will likely increase when building infrastructure to last over the next century. Otherwise, we are building to flood.
Photo: Brian Casella/Chicago Tribune
---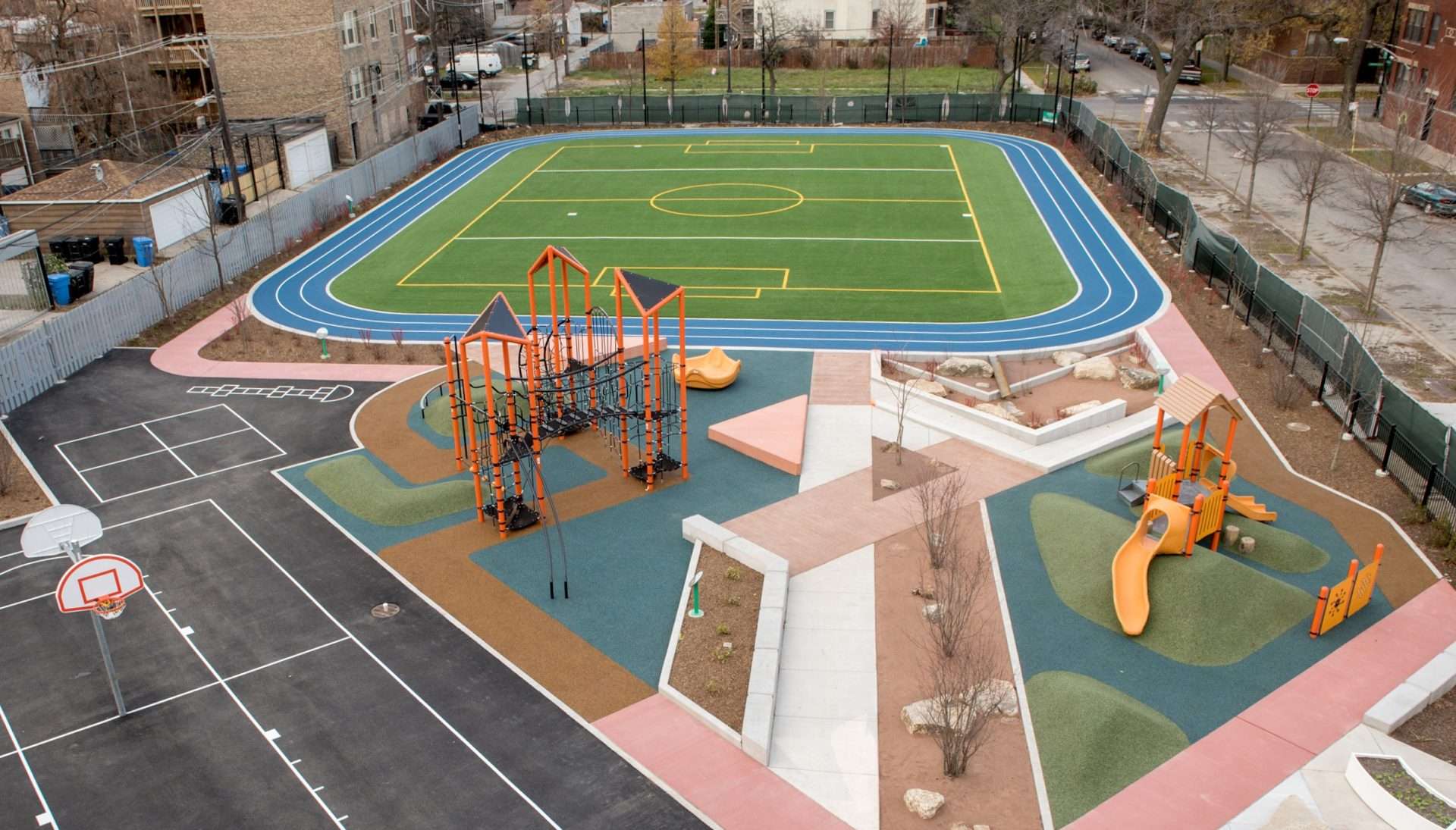 Over the last decade, agencies and communities have taken important steps towards requiring and incentivizing better stormwater solutions. However, we know it isn't enough. For our region to be healthy, competitive and livable, it is essential to design lasting pipes, reservoirs and green infrastructure to accommodate our changing climate. This means finding ways to systemize greater integration of green technology, such as permeable pavement, and natural features, such as rain gardens and trees, into public spaces. Nature-based solutions, combined with traditional infrastructure, can hold and slow substantial amounts of rain and snow melt to reduce the pressure on pipes when they are most full. This can reduce basement backups and the amount that we release combined sewer overflows – sewage combined with rain – into our rivers and Lake Michigan. Expanding and adequately maintaining both pipes and this "green infrastructure" means less damage, clearer streets, and cleaner water to drink, use and recreate in.
As our region continues to grow, more concrete and impervious surface will exacerbate the stress of climate change on our communities.  This pressure will demand, and hopefully inspire more, partnerships between agencies, communities, businesses and non-profits, to retrofit our communities with better technology.  Conscientious development and redevelopment won't be enough.  We will need more programs, like Space to Grow ©, which transforms Chicago Public School campuses in disadvantaged neighborhoods that flood into vibrant green outdoor learning places that can hold upward of 750,000 gallons per storm event.  Likewise, farmers can implement practices on their land that not only provide healthy food, but also stabilize the health of soil and improve ecosystem services like flood mitigation. Learn more about low-impact and sustainable design.
Space to Grow and conservation practices on farmland are both great examples of how protecting existing landscapes can provide a multitude of ecosystems service benefits. For example, restoring land to high quality prairie is proven to be an $8 to $1 return, mitigating flooding, sequestering carbon, and lowering temperatures in urban heat islands. With increasing pressure to develop, it will be ever more important that our development and transportation infrastructure complements rather than erodes our finite open space.
While good work is underway, we must step up our efforts to mitigate flooding and other climate change impacts for the sake of generation to come.
Photo: the Space to Grow schoolyard at Chicago's Wadsworth Elementary
---
For more than 50 years, Openlands has advocated for protecting clean water and our region's waterways. Learn more about our efforts to address climate change in the Chicago region.
---
This post was updated on July 12, 2019.