Take a trip to Goose Lake Prairie State Natural Area and enjoy a day outside exploring sweeping grasslands home to a wide variety of wildlife. Located in Grundy County, Goose Lake Prairie is managed by the Illinois Department of Natural Resources and is the largest remnant of prairie left in Illinois.
Goose Lake Prairie offers a great trail system that lets visitors enjoy the site in their own way. There are multiple looping trails, each of different lengths, that make for a pleasant short walk outside or a longer day hiking through the prairie. The trails are mowed grass and wander through different habitats, so you'll get plenty of opportunities to see some of the wildlife.
The Illinois Department of Natural Resources have developed an education center, which offers year-round programs such as guided hikes and lectures, and there's a small library in the center. You can also enjoy a picnic at some of the site's picnic areas or learn a little about the region's history by visiting some of the site's interpretative elements.
At Goose Lake, over 1,700 acres of prairie and marsh communities, containing a large and diverse array of plant and animal life, are present. Many birds, including Henslow's sparrows, Virginia rails, least bitterns, northern harriers, and upland sandpipers, are known to nest or inhabit the marshes and prairies. It's one of the best sites in the state for viewing grassland birds, so it's an accessible place for beginner-birders and a pleasure for seasoned experts.
Goose Lake Prairie is a bit of drive from the Chicago area, but it's a trip worth making, particularly for birders, nature buffs, and wildlife photographers. Tag your Instagram posts with #DiscoverYourPlace to be featured on our stream and please share with us the highlights from your adventure!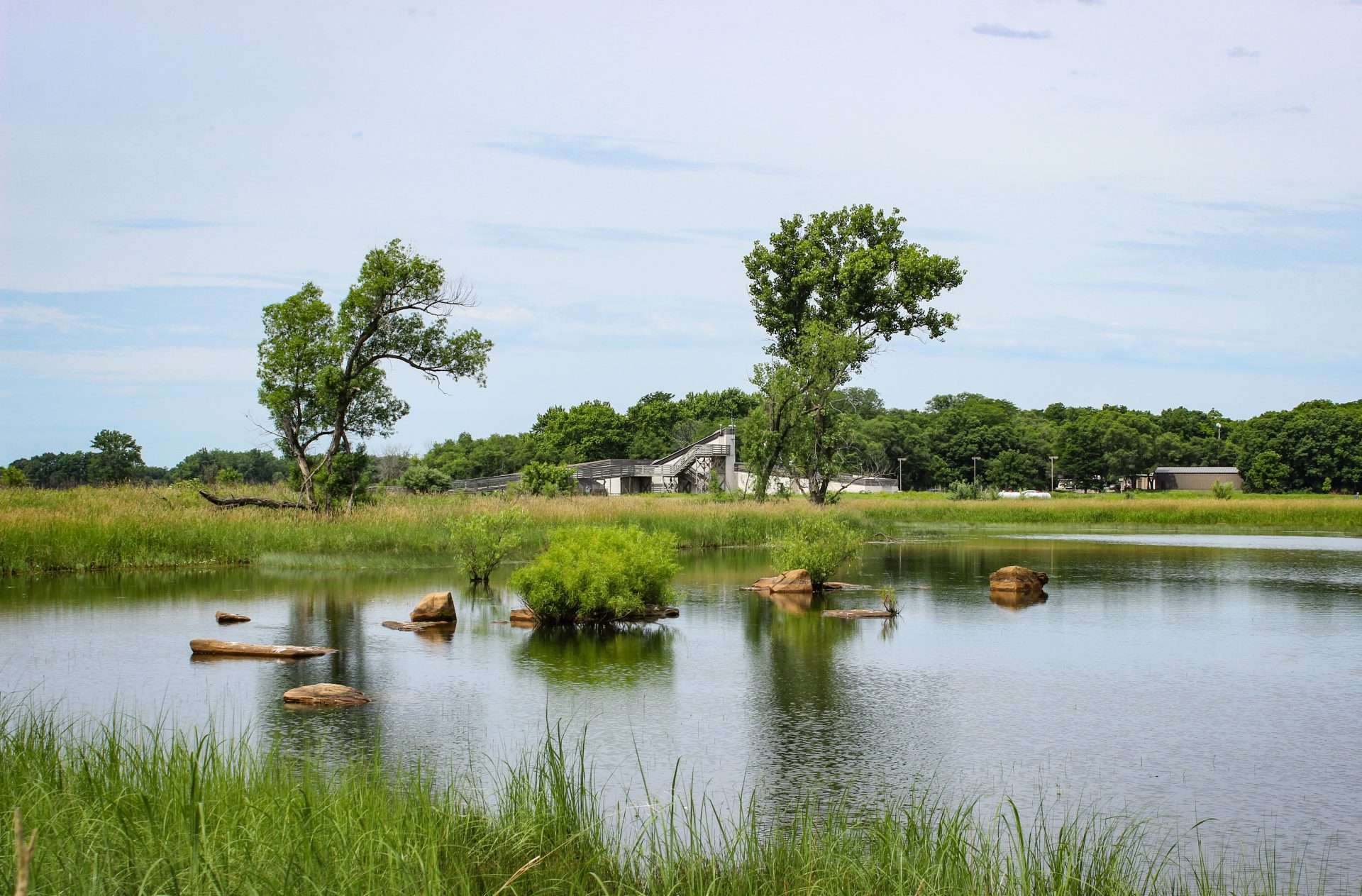 Getting There
Goose Lake Prairie State Natural Area is located in Grundy County, approximately 65 miles southwest of Chicago. From I-55, take exit 240 for Lorenzo Rd. Goose Lake Prairie is located at 5010 N. Jugtown Rd., Morris, IL 60450.
---
Glaciers and Prairies
Goose Lake Prairie is the largest remnant prairie in Illinois, meaning the natural areas here have never been developed or used for agricultural purposes. The prairies, ponds, and boulders here are all remaining evidence of the last Ice Age, when massive glaciers covered the region, carving the hills and rivers of our landscape, as well as the Great Lakes. When the glaciers retreated, they left behind the lush prairies teeming with wildlife. While they once dominated the lands now part of Illinois, sites like Goose Lake are some of the best places we can glimpse the beauty of the prairie.
In the 1960s, Openlands led the effort to preserve Goose Lake Prairie for conservation. Openlands' then Executive Director Gunnar Peterson lobbied the Illinois Department of Natural Resources to acquire the property before it could be developed for industry, and the preservation of the site was authorized in July 1968. The Visitor Center at Goose Lake Prairie, opened in 1977, is now named in honor of Gunnar A. Peterson.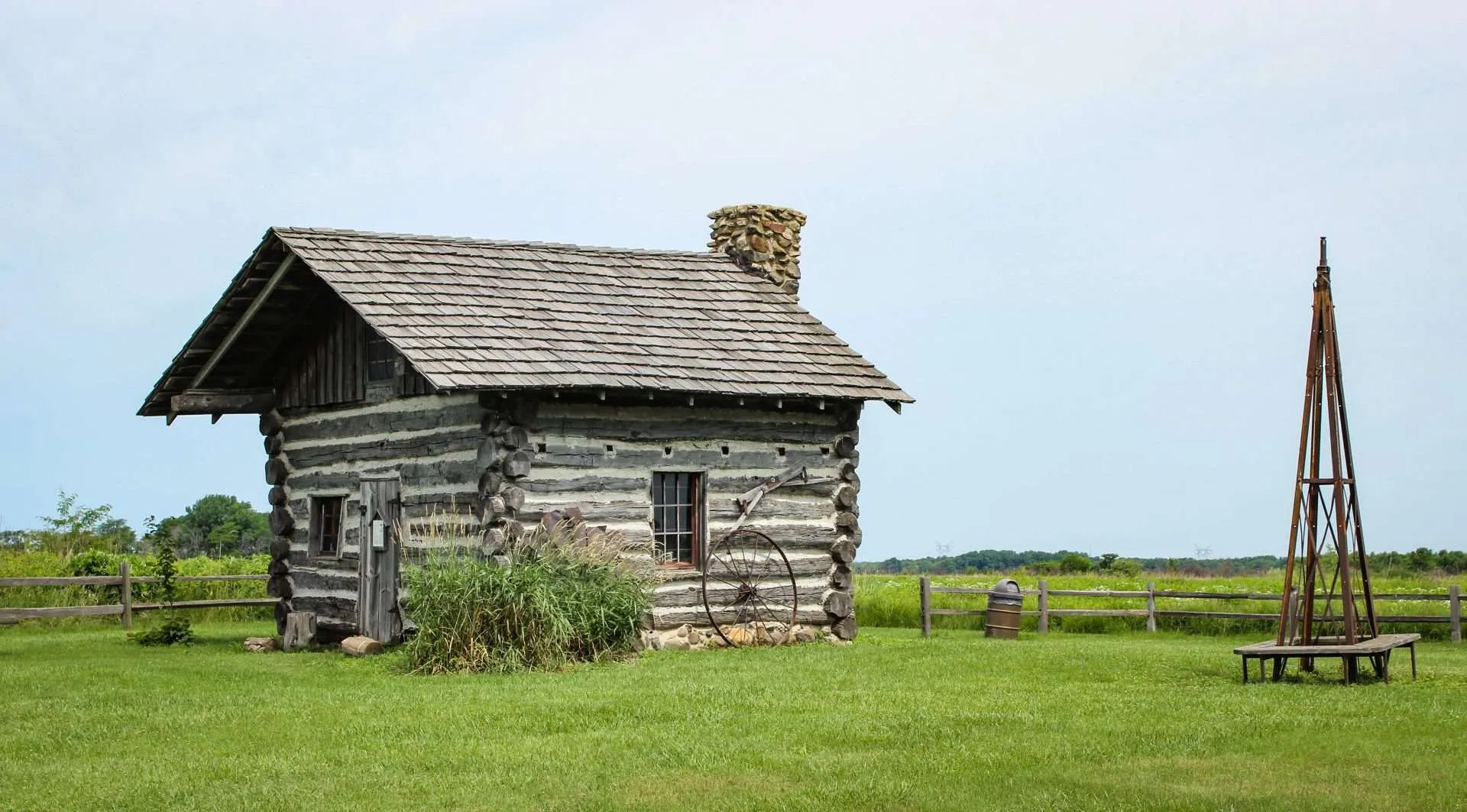 What to Do at Goose Lake
Goose Lake Prairie is home to several well-maintained natural trails, which are great for exploring everything the site has to offer.
Walking, Hiking, and Wildlife Viewing: The trail system at Goose Lake Prairie is great for both a short walk or a longer hike. Short looping trails near the visitor center allow for a shorter trip while still taking in some spectacular views of the prairie, while the longer routes offer visitors access throughout the expansive site. Please note: bikes are not allowed on the trails. Download a complete trail map here.
Birdwatching: Goose Lake is a birdwatching paradise and has been designated as an Important Bird Area by Audubon Society. Goose Lake Prairie provides habitat for the rare Henslow's Sparrow, Sora, Virginia Rail, King Rail, Sandhill Crane, Common Moorhen, Northern Harrier, Least Bittern, American Bittern, Pied-billed Grebe, and Sedge Wren.
Cragg Cabin: In the 1830s, John and Agnes Cragg moved to the area from New Jersey and opened their cabin to as a shelter to travelers passing through the region, eventually opening their home to as many as 30 visitors per night. This reconstructed cabin at Goose Lake was built in the 1980s, about 10 miles from the original location, using tools the Craggs would've used themselves.
Photography: As you wander the prairie trails at Goose Lake, you'll find some excellent views and perspectives on this storied landscape. If you're a photographer or just an avid Instagrammer, bring your camera or phone and share what you find! Tag your Instagram posts with #DiscoverYourPlace to be featured on our stream and please share with us the highlights from your adventure.
Winter Activities: Motorized vehicles are not allowed on the trails at Goose Lake, so snowmobiling is out, but you can still enjoy the trails Goose Lake in the wintertime by cross-country skiing or snowshoeing. It's open year-round for recreation.
---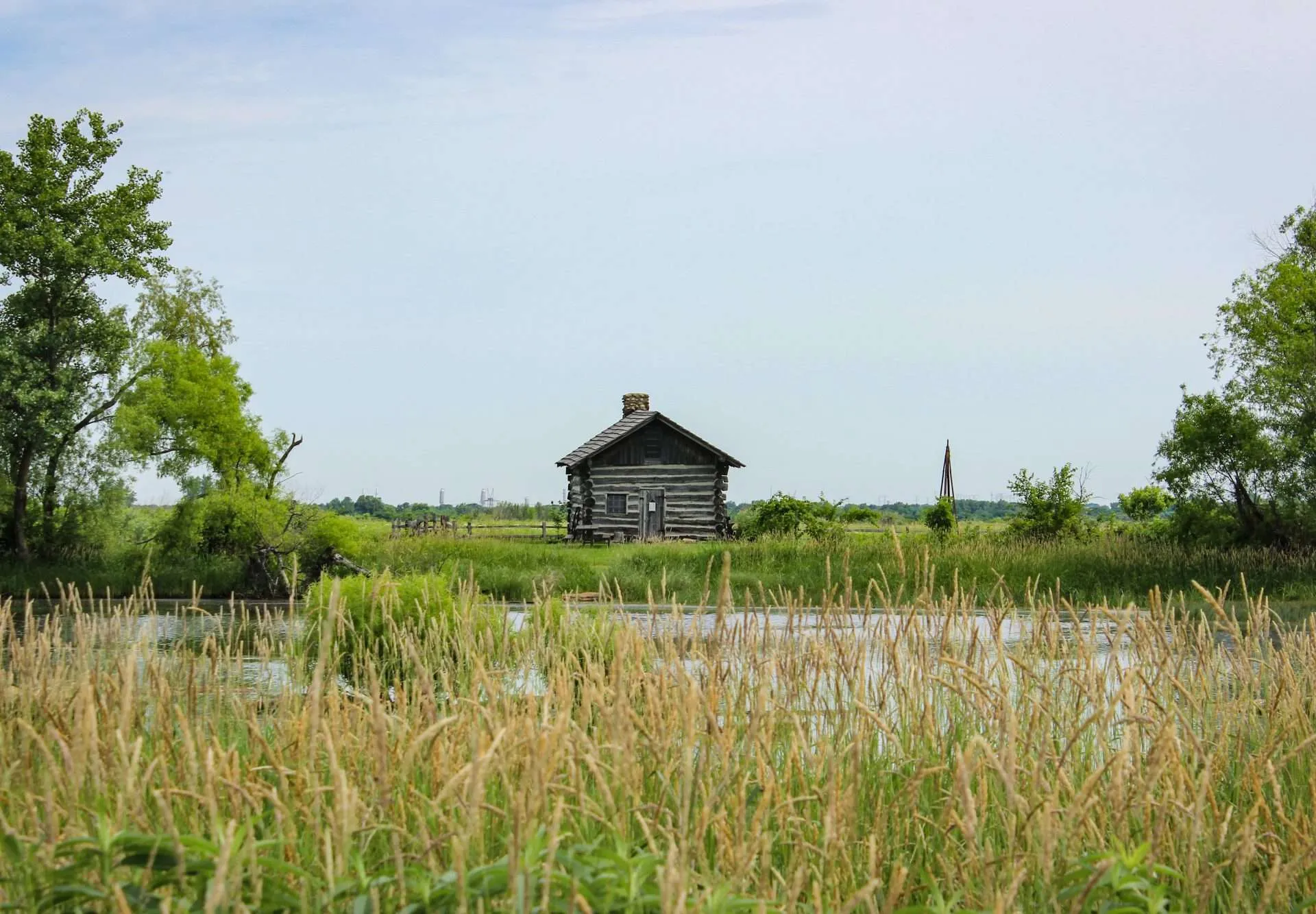 Make a Day of Your Trip!
Head back to nearby Wilmington, IL to make a full day of your trip to the area. The historic downtown is located along Route 66 and features a few famous landmarks including the Gemini Giant. There are several great spots to grab lunch and multiple options for an afternoon outside.
In downtown Wilmington, you can rent canoes or kayaks and explore the Kankakee River National Water Trail. As a National Water Trail, the Kankakee is part of a system of exemplary water trails that are cooperatively supported and sustained. The Kankakee River National Water Trail meanders through islands, cliffs, and wetlands in Illinois.
Just north of Wilmington lies Midewin National Tallgrass Prairie. As the largest open space in the Chicago region, the 19,000-acre Midewin National Tallgrass Prairie is the first such protected tallgrass prairie in the country and is managed today by the U.S. Forest Service. Midewin offers an expansive 22-mile land trail system accessible for walking, hiking, biking, and horseback riding. Be sure to keep an eye for the the herd of American bison!
Learn more about the recreation opportunities at Midewin National Tallgrass Prairie.
---
Openlands has a long history advocating for the open spaces of the Prairie Parklands region. We led the effort to save Goose Lake Prairie in the 1960s and we advocated for the creation of Midewin 1990s. Today, Openlands and our partners continue to lead dialogue with industry, local farmers, and government officials as to how to protect nationally-renowned natural resources while effectively managing our commercial needs.
---
Check out more of our recommendations for getting outside in the Chicago region.