Head out to the northwest suburbs and explore one of the largest forest preserves in Cook County! With over 3,500 acres of conserved open space, winding mixed-use trails, open pastures and picnic areas, paddling opportunities, wildlife viewing, and more, Busse Woods is one of the region's best outdoor recreation destinations. Whether you're an experienced kayaker, a trail runner, a family looking for a great picnic, or a nature lover, this place has something for everyone.
Busse Woods is pretty huge, and there's so much to unpack and explore within the forest preserve, which makes it quite a fun time. With so much to do there, you'll probably want to spend a whole day there. And while Busse Woods is great year-round, know that you'll get some excellent views of fall colors as you explore this massive forest.
If you're intrigued, be sure to plan ahead for your day. The main trail loop is nearly eight miles roundtrip, but it is definitely doable. The trail is pretty flat, paved throughout, and shaded for about half of the trip. There are a number of places to rest along the way. Plan three to four hours, depending on your pace, and bring plenty of snacks and water. If you're thinking of a shorter trip, consider the portions of the trail surrounding Busse Lake as it'll provide some excellent views — not to mention a cool breeze on a warm day.
Busse Woods is also home to the unique Busse Forest Nature Preserve, one of the richest and most diverse natural areas in the Cook County forest preserves, and has been designated an National Natural Landmark by the National Park Service.
FYI: if you're trying to figure it out, it's pronounced "bus-see".
---
[googlemaps https://www.google.com/maps/embed?pb=!1m18!1m12!1m3!1d11517.196330799205!2d-88.01850120960466!3d42.028833398377145!2m3!1f0!2f0!3f0!3m2!1i1024!2i768!4f13.1!3m3!1m2!1s0x880fb0191ab56739%3A0x4b12ef6371c7a9ea!2sNed+Brown+Preserve+(Busse+Woods)!5e0!3m2!1sen!2sus!4v1537196330083&w=600&h=450]
Directions and Info
Busse Woods is located between Elk Grove and Schaumburg in the northwest suburbs. If traveling by car, exit I-90 at Arlington Heights Road south or I-290 at Higgins Road east. There are multiple parking areas within the forest preserve.
Busse Woods is managed by the Forest Preserves of Cook County. There are restrooms on-site. Contrary to what the name suggests, you will pass through several open meadows as you explore, so be sure to bring sun protection.
---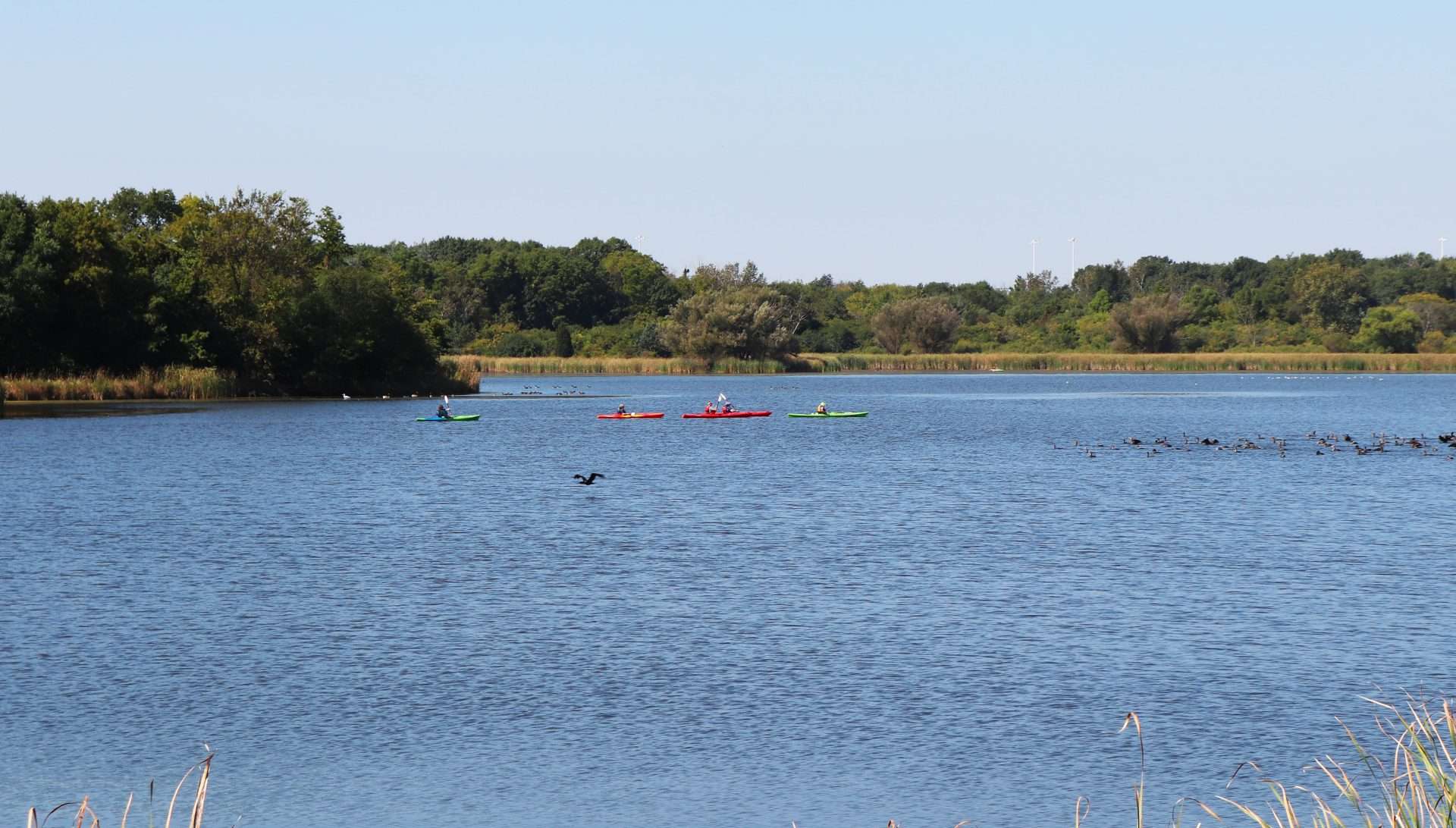 Get on the Water
Busse Lake was created in 1978 when natural waterways were dammed and the area was dug out. It now covers about 460 acres of the preserve and is open to the public for paddling! Pull away from shore and explore Busse Lake's islands, coves and inlets, where lanky herons and egrets silently watch from the trees and cattails. Definitely keep an eye out for the cormorant birds!
Canoes, rowboats, and sailboats are allowed on the South Pool and main lake sections of Busse Lake. There are public launch ramps for access to both areas. Rentals are available by the hour or day from April through October. Electric trolling motors are allowed; gas outboard motors are not.
Busse Lake is also the start of the Salt Creek Water Trail, which consists of four sections, each offering a distinct paddling experience. As a beginner-friendly trail, Salt Creek is a great adventure on the water. Learn more at PaddleIllinoisWaterTrails.org.
---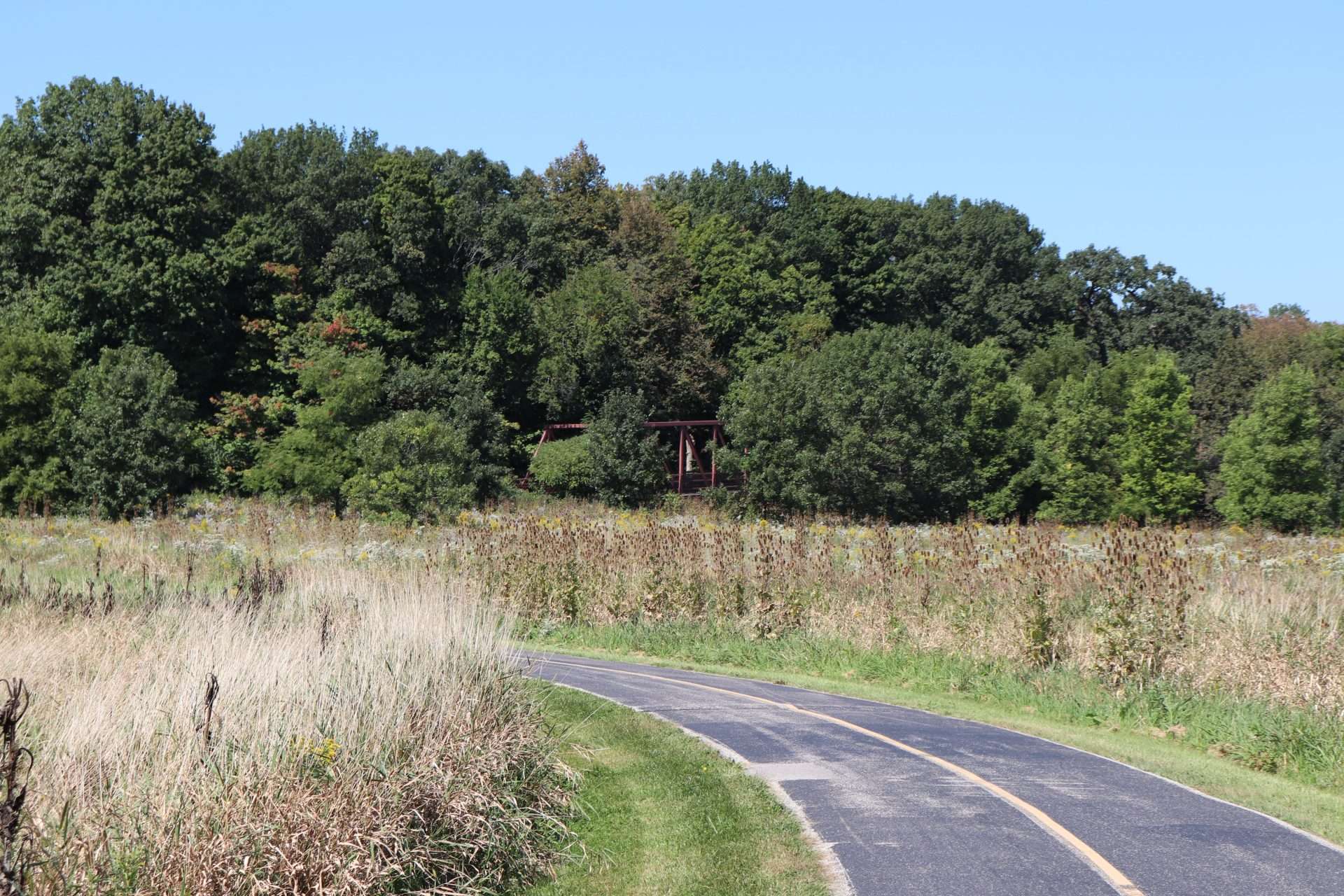 Trails, Elk, and More!
Trails

: Busse Woods is home to an extensive mixed-use, paved trail system. The 7.3-mile main trail winds through most of the preserve and is frequently used for hiking, biking, jogging, and shorter pleasant strolls. Be advised that others will be around you, stay alert for bikes, and share the road. View a full trail map.
Elk Herd

: Yes, elk. Since 1925, a small elk herd has been inhabiting a 17-acre enclosed pasture in Busse Woods, located on the east side of the preserve. The main trail at Busse Woods passes next to the enclosure or you can park nearby. Learn more.
Fishing

: In addition to canoeing and kayaking, sections of the lake system in Busse Woods is open to fishing. Busse Lake is stocked with largemouth bass, bluegill, northern pike, brown bullhead, channel catfish and walleye. The wide variety of shallows, drop-offs, brushy areas and open water create active fishing spots from both the shoreline and boats. Check out the Forest Preserve's fishing guidelines first.
Volunteer

: There are also many volunteer opportunities through the Friends of Busse Woods, a volunteer group that partners with the Forest Preserve District to maintain the preserve's natural areas. Volunteers can help by removing invasive plants or listening for birds or frogs as part of monitoring programs organized by the Bird Conservation Network and the Chicago Wilderness Calling Frog Survey.
Long Distance Trails

: the main trail system at Busse Woods connects to the Salt Creek Greenway trail in the southeast corner of the forest preserve. The greenway trail is a pleasant route winding through suburban Cook and DuPage counties that ends at Brookfield Zoo.
Photography

: As you wander through prairies and forests, and across trails and lakeshores, you'll find a stunning display of prairie-state nature (there are some especially great views as you cross the water). If you're a photographer or just an avid Instagrammer, bring your camera or phone and share what you find! Tag your Instagram posts with #DiscoverYourPlace to be featured on our stream and please share with us the highlights from your adventure.
---
Check out more of our recommendations for getting outside in the Chicago region.
Read more about our efforts to support the Forest Preserves of Cook County through the Next Century Conservation Plan.
Photos: Patrick Williams