When Elena Spiegelhoff inherited the family farm in McHenry County, she wanted to protect the farmland and natural features she had known since childhood. The farm had been in her family since 1950, first in the care of her parents, and then her brother, Eugene. But Elena knew she couldn't care for the farm forever.
Elena speaks with fond memories of this family home in Richmond: growing up, the family horse would plunge her into the Nippersink Creek on hot summer days, her grandmother would spend their summers working in her garden and using the farm house table for baking; Elena would climb to her hillside "secret garden" hidden among the oak trees that would produce the "best tasting melons in all of [McHenry] County,"; and she would walk the land as a kid in the company of her two dogs. How do you part with a place you hold so dear?
Elena wanted to ensure her family's farm was preserved and that it can be a place for future generations to appreciate. Her deep love and respect of the land led Elena to a partnership with The Land Conservancy of McHenry County (TLC) and Openlands. Today, we are pleased to announce that we have permanently protected the land that Elena loves.
[wpvideo eeUFtZls]
---
This was a prime opportunity for Openlands to support Hackmatack National Wildlife Refuge. Hoffmann Farm, which honors the family name, is 153 acres sitting within the greater refuge area. In May 2018 we completed the process to protect the farm: first, together with TLC, we helped Elena place a conservation easement on her property before purchasing the protected land. We are now working with a sustainable farmer to keep the land healthy and productive in its new role as a native plant nursery.
Hoffmann Farm also presented an opportunity to preserve some local history as well as high quality natural resources. Elena's brother Eugene was an avid fan of model trains and formerly operated a small model train on the farm for local residents to enjoy. While that service is no longer running regular trips, Elena wanted to make sure her brother's legacy wasn't paved over as a mall or subdivision, and portions of the old model train tracks now remain on the land.
The oak-hickory woodland that served as a backdrop to so many childhood adventures has been protected and we will help that ecosystem thrive. Finally, U.S. Fish and Wildlife Service structured Hackmatack around the many small waterways that comprise the Nippersink Creek watershed, and Hoffmann Farm straddles half a mile of some of the most pristine waters in the creek's North Branch, providing substantial support to habitat and wildlife in the region.
---
Hoffmann Farm is one of five sites Openlands is currently working to protect in support of Hackmatack National Wildlife Refuge. Like the farm, these projects are the result of partnerships with willing sellers or private landowners who place conservation easements on their land. As Openlands continues to protect new areas within the greater refuge area, we are interested in exploring multiple land-use strategies to protect natural resources, promote a culture of conservation, help the region thrive, and ensure working agricultural lands remain healthy and productive. Red Buffalo Nursery will now operate on Hoffmann Farm, providing native plants both for purchase and to assist with landscape restorations throughout the region.
Agricultural conservation easements, like the easement at Hoffmann Farm, can ensure that farmland remains protected. These practices lead to healthier soil, cleaner waters, and a better home for wildlife. Openlands is excited to work with small and new farmers for the benefit of local communities and our region's sustainable agriculture.
---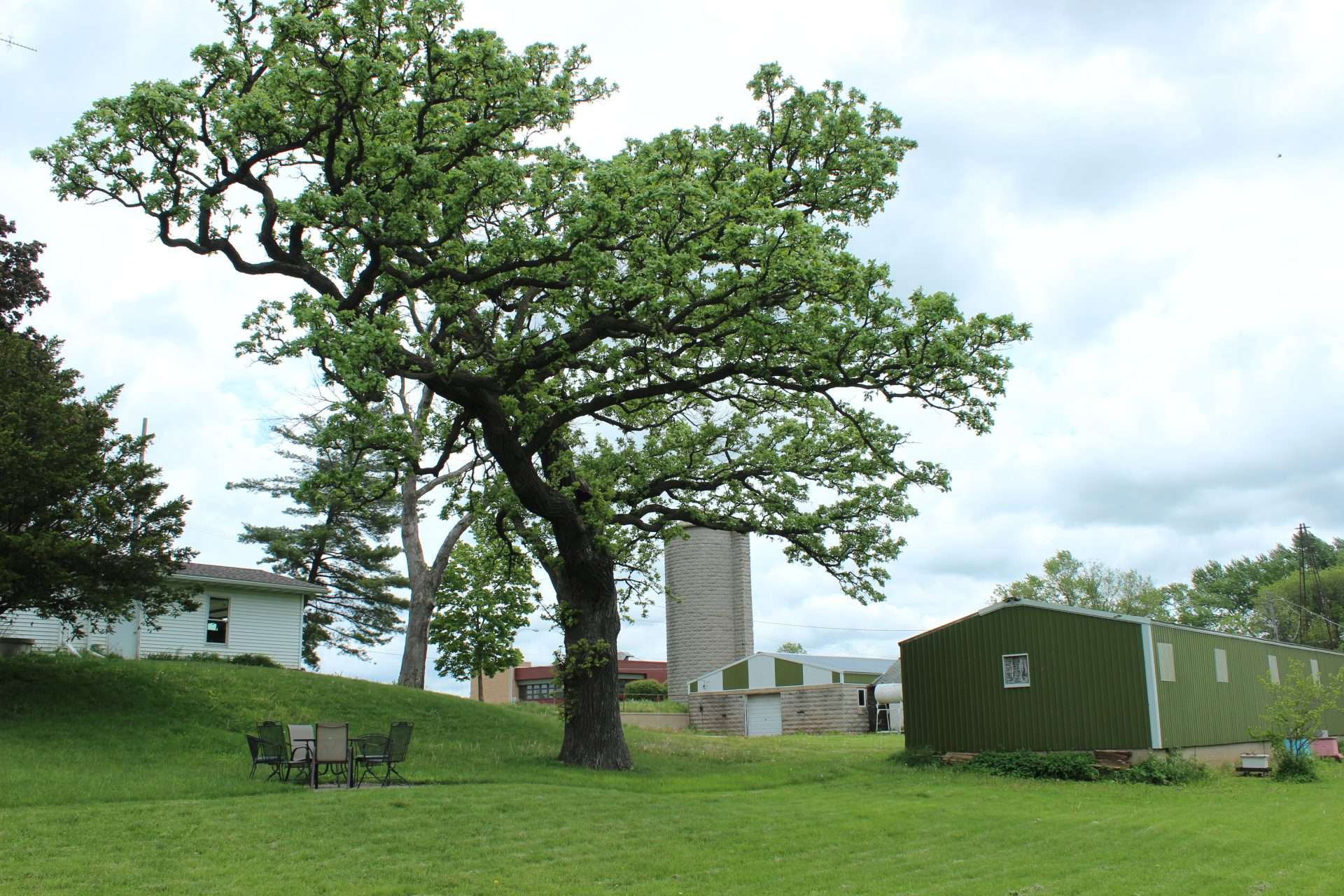 Oak tree at Hoffmann Farm
While it took some time to protect her home, Elena Spiegelhoff stood by this vision, and we cannot thank her enough for sharing her love of the land with us. We are honored to assist landowners like Elena who share our passion for land conservation. Many thanks to our partners at the Land Conservancy of McHenry County, to Grand Victoria Foundation and the Natural Resources Conservation Service for their vital support, and to the early leadership in this project provided by Liberty Prairie Foundation and Food:Land:Opportunity, an initiative of the Kinship Foundation and the Chicago Community Trust, funded by the Searle Funds at the Chicago Community Trust.
For more information on Openlands' regional land conservation work or on Hackmatack National Wildlife Refuge, please contact land@openlands.org.