Situated in the heart of Chicago's north side is a peaceful retreat from the bustle of city life. North Park Village Nature Center is a 46-acre natural area and education resource, offering multiple recreation opportunities and a variety of programming from the Chicago Park District.
The nature center is a great snapshot of Illinois' native landscapes. Here you can wander through wetlands and tallgrass, forests, prairies, and even an oak savanna. The change in ecosystems is plainly apparent as you follow the trail, and the interpretive signage throughout makes North Park Village Nature Center a superb educational resource. Check it out for hiking and walking, birding, or a short field trip with your family!
North Park Village Nature Center is open seven days a week from 10am-4pm.
---
Getting There
North Park Village Nature Center is located in the North Park Village Campus, 5801 N. Pulaski Rd., Chicago, Illinois 60646.
You can take the CTA Blue Line to the Irving Park stop and transfer to the Pulaski bus (#58) or take the Red Line to Bryn Mawr stop and transfer to the Peterson bus (#84).
---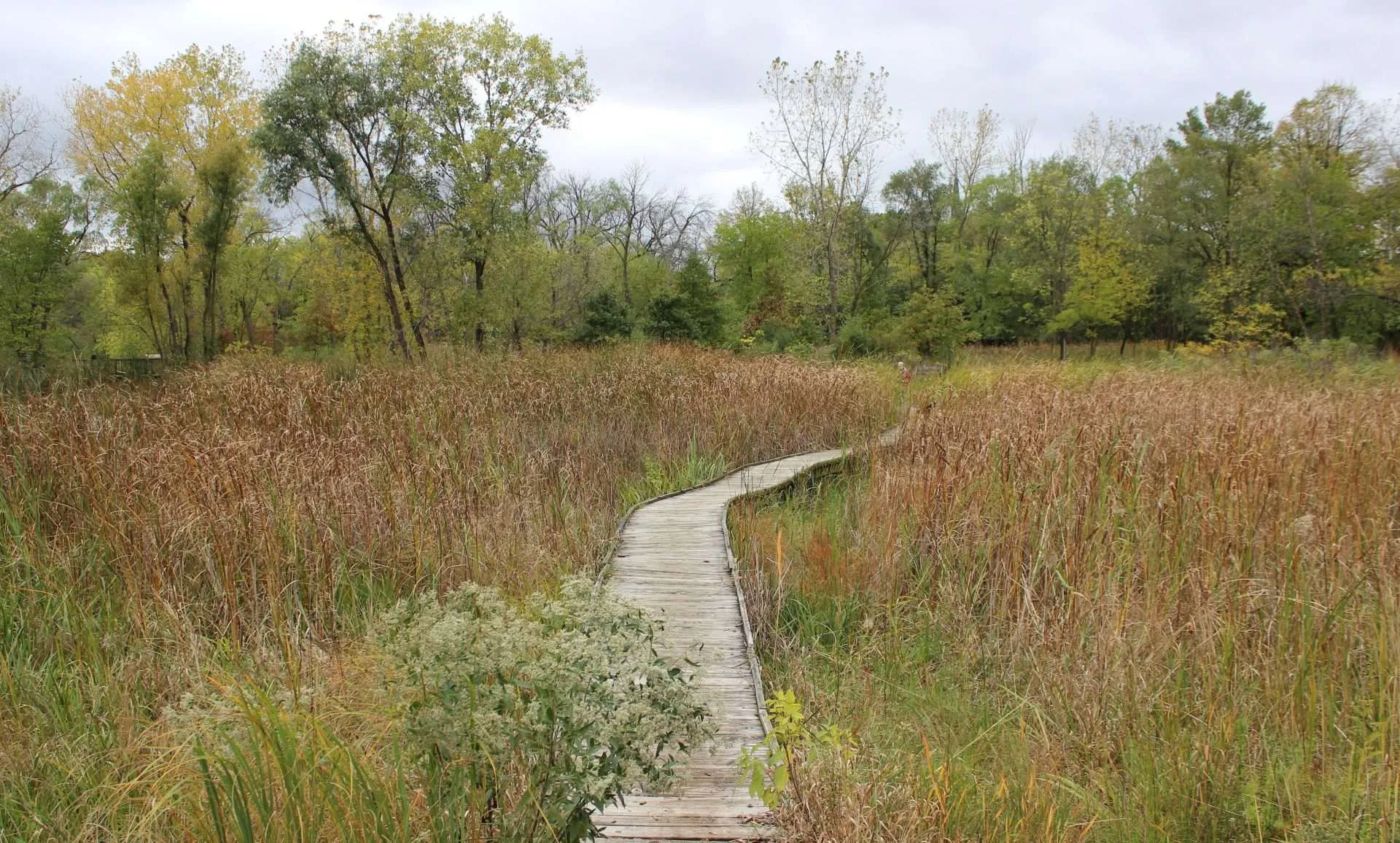 What Can You Do at North Park Village Nature Center?
Hiking:

North Park offers a trail looping through natural areas that is approximately one mile long. Pass through a few times or try a slow stroll to take in all the different sights and sounds.
Birding:

This quiet retreat is an excellent place to spot birds common to our region and those species that migrate through. You can view a list of recent sightings here, and if you're curious to try birding for the first time, we have some tips.
Volunteer Stewardship:

 You can help restore the woodland, wetland, and prairie communities in the nature preserve. Activities include planting native species and invasive species control, and the volunteer program runs throughout the year. Learn more.
Peterson Park:

Adjacent to North Park Village Nature Center is Peterson Park, operated by the Chicago Park District. Peterson Park offers sports fields and community programming. Learn more.
Discover! If you're a photographer or just an avid Instagrammer, bring your camera or phone and share what you find at North Park Village Nature Center! Tag your Instagram posts with #DiscoverYourPlace to be featured on our stream and please share with us the highlights from your adventure.
---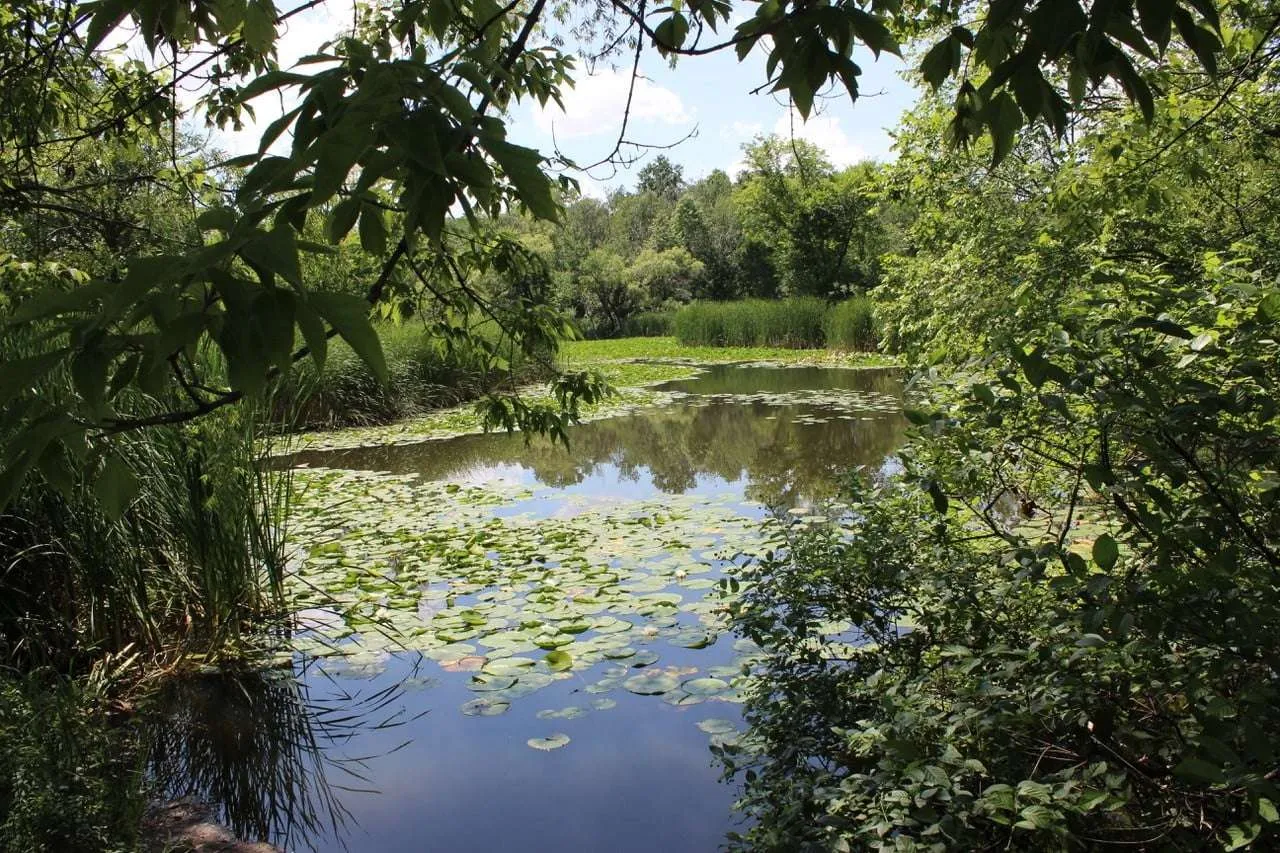 Photo courtesy of North Park Village Nature Center Facebook Page
Make a Day of It!
LaBagh Woods:

The nearby LaBagh Woods is one of Forest Preserve of Cook County's best places to visit. Located within the City of Chicago, LaBagh Woods is a great place to enjoy trails, go birding, and find some massive ancient oak trees!
North Branch Trail:

Just south of North Park Village Nature Center is the southern end of the North Branch Trail, a 16-mile mixed use recreation trail paralleling the Chicago River. View the map.
American Indian Center:

stop by the American Indian Center (AIC) at their new location in Albany Park. The AIC is an excellent organization working to provide a community resource for American Indians of Chicagoland and to facilitate dialogue among all peoples. Learn more.
Albany Park:

spend part of your day exploring Chicago's Albany Park neighborhood. It's a charming part of the city with a host of local businesses and a strong community feel. Learn more.
---
Openlands has helped to protect North Park Village Nature Center in Chicago by by engaging residents and fostering appreciation for the city's natural areas. We hold the site's conservation easement, and more recently we hosted our fall 2017 TreeKeepers course at North Park, which included a native tree planting in the natural areas.
---
Check out more of our recommendations for getting outside in the Chicago region.