Chicago's urban forest is vital to the health and wellness of our city. Trees provide essential economic services, improve the quality of life for residents and wildlife, mitigate the threats of climate change to our region, and help to beautify our neighborhoods and parks. Preserving these community assets, however, requires constant attention, persistence, and investment.
There are over 3,500,000 trees in the City of Chicago, which capture harmful pollution and improve air quality. Pollution from coal- and gas-fired power plants and from industrial production has direct impacts on public health. In Illinois, asthma affects residents at a disproportionate rate (13% versus the 8% national average), so every resource to improve air quality — particularly trees which capture volatile organic compounds — is essential.
Green areas serve the societal well-being of communities as well. Shaded parks can encourage increased recreation, decrease ultraviolet radiation levels, provide a sense of place, and create opportunity for green jobs through tree care. Additionally, tree-lined streets and green neighborhoods have demonstrated reductions in crime compared to similar, barren neighborhoods.
As our climate changes, Chicago's forest will play a critical role in mitigating the effects. Trees sequester and store carbon by absorbing CO2, the second most abundant greenhouse gas. Climate change will likely result in increased average temperatures for Chicago, yet trees provide natural climate control by reducing surface temperatures around buildings, further allowing a reduction in energy consumption. We also face an increased need to better capture rain water and prevent flooding, and trees function as natural water storage systems.
---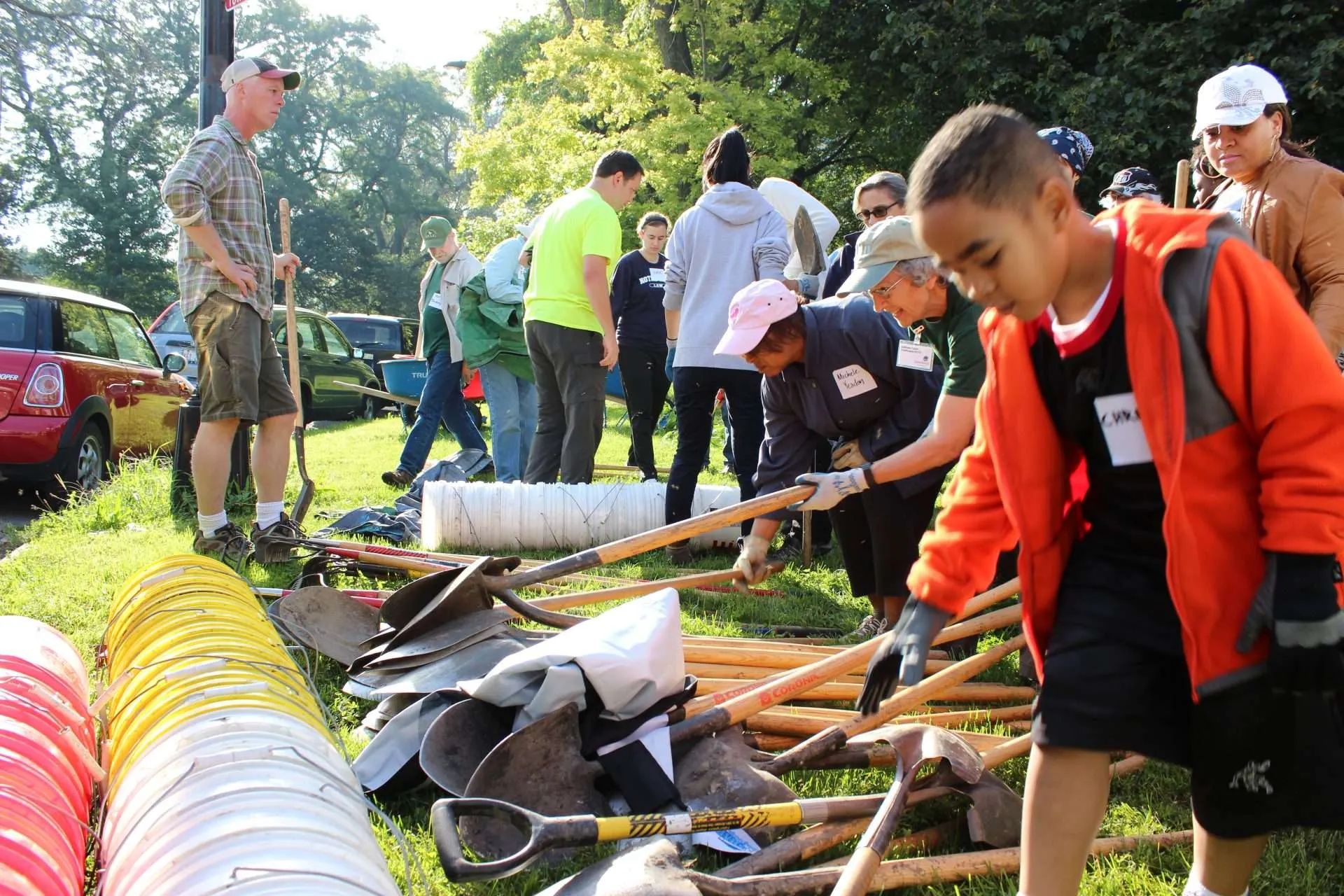 Pollution concentrates disproportionately in communities of color and climate change affects low-income neighborhoods first, and Chicago has not been immune to this reality. Neighborhoods across the south and west sides lack access to green space and recreation opportunities, they experience increased urban flooding, and their residents live in proximity to major polluters. To address this injustice, Openlands' urban forestry programs have always worked with and for the city's residents.
Openlands believes we must engage and communicate with local residents who benefit most directly from the trees in their neighborhood. Our TreePlanters Grants facilitate community tree plantings, bringing neighbors together in the community goal of healthy trees. Our urban forestry team, with assistance from our trained TreeKeepers volunteers, have planted over 3,800 trees across Chicago since 2013, and we continue to care for our arboreal treasures which enhance the vitality and beauty of our region.
As a lead partner of the Chicago Region Trees Initiative, Openlands works to create a healthier urban forest, which provides the region with improved environmental, economic, and social benefits. Since 2012, Openlands has led the creation and implementation of the Next Century Conservation Plan for the Forest Preserves of Cook County, which improves access to the forest preserves for residents and leverages the economic benefits of forest preserves for communities' benefit.
An effective urban forestry program maintains a healthy and expanding canopy that provides maximized benefits to its residents. Openlands works to protect the natural treasures that balance and enrich our lives, including our region's urban forest, and we recognize the need to engage residents in care of these assets. Through education and engagement, Openlands hopes to raise greater awareness of the conservation issues that face our region.
For more information on Openlands' urban forestry work, please contact trees@openlands.org or call 312.863.6271.