Openlands' Explore Your Lakes and Rivers series began on Mother's Day at Ping Tom Park in Chicago's Chinatown. This series of 11 paddling events is designed to introduce new paddlers from surrounding communities to the Chicago and Calumet waterways. The events also engage people with nature on the rivers in a way that is relevant and fun.
Openlands partnered with Wilderness Inquiry and the Ping Tom Advisory Council for this event. Wilderness Inquiry provided staff and voyager canoes through their Canoemobile program, allowing more people an opportunity to participate. While the Ping Tom Advisory Council helped to promote the event, arranged for Cantonese translation, and provided bathroom access to participants.
For the Ping Tom Park event, the community had the chance to enjoy paddling on the Chicago River, and to discover the wildlife of the park. The canoes were wheelchair accessible, providing increased access. Approximately 200 people from across the city and as far away as Wisconsin attended.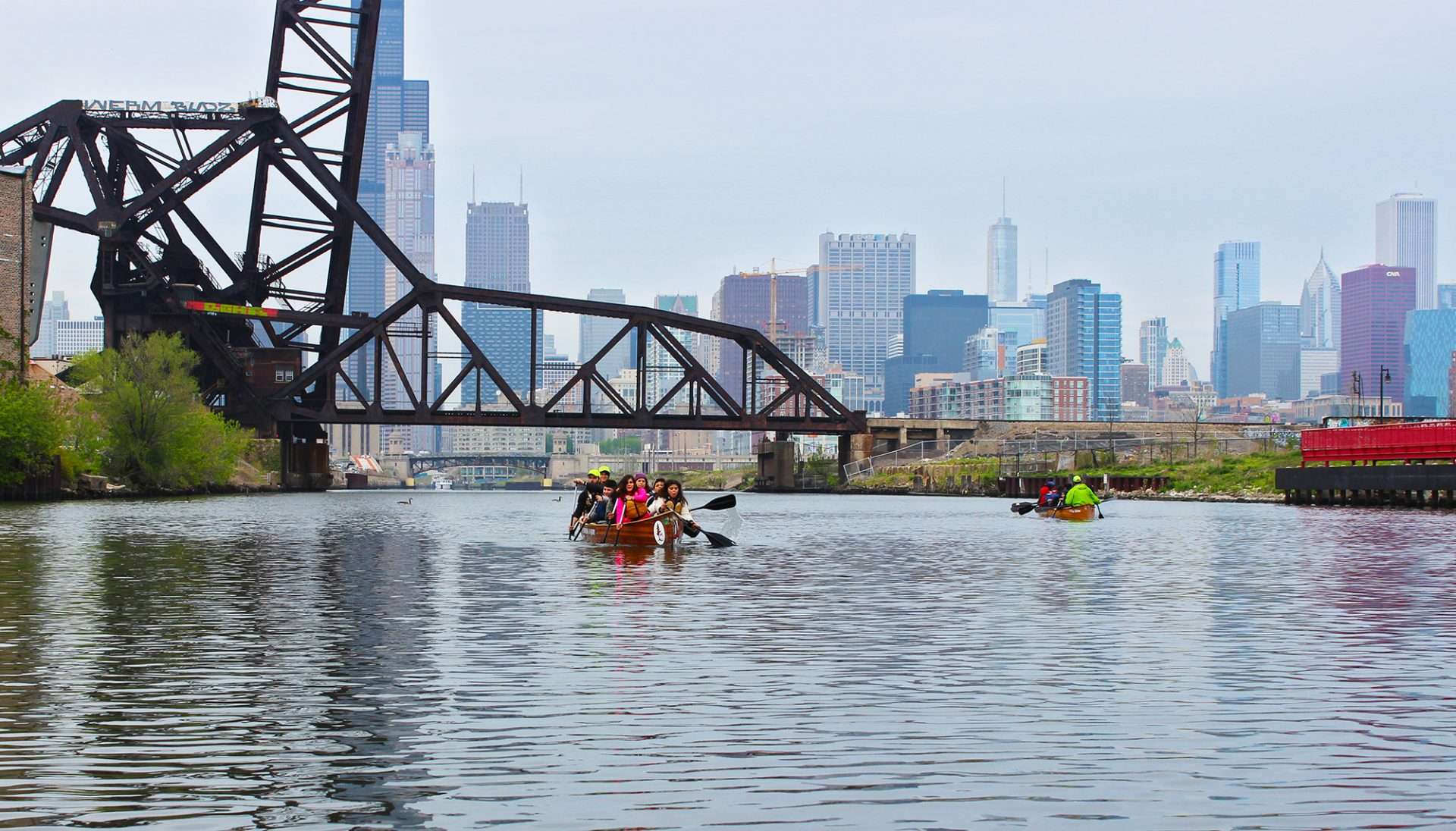 The canoeing adventures started right away on the beautiful spring morning. With a mix of ages and experience levels, groups of eight set out on the water for 30 minutes at a time to explore and have fun. They canoed past birds that flew across and floated on the river. They had the chance to capture spectacular views of the park and the city's buildings and bridges. All the new paddlers learned quickly and some even signed up for a second trip! By the end of the event, as many as 25 canoes travelled the river.
In the courtyards of Ping Tom Park, visitors enjoyed guided bird walks led by experienced Birds In My Neighborhood (BIMN) volunteers. BIMN is an Openlands program that trains volunteers to engage Chicago Public School students in bird watching in their neighborhoods. Each group had a checklist of birds often found in the area. They searched along the paths and between the varieties of trees in the park. In just half an hour, the five tours found most of the birds on their list, such as the American Robin, the Red-winged Blackbird, and the Black-capped Chickadee. They learned how to identify a few different bird songs and discovered other wildlife in the park as well.
Many visitors were in awe of how exciting it was to explore the river and the wildlife of the park. One mother even expressed how this was the best Mother's Day she ever had!
Openlands has free and fun Explore Your Lakes and Rivers events through September! Join us and explore the hidden wildlife and natural treasures that are just waiting to be discovered in your own backyard!