A wildlife biologist peers down at the Chicago River from the Washington Street Bridge. River otters are fastidiously building cones out of the remains of their breakfast on a ledge behind the Civic Opera House. Once completely gone from Illinois, the otters – along with over 70 kinds of fish, black crowned night herons, bald eagles, and scores of other wildlife – have returned to Chicago's rivers. They share the waters at dawn with high school crew teams who clip along the surface.
Chicagoans have come a long way over the last forty years in how we see and value our second shoreline. Once considered open sewers, the Chicago and Calumet rivers have become vibrant natural attractions that are economic drivers and community assets. Offices and homes are now facing the river again, and the number of docks and boat launches is rising.
---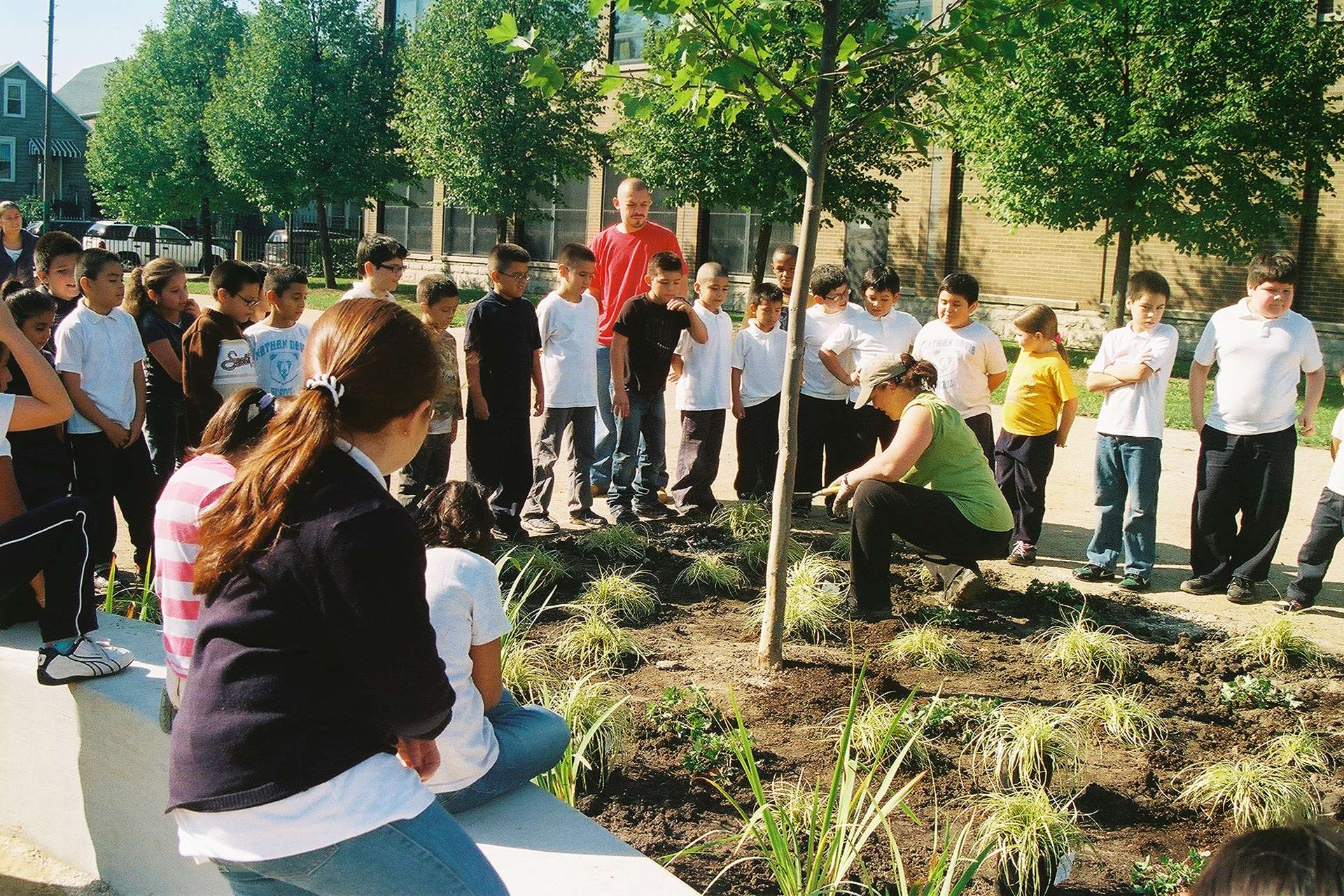 Managing stormwater to help our rivers
One solution is the Metropolitan Water Reclamation District's (MWRD) "Deep Tunnel" and reservoir project, which captures billions of gallons of rain. When storms overwhelm MWRD's treatment plants, it has to flush the overflow of rainwater and sewage into our rivers and Lake Michigan. The 30-foot tunnels and giant reservoirs hold massive amounts of polluted stormwater until MWRD can treat it all. The quality of our rivers has also improved as MWRD has upgraded the technology at its treatment plants.
MWRD is also partnering with Openlands and other organizations to help communities capture rain where it falls. Through the Space to Grow program, Openlands and Healthy Schools Campaign are working with MWRD, Chicago Public Schools, and the City of Chicago's Department of Water Management to transform underutilized schoolyards into lush gardens and safe playgrounds for students, families, and community members. Because of these new amenities, we have fewer basement backups, less stormwater flowing into our sewers, reduced flooding, and ultimately less pollution discharged into our waters. The program is gaining national recognition as a model for other cities to leverage public and private partnerships for a multitude of community benefits.
---

Strengthening regulations
The State and Federal EPA are recognizing our progress in reclaiming the Chicago and Calumet rivers and are requiring stronger protections for people and wildlife that are on and in the water. Since so many people are enjoying our waterways, the Illinois Pollution Control Board (Board) has adopted regulations that require the MWRD to disinfect over 600 million gallons of sewage that it discharges each day from its North Side and Calumet treatment plants. Earlier this month, the Board took another giant step towards passing comparable regulations to protect the resurgence of fish and other wildlife by requiring power plants and other industrial users to remove more heat and pollution from its cooling water before returning it to our rivers. Openlands and our colleagues continue to advocate for the Board and the United States EPA to hold strong on these improvements so that our rivers can reach their potential.
---

The work continues
This growing consciousness has sparked new plans for the future. The Calumet Stormwater Initiative is leveraging the vision and resources of Chicago's south side communities to attract millions of dollars in public and private funding for a host of stormwater projects. As a result of ongoing collaboration between government agencies and non-profit organizations, the region is a strong candidate for up to $500 million in federal assistance to help communities become more resilient to the effects of flooding and climate change.
We still face challenges ahead. Openlands and our partners are already challenging requests by industry for permission to sidestep the new water quality standards. We are preparing for upcoming Board proceedings that will determine how much industry can continue to pollute our rivers with road salt, ammonia and other chemicals that are toxic to rebounding wildlife. In addition, Openlands has intervened in a proceeding where the Illinois Department of Natural Resources is considering whether to continue to allow the MWRD to use Lake Michigan Water to flush out our rivers.
Overall, we are seeing progress. At Openlands, we will continue to press for revitalizing our waterways and better connect the people of our region with these natural treasures.