Midewin National Tallgrass Prairie is renowned for globally-rare habitat, harboring hundreds of species of plants and wildlife, and offering one of the largest havens in the upper Midwest for grassland birds. Today, Midewin is considered a model process for conversion of surplus federal property to public open space, and that reputation is accented by the multi-faceted restoration projects such as the reintroduction of a herd of American bison.
After the creation of Midewin, Openlands worked in partnership with the U.S. Forest Service and other organizations to develop The Prairie Plan for the restoration of a unique prairie ecosystem with unparalleled opportunities for outdoor recreation, wildlife viewing, environmental education, research, and volunteerism. When all land transfers from the Army are completed, Midewin will be approximately 19,000 acres.
The importance of Midewin cannot be overstated. Its expansiveness makes it ideal habitat for grassland birds, and it is one of the largest habitats for these species in the upper Midwest. The size of the place also makes it ideal for the reintroduction of the American bison and in the autumn of 2015, the U.S. Forest Service did just that. It is a feat of ecological stewardship that would have seemed unimaginable a generation ago. The Forest Service will measure how beneficial bison grazing patterns are to tallgrass prairie ecosystems and grassland bird habitat.
Full Report: Midewin National Tallgrass Prairie: A Shared Vision for Restoration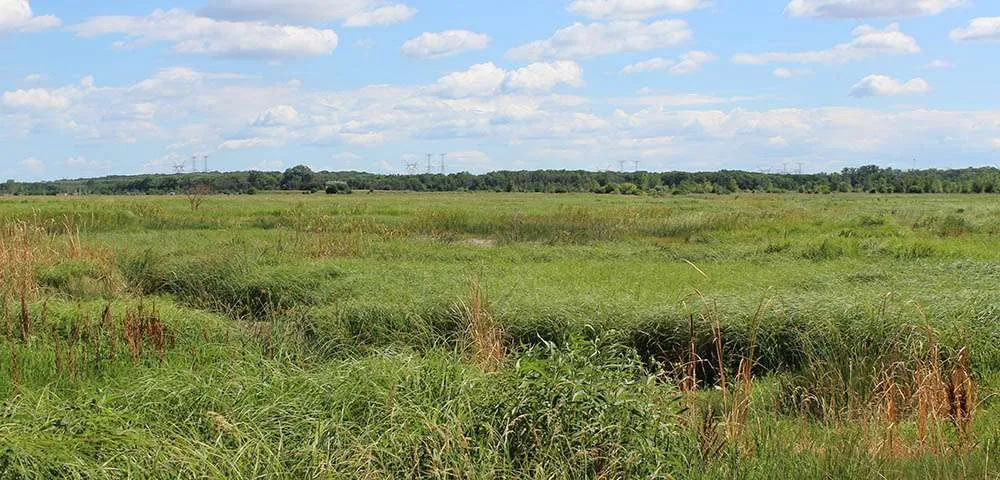 Today, Openlands is restoring the Drummond Floodplain at Midewin. The Drummond project is an integral part of a larger landscape plan to restore dolomite prairie — some of the rarest habitat in the world — on the west side of Midewin and to link these habitats to Grant Creek Prairie State Nature Preserve, which is owned by the Illinois Department of Natural Resources. The 200-acre plain is home to two federally threatened and endangered plant species.
Drummond is part of a wider series of public and private partnerships that are working to restore native plant communities on the west side of Midewin. In addition to the floodplain restoration, Openlands continues to work with Midewin and the Forest Preserve District of Will County on potential land preservation, stream restoration, and trail initiatives connecting to Midewin.
For more information on Openlands land protection and restoration programs, please contact land@openlands.org.