Family Birding Trip to Midewin National Tallgrass Prairie (bus included)
September 16 @ 8:00 am

-

2:00 pm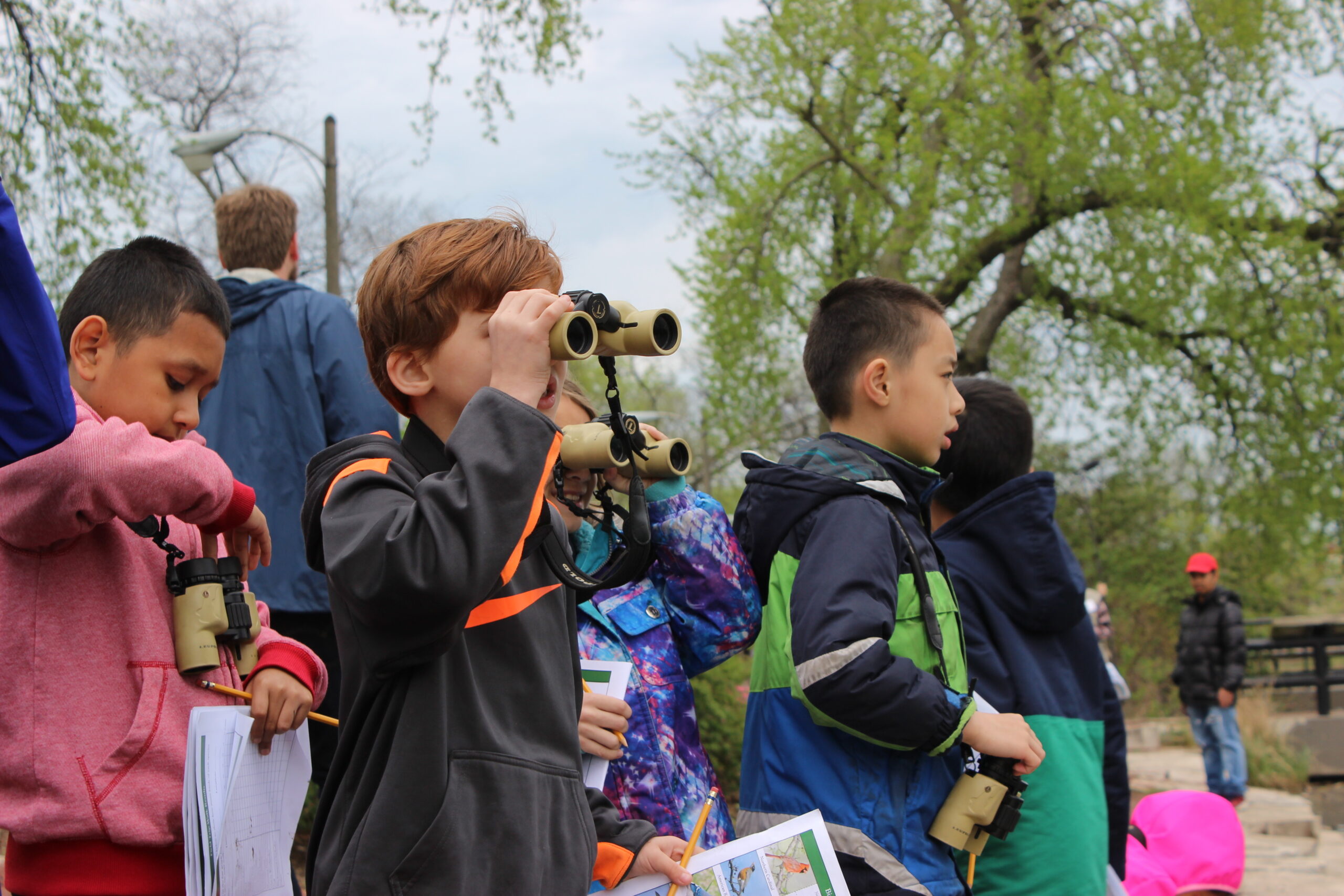 Calling all nature lovers and bird enthusiasts! Join us for an adventure as we celebrate Openlands' 60th anniversary and the 10th anniversary of our Birds In My Neighborhood program with a family field trip to the Midewin National Tallgrass Prairie. Openlands has played a key role in the establishment and protection of this amazing nature wonder just 40 miles south of Chicago.
On September 16, grab your binoculars and join us bright and early as we hop aboard the bus departing from Chicago. Don't worry, if you prefer to drive yourself, just meet us at the Iron Bridge Trailhead at 10:00 A. The program starts at 10:30 AM sharp!
But wait, there's more! Lunch is on us, so you can fuel up during a day full of exploration and discovery.
Midewin National Tallgrass Prairie is a magical place where grassland birds thrive. With its rich habitat, the prairie provides the perfect environment for these feathered friends to build their nests, raise their chicks, and sing their beautiful songs. We'll be on the lookout for birds like the eastern Meadowlark, red-tailed hawk, bobolink, and more!
So gather the whole family and join us for a fun-filled day at the Midewin National Tallgrass Prairie!
Event Schedule:
8:00 AM Buses depart from Chicago to Midewin. Meeting point is at Wadsworth STEM Elementary (6650 S Ellis Ave, Chicago, IL 60637). Select the bus option from the ticket checkout.
10:30 – 12:00 PM Bird walk led by Openlands and Midewin staff
12:00 AM – 1:00 PM Complimentary lunch at the welcome center
1:00 PM Buses return to Chicago pick up point.
What to Bring:
Sun protection
Water bottle
Binoculars if you have them. We will also have some on hand.
A sense of curiosity
Detalles en español
¡Llamando a todos los amantes de la naturaleza y entusiastas de las aves! Únase a nosotros para una aventura mientras celebramos el 60.º aniversario de Openlands y el 10.º aniversario de nuestro programa Birds In My Neighborhood con una excursión familiar a Midewin National Tallgrass Prairie. Openlands ha jugado un papel clave en el establecimiento y la protección de esta asombrosa maravilla de la naturaleza a solo 40 millas al sur de Chicago.
El 16 de septiembre, tome sus binoculares y únase a nosotros muy temprano mientras subimos a bordo del autobús que sale de Chicago. No se preocupe, si prefiere conducir usted mismo, simplemente reúnase con nosotros en Iron Bridge Trailhead a las 10:00 am. ¡El programa comienza a las 10:30 am en punto!
¡Pero espera hay mas! El almuerzo corre por nuestra cuenta, para que pueda recargar energías durante un día lleno de exploración y descubrimiento.
Midewin National Tallgrass Prairie es un lugar mágico donde prosperan las aves de los pastizales. Con su rico hábitat, la pradera ofrece el ambiente perfecto para que estos amigos emplumados construyan sus nidos, críen a sus polluelos y canten sus hermosas canciones. ¡Estaremos atentos a aves como la alondra oriental, el halcón de cola roja, el bobolink y más!
¡Así que reúna a toda la familia y únase a nosotros para un día lleno de diversión en Midewin National Tallgrass Prairie!
Horario del evento:
8: 00 AM Los autobuses salen de Chicago a Midewin. El punto de encuentro es en Wadsworth STEM Elementary (6650 S Ellis Ave, Chicago, IL 60637). Seleccione la opción de autobús en la caja de boletos.
10:30 – 12:00 PM Caminata de aves dirigida por personal de Openlands y Midewin
12:00 a. m. – 1:00 p. m. Almuerzo de cortesía en el centro de bienvenida
1: 00 p. m. Los autobuses regresan al punto de recogida de Chicago.
Qué traer:
protección solar
botella de agua
Binoculares si los tiene. También tendremos algunos a mano.
Sentido de curiosidad