There is an ongoing joke on the internet about how the probability of becoming a birder gets higher as you get older. These days, I find myself hopeful to be a facilitator of that phenomenon but for all ages. This is Birds in My Neighborhood Volunteer Coordinator Jorge Garcia, here to share what birding means to me and how I have turned birds into a career.
Before the pandemic, I was an intergenerational STEM Educator at the Chicago Public Library. My work centered on training people through a variety of educational technologies and digital design aspects. I often taught other educators, such as CPS teachers, how to integrate computer science in their classrooms. One of the tools I used frequently was the Finch Robot by Birdbrain Robotics. I often refer to this robot as my spark bird. In 2019, I stepped away from my position after administration changes brought difficulties that would lead to layoffs during the pandemic. At the beginning of 2020, Birdbrain Robotics sent me a Finch Robot 2.0, and something about it started my curiosity about real birds.
In those dreaded and uncertain times, I was lucky to have the luxury of time and I was in no rush to find a new position. I've always liked learning and being busy, so I started going on more photo walks in the hope of creating homemade postcards. This was at a time when we were all so distant, and USPS was under attack by the president. With an old telephoto lens on my new camera, I started to notice birds become the subjects of my photography, and suddenly, I wanted to know everything about them. I would walk around my neighborhood and with so few cars on the road, I began to notice the different birdsongs. I would step outside, hear a cardinal, and chase it down to confirm it was indeed what I thought it was. It started with cardinals, but then I kept hearing more and more distinct sounds.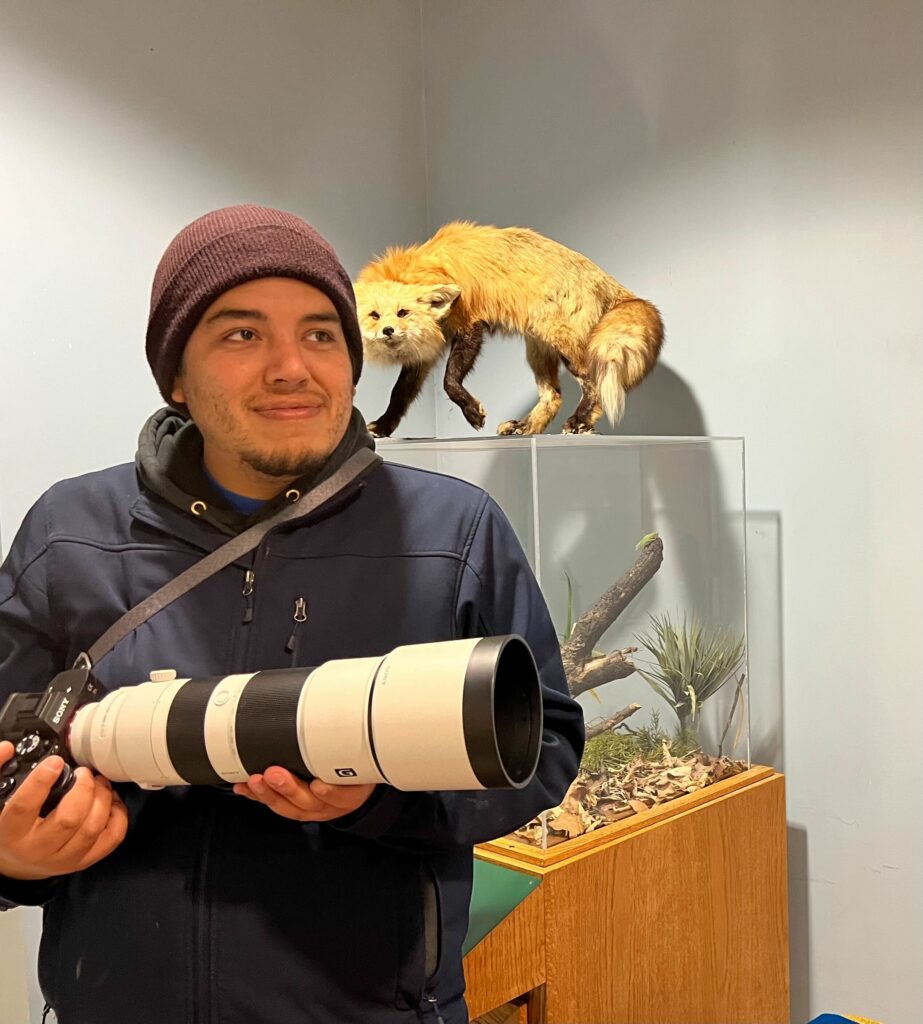 I started sharing my bird exploration and the newest lenses I was trying out on Twitter, and I began to build a small following. A year in I knew well about many of our resident birds and became sort of a local bird-man to people on Twitter. By the time I went on my first public birdwalk, I was ready with bird IDs and camera prowess, even if I was less aware of warblers back then. The first walk I joined was at North Park Village Nature Center. My first walk didn't feel all that welcoming, but I would return after reading the weekly email blast that went along with it after Mark Pohlad took over. I started coming regularly, and that community really skilled me up. Starting this year, I lead the walks during migrations and send out a similar email blast after each walk. My Twitter engagement would lead me to a feature on Curious City and later, my position at Openlands with Birds in My Neighborhood.
The Birds in My Neighborhood program was a perfect match for me. Besides the walks at North Park Village, I prefer hyperlocal birding. That is, I am most interested in the birds in the spaces I take up. Over time, I would add more places as my regular visits, but to this day, my favorite place to bird is anywhere within Chicago's city limits. Birds in My Neighborhood encourages kids to look for birds and biodiversity in their immediate surroundings. I can't think of a program that more closely shares my philosophy.
Happy birding,
– J'orge