Since its founding 60 years ago under the auspices of the Welfare Council of Metropolitan Chicago, Openlands has sought to not only conserve nature but to engage students and educators on its value and wonders. Several initiatives have become national models, especially for reaching students in urban spaces. Birds in My Neighborhood®, Space to Grow®, school garden and nature-based education programs, and most recently our Green & Growing Summit all speak to Openlands' ongoing commitment to broadly educate youth about the nature that surrounds them and to become better stewards of it.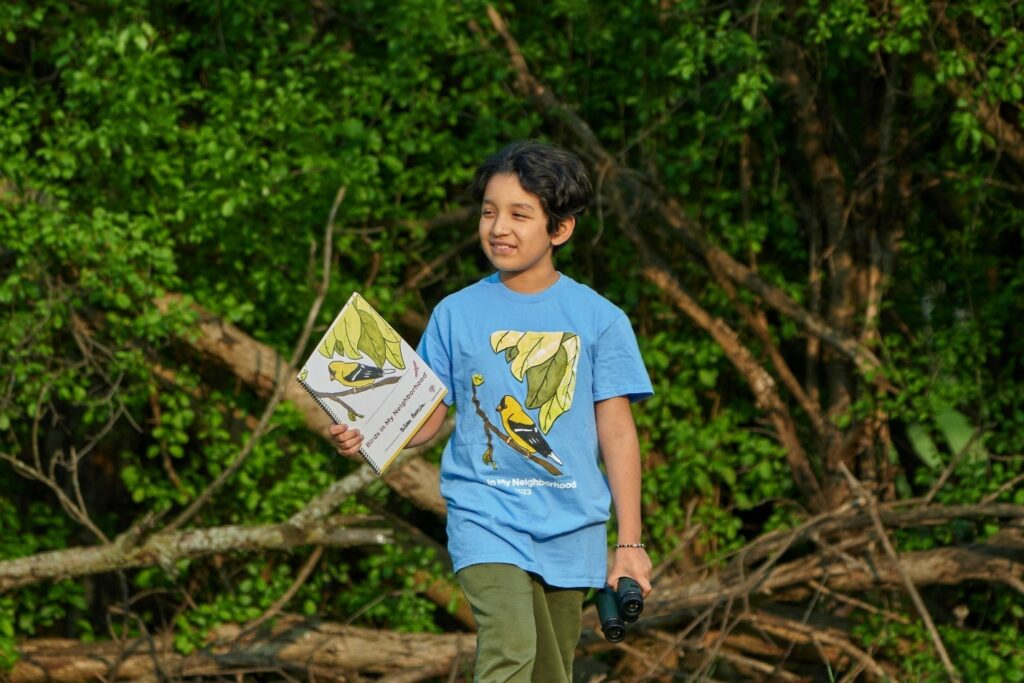 Birds in My Neighborhood® is one such model, recently celebrating its 10th anniversary this year under the leadership of Openlands and in partnership with the Illinois Department of Natural Resources and Friends of Volo Bog.  The program brings trained volunteers into elementary school classrooms, followed by hands-on field trips, asking students to closely observe birds.  They identify species, gain familiarity with the natural world, and recognize the biodiversity around them, planting seeds of a future passion for the environment.  Over 700 volunteers, 500 teachers, and 12,000 students at over 60 schools in the region have participated in the past decade, with materials and training available in English and Spanish.
One participating teacher, Todd Winner, recently wrote us to say, "the kids had a wonderful time and have been talking about it all day. I even had one student who comes from a particularly challenging home environment say that his 'life had taken a turn for the better.' When I asked why, one of the reasons was the field trip! That is what I call priceless." Birding can be a wonderful introduction to nature, and in September, Openlands hosted a Family Birding Trip to Midewin National Tallgrass Prairie (bus trip and lunch included). Check out our recap!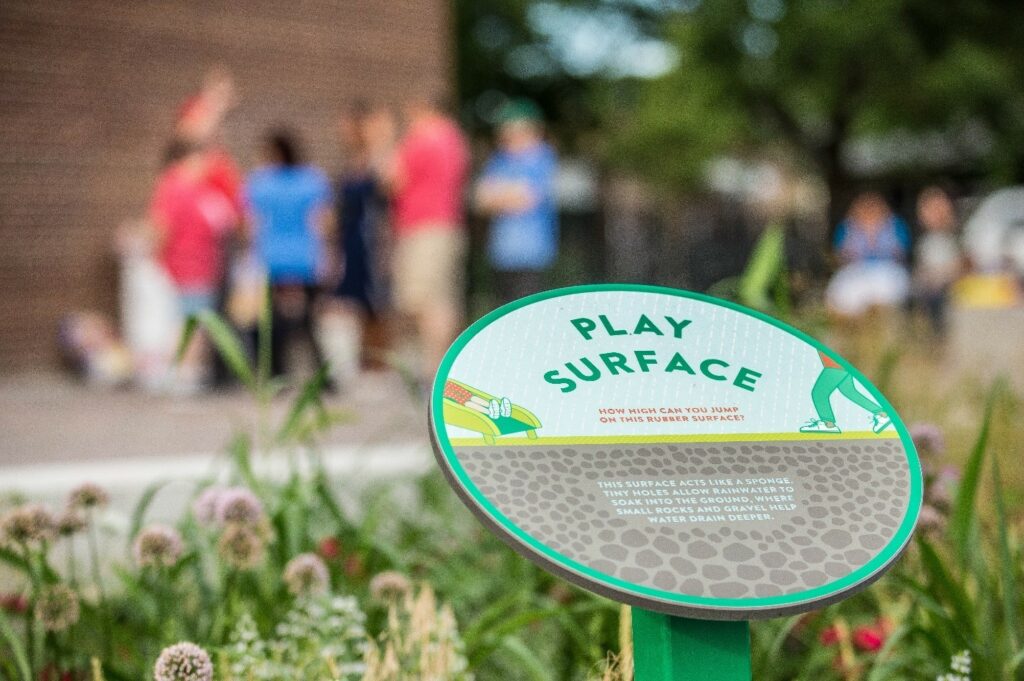 Space to Grow®, entering its 10th year, has transformed schoolyards into green infrastructure spaces and helped reduce neighborhood flooding. In close consultation with schools and communities, and in co-partnership with the Healthy School Campaign, and with funding from the Chicago Department of Water Management, the Metropolitan Water Reclamation District of Greater Chicago, and Chicago Public Schools, Openlands has led an effort to design and build 34 new student-friendly, sustainable, and socially-conscious schoolyards on Chicago's South and West Sides. Old asphalt schoolyards sent stormwater straight to over-taxed sewers, but new Space to Grow schoolyards use plantings, porous surfaces, and other green infrastructural designs to mitigate runoff while also engaging students with natural plantings.
The Space to Grow transformation can bring schoolyards – and students – alive. Esperanza Baeza, Grissom Elementary School teacher and local school council member Esperanza Baeza saw big changes at her school. "Since the transformation, the students have been very observant about nature. What a difference! Before, we could only look at the asphalt. Now, when I'm outside with the students, they want to show me everything they see. 'Ms. Baeza, look at it! The flowers are growing!' Now they talk about fireflies, grasshoppers, and little spiders—which is precious. You see the kids just sitting, talking, quietly reading a book. This is a space where kids can do all that now. It just warms my heart." In April 2023, the White House Office of Science and Technology Policy singled out Space to Grow as a "model for how investing in youth through nature can drive results for equity, mental and physical health, and education."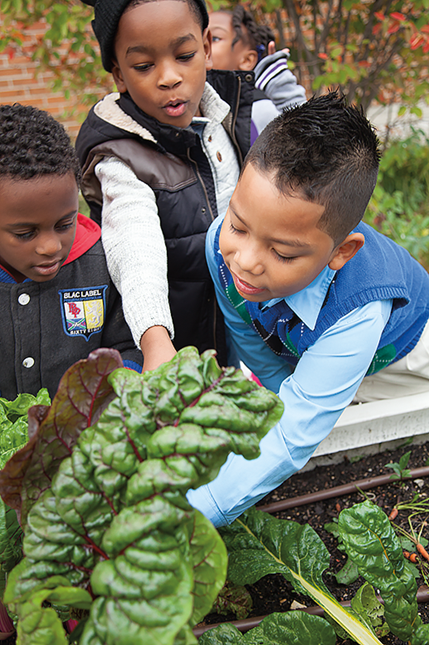 Since 2007, Openlands' School Gardens Program has supported the construction and maintenance of gardens at 58 Chicago Public Schools, in partnership with People's Gas and BMO Harris Bank, among other funders. The program creates "garden teams" among teachers and community members at CPS schools to plan, construct, track, and sustain gardens. They develop curricula at multiple grade levels, integrate art, and foster an environmental ethic among students. Students are asked for input into garden design and participate in garden installation; over 33,000 CPS students have been impacted by the program. School Garden Growth Grants help sustain gardens as spaces of learning and nature education, and periodic workshops encourage their innovative use by teachers. CPS recognizes that gardens serve as alternative classrooms and learning tools, not only exposing students to the natural world but also supporting nutrition education and helping students gain self-confidence and empathy through teamwork and collaboration – important tools of social-emotional learning. Even poetry readings or art classes in garden spaces can produce evocative learning. "At the end of the day we want educators and their students to get outside, and we want to help make that more accessible. Whether students are tending a schoolyard forest or simply going for a walk in the garden, there are many ways to reap the abundant benefits of connecting to nature at school," said Danielle Russell, Green Schoolyards Program Manager.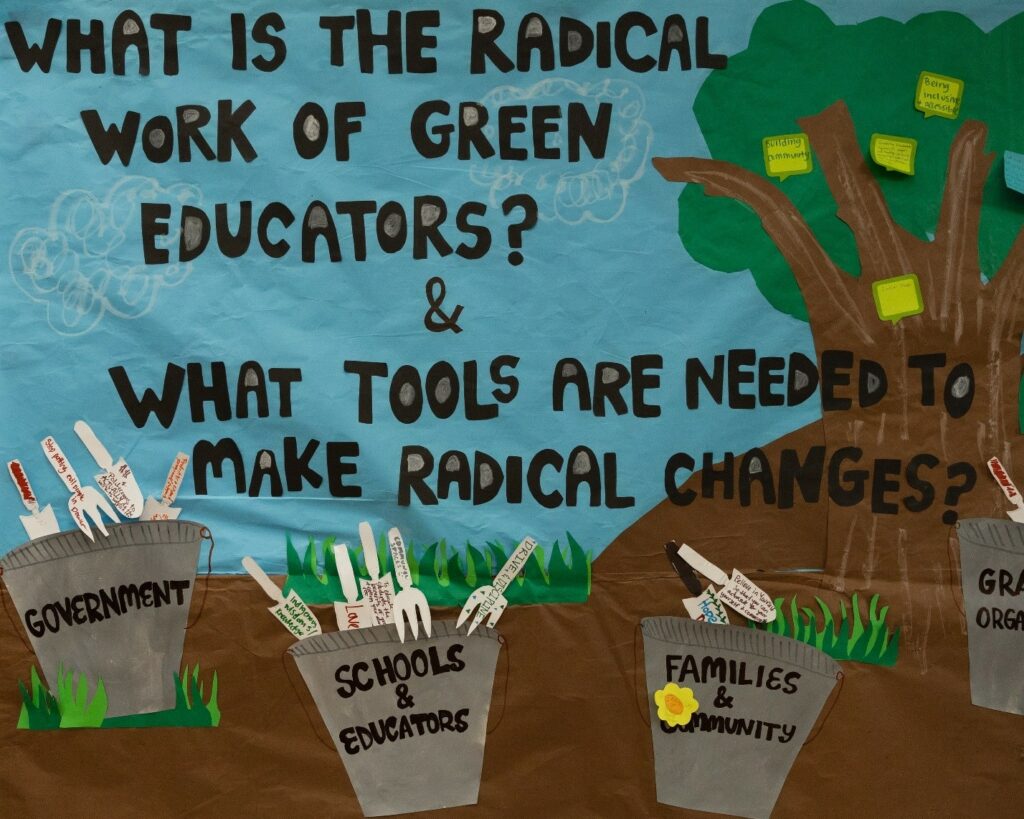 Finally, this year, Openlands and multiple partners inaugurated the Green & Growing Summit, a gathering of nature- and garden-based enthusiasts at the Chicago High School of Agricultural Sciences this past June. The day brought together educators, advocates, and community folks to participate in workshops and networking events, all intended to creatively "Imagine What's Possible," the theme of the day-long event. Major partners include Chicago Public Schools, Healthy Schools Campaign, and Advocates for Urban Agriculture. Teachers received continuing education credits for attending various workshops such as "Teaching Towards Beephobia, Intro to Aquaponics, and Yummy, Tasty, and Easy After School Snacks. Spanish-language translators were on hand to make the program more accessible. Throughout the year, educators also attended Openlands workshops on topics including "Nature Play 101," "Teaching Environmental Justice," "Vegetable Gardening Basics," and "Forest Therapy for Educators."
Openlands' efforts to broadly engage youth and educators are all grounded in a belief that once they experience nature at a tangible level – by observing it in action, by tending school gardens, or by planting trees – they might develop a lifelong commitment to preserving our natural environments and to addressing some of our biggest challenges like climate change. Acting locally to engage nature, we believe, can bring tremendous rewards.