By Openlands' Education and Community Outreach Coordinator, Lillian Holden
It was one of those warm summer nights where my cousins and I dashed from the living room of my grandmother's house towards the corridors of her gangway. Within her gangway sat three charcoal-colored tire pots filled with creeping thistle, crabgrass, and dandelion. The tire pots rested cozily within a demarcation line that met the earth. Our journey would guide us past my older cousin's residence next door and we would eventually cease our running once our feet mingled within the dirt and debris that occupied the vacant lot located three houses down from my grandmother's. Energetic from eating Vitner's Cheese-Flavored Crunchy Curls, Now & Laters, and Boston Baked Beans purchased at the neighboring corner store, it was common for us to traverse from my grandmother's living room to the adjacent vacant lot. Our boisterous spirits would always lead us to the heart of the lot where an oak tree stood. During those times, the oak tree, my grandmother's concrete front steps, and the pavement in front of my cousin's porch made up the essence of my childhood. Although we had fun running around the block playing games like cops and robbers, tag, rock teacher, bottle top, double dutch, and hide-and-seek, roaming the vacant lot and climbing the branches of the oak tree for a sunbath felt like the ultimate escape.
As age and experience snuck up on me, I began to develop ambivalent emotions toward vacant lots. I noticed that the communities that raised me looked vastly different from the ones I traveled through to get to institutions of knowledge, employment, and social gatherings. My place of play within North Lawndale juxtaposed places of play in communities like Edison Park. Oddly enough, my neighborhood vacant lot felt like a complicated oasis. Vacant lots have a negative association and reputation, yet I have so many positive childhood experiences in them. It was a place where we could foster our imagination, play with worms, and get dirty, all the while running the risk of suffering from an occasional gash from a piece of broken glass. Figuratively speaking, it felt as though my nostalgia sat in a corner grazing violin strings, sweet and sensuously, while the truth grimaced directly in my face, making dark, sonorous bow strokes on a cello. I've struggled (and still do) against the history of vacant lots, which is rooted in divestment, predatory lending practices, redlining, and contract selling. Moreover, I struggle with how these practices negatively affect inner city youths' connection to nature.
Historical Snapshot
Why are pockets of the West Side still decimated? Journalists Tony Briscoe and Ese Olumhense asked this question while flicking through archived stories and historic photos gathered from the North Lawndale and East Garfield Park communities after the 1968 riots. According to a 2013 land-use inventory from the Chicago Metropolitan Agency for Planning, five percent of Chicago is classified as vacant and undeveloped, and approximately 14 percent of that land sits idle in the community areas of East Garfield Park and North Lawndale. These numbers show a troubling statistic that did not materialize mysteriously.
Prior to the 1968 riots and African American Migration, East Garfield Park and North Lawndale served as prime areas for employment, real estate, and sustainable livelihood for the Jewish immigrant population. It was a place for working-class families to thrive and invest in bettering their futures. Chicago's infrastructure, similar to Detroit, Baltimore, St. Louis, and Cleveland, suffered from divestment and neglect once blacks migrated from the south to northern cities in search of job opportunities and the "American Dream." In the 1930's, North Lawndale had a population of 115,000 white Americans while East Garfield Park had 65,000. Blacks who moved north instilled fear in whites, who moved to the suburbs where they could find subsidized housing. By the 1970's, 885 white residents lived in East Garfield Park and less than 1,000 occupied North Lawndale. After the riots, city services diminished considerably, leaving blacks struggling and neighborhoods deteriorating. Recovery was never expected to be a streamlined process, as the riots resulted in $10 million worth of damage. Of that damage, uninsured homes and brick and mortar businesses were included. More specifically, "260 stores and businesses were destroyed, including 116 along a 20-block stretch of Madison between Damen Avenue and Pulaski Road. Another 72 were razed within 12 blocks of Roosevelt." Abandonment worsened after the 1968 riots as Chicago municipalities transformed into blighted areas.
Redlining and Segregation
Chicago's mapping system has been influenced by the city's history of redlining, segregation, and divestment. This history is apparent by simply crossing into different neighborhoods, where cultural difference and resources often vary depending on race and economic status. It is a matter of crossing underneath a viaduct, or main street and intersection. These resource discrepencies are the main reason that when it came time to choose a career, I entered the nonprofit sector.
My nonprofit professional journey began as a Public Ally with Openlands in 2018. As a Ally you're expected to complete a 10-month apprenticeship with one of the organization's partners. The objective is that through the partnership, a young person is able to approach employment using their organic assets (and the program's core values) to help build the participating nonprofit's capacity. Each ally goes through a series of interviews leading to a match that is forged between the ally and the nonprofit that interviewed with them. After researching and learning about the organization's connection to low-income communities, specifically their involvement in establishing community gardens to occupy vacant lots in North Lawndale and East Garfield Park, Openlands sounded like the place for me.
Openlands has a deep history focused on vacant land and the the first city-wide inventory of vacant land in Chicago was made by the group. This effort led to the Community Land Use Network (CLUN), a coalition of open space, community development, and economic development organizations. CLUN was successful in getting an ordinance passed that addressed the disposition of vacant land.
The majority of my job description involves assisting with the functionalities of one of Openlands' most prized programs, Birds in my Neighborhood (BIMN). Birds in my Neighborhood is a program that introduces students to common birds in the Chicago region through in-class lessons and field trips. When pitching BIMN, I often find the phrase "to inspire advocates for nature" confidently rolling off the tip of my tongue. It is without a doubt that the program has a unique way of doing just that. This is evident through our yearly end-of-the-program evaluation given to participating teachers. A Drummond Elementary teacher observed their students stopping a group of younger children from chasing away pigeons and explaining how important it is to leave wildlife alone.
During my time as an Ally, I had the privilege of taking two different schools through a BIMN experience from start to finish. The two schools are on opposite ends of the city; William Penn Elementary is a grammar school located in North Lawndale, one of the most architecturally eccentric and socially complex neighborhoods in Chicago, and Edison Park is located in Norwood Park, a quaint, picturesque community that lives up to the dreams of those early settlers who considered it an "ideal suburb."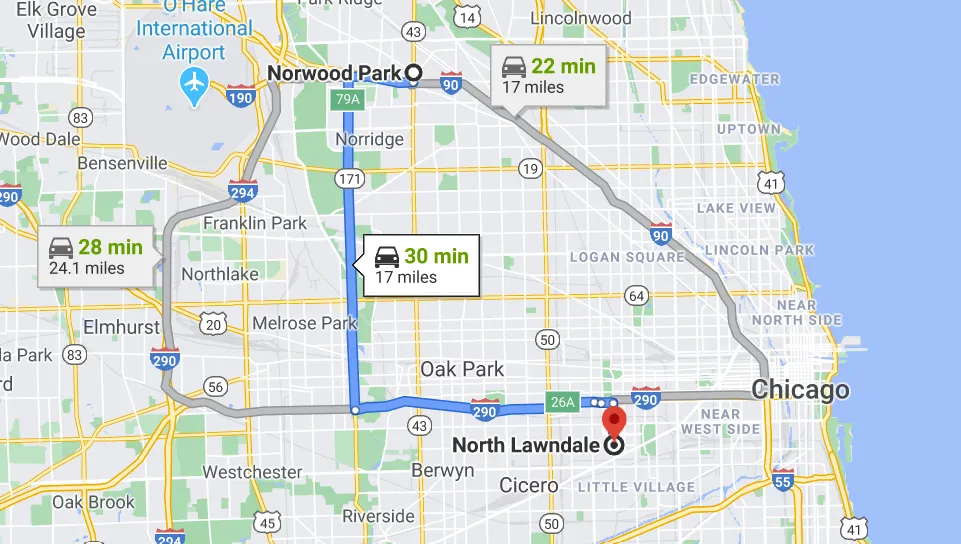 While students at the two schools saw the same birds, the surrounding environments and ecologies were starkly different. At Penn Elementary, we started the bird walk just outside the school's primary entrance. Next to the school entrance sat five vacant lots. We were able to see a flock of European Starlings congregating on the ground, specks of American Robins grazing the short grassed vacant lots, Ringed-billed Gulls in the sky defying gravity, House Sparrows jumping and dashing from ground to tree, and a nest resting idle in a nearby tree. The students excitedly tallied what they saw on their bird checklist.
The schoolyard walk at Edison Park had a much different feel. We passed a row of houses that lined the school building and a large, well-maintained baseball field. The field and neighboring trees attracted bird species such as, American Robins, Northern Cardinals, House Sparrows, and Crows. Similar to Penn Elementary students, the students excitedly tallied the birds they saw on their checklist.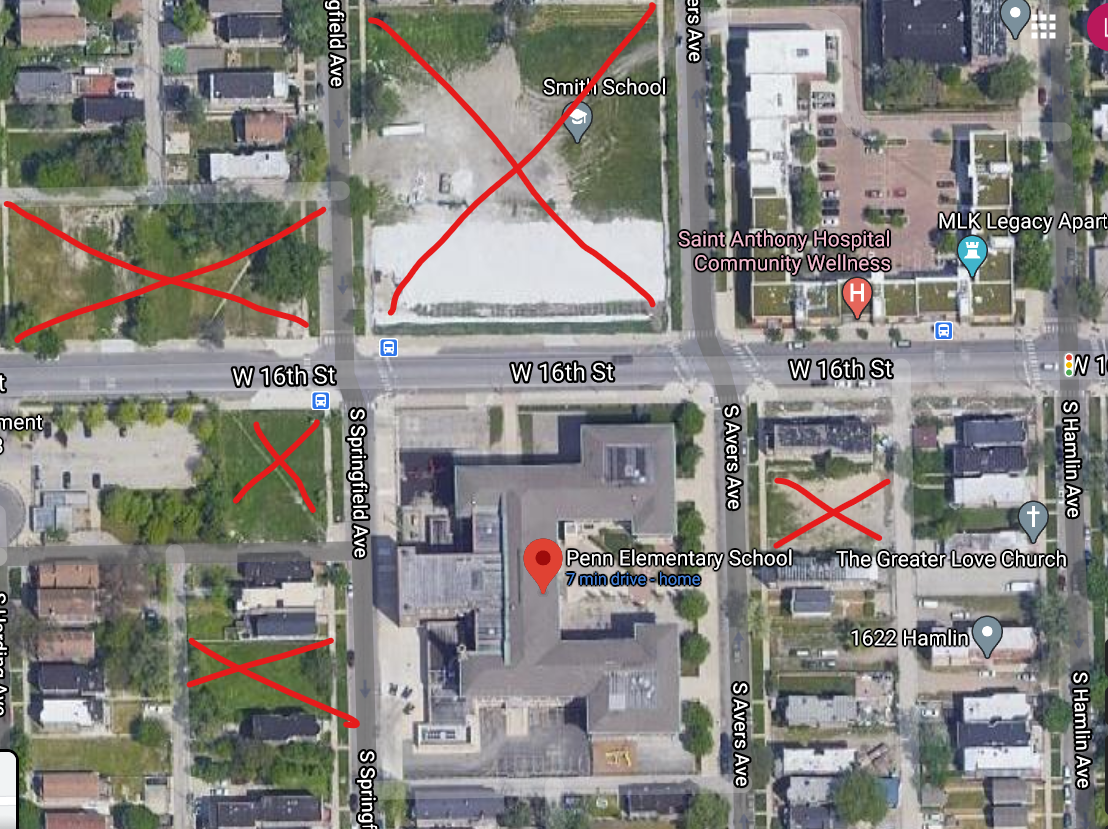 The Birds in my Neighborhood field trip component is where students truly become elated. This is where students either walk or are bused out to a local park or preserve. The locations vary from school to school and teachers are able to pick a location of their choosing. Students from Penn Elementary explored Douglass Park whereas students from Edison Park Elementary scouted North Park Village Nature Center.
A robust bird watching experience is dependent on biodiversity and habitat health, and the experiences at Penn and Edison made me wonder how the differences in environment between a child who bird watches in North Lawndale and a child who bird watches Edison Park affect the student. When considering the difference in residential landscape (with a lens on vacant lots) and viable habitat for birds, how do these experiences compare and contrast?
Research on childhood development and access to nature explores the impact of outdoor play spaces on children. A study in Norway examined the effect of different outdoor play settings on childrens' motor coordination in three kindergarten outdoor play settings and showed that children who used a forest as a play setting performed better in motor skills tests than children who used an artificial playground. Research also suggests that even views of nature can affect children's cognitive capacities, in particular their ability to concentrate. One study involving low-income African American children from public housing projects in Chicago showed that children living in apartment buildings with views of trees and green space exhibited superior attention capacities and impulse control than similar children living in apartments with fewer views of nature.
Prior to my apprenticeship with Openlands, vacant lots that consumed North Lawndale's scenery seemed like graceless fragments of land created by collective self-learned helplessness. However, each vacant lot has a story. Within some vacant lots, you'll find concrete rubble on ground surrounded by lime and olive green grass and clusters of dandelion sprouting from its resilient roots. In others, you'll find patches of long-grassed land, twisted milkweed plants, twigs, trees, branches, broken gates, broken bottles, broken glass, leftover construction material, and other hazardous substances. The few activated vacant lots sprinkled in the vicinity are used to uplift the community, its rich soil planted to harvest collard greens, cabbage, basil, radish, cilantro, and other fruits and vegetables.
Experiences like mine are not unique, but I share my story in the life affirming hope that it will provide powerful support for unstructured play outdoors. While vacant lots may not be the best place to provide this, open spaces that are well-managed are critical for child development.
When it comes to long-term advocacy for community improvement, early education for young people on environmental issues is crucial. Before introducing society's common value for capital transactions, environmental education influences youth to understand the inherent value of nature and that if the earth's resources continue to bleed, money cannot replace it.
Vacant lots are a result of centuries of discrimination and devaluation. However, they now offer an opportunity for regeneration, for both children and the communities where they live. While I do not wish for children to play in precarious lots, I do hope that children in Chicago's neighborhoods have the same wonderful experience that I did by having their own place to play and imagine in the outdoors. To make that a reality, I suggest the following:
Pressure state and local representatives to implement creative market-based changes that can attract revenue while keeping the communities' historical integrity intact

North Lawndale and East Garfield Park can be considered a historical corridor. Why not have tours of the community greystones and highlight the Jewish and African American history? Have these tours been conducted by community members to help curve the communities' unemployment rate.
Support local businesses that cater to the communities' racial demographic by the racial majority. Uplift youth entrepreneurs through programs and grants.

Chicago should re-examine its $1 large program. How can it be more beneficial for low-income communities who don't have the means to turn the land into a garden or develop real estate?
A burgeoning movement is the "forest school" movement. While I don't know how this can apply to neighborhoods like North Lawndale, the idea is promising. Chicago should support and continue to explore "Forest Schools"
Support NeighborSpace
Support Lincoln Park Zoo's Urban Wildlife Institute, which researches urban biodiversity and habitats in and around metropolitan Chicago
*Cover photo courtesy of Nona Tepper