By: Openlands Communications Coordinator, Lucia Whalen
On a hot summer August morning in the parking lot of Solberg Manufacturing, Charlie Solberg waters a thriving bush of asparagus in a garden that spans 250 feet. A random passerby might look curiously on the scene, given that it is 11am on a Thursday and Charlie is dressed in business casual.
Charlie Solberg is the CEO of Solberg Manufacturing, a B-Corp and leader in the production of filtration, silencing, and oil mist elimination systems. Solberg Manufacturing sets the standard for corporate environmental stewardship and social responsibility by engaging employees in volunteer opportunities, donating 1% of yearly sales to various nonprofit organizations and supporting Openlands as a Corporate Member, and implementing environmentally sustainable practices at their headquarters in Itasca, Illinois.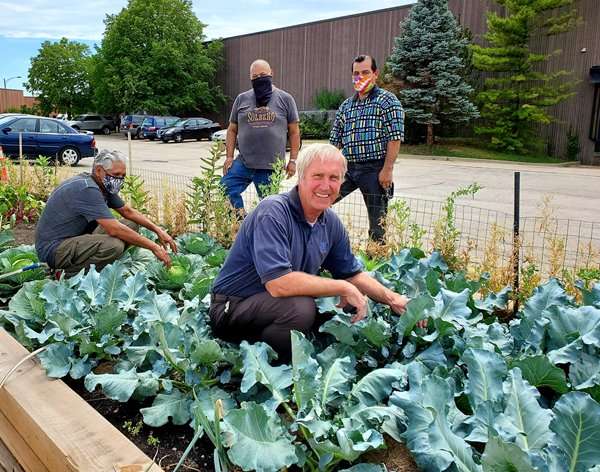 The business is family-owned by Charlie and Tor Solberg. Charlie's two sons Chad and Travis currently work in sales and sustainability and his daughter Sarah works in international sales development. Travis, who works as the Chief Sustainability Steward for Solberg, helped Tor in securing the company's B-Corp designation in 2011.
Solberg Manufacturing is Openlands' first Corporate Member, and according to Chad and Travis, they made their decision to donate to Openlands in part because of their desire to support the Great Lakes and focus on supporting local environmental organizations. Water and trees are at the top of their funding priorities, and Solberg donates just over 50% of their charitable giving to environmental organizations.
Solberg Manufacturing was founded in 1968 when Charles Solberg Sr., Charlie's father, invented a tubular silencer design for small air compressors for industrial equipment. In 1980, Charles Solberg Jr. (Charlie) introduced a filter silencer, which limits the noise made by machinery and protects employees from noise pollution. Solberg's contaminant-removal products can now be found internationally in a wide range of industries, including pharmaceuticals, plastics, oil and gas, waste and recycling, and power generation, to name a few. Charlie runs the business with his brother, Tor, who is President of Solberg Manufacturing.
The Solberg family is committed to environmental stewardship on all levels of the company, which Chad and Travis attribute to their grandfather's influence.
"From the beginning, our grandpa was nature-minded. He got us all started on that path and now "We Love Our Planet" is one of our six guiding principles. Our owners and personnel embody this spirit every day and our communal garden is living proof," Chad said. Along with the expansive garden, which all employees are encouraged to work on and take food from, the Itasca campus boasts an impressive orchard of fruit trees and berry bushes. Natalie, who works at the production plant, picks wild black raspberries and blackberries, and shares the dishes she prepares with other employees. Apple, pear, peach, apricot, and plum trees stand outside Solberg headquarters, and blackberry bushes and grape vines line the side of the building.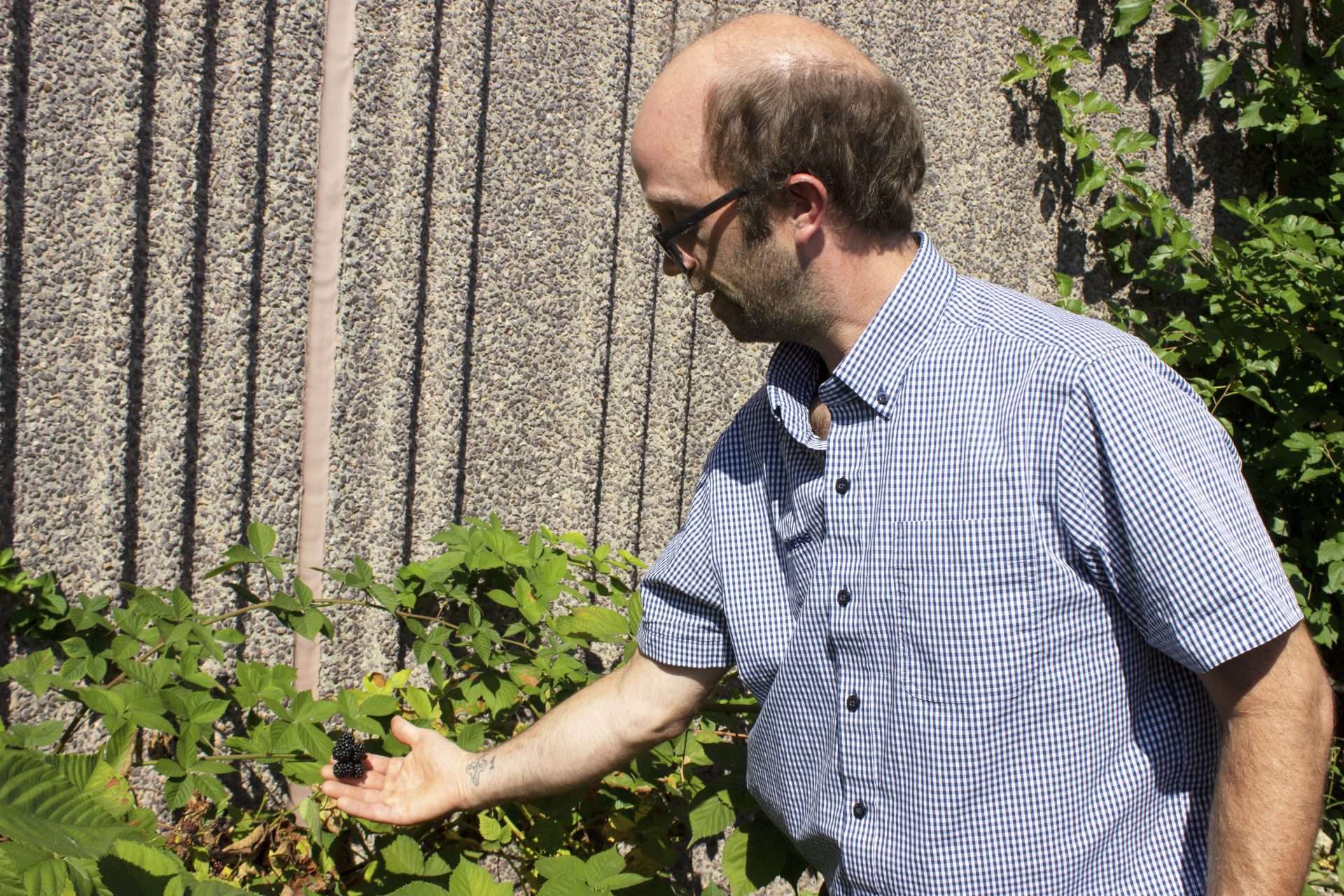 Across the street from Solberg headquarters stands one of the company's manufacturing facilities whose roof is covered in solar panels; the panels are responsible for over 100% of the energy production in the facility. Behind the building, a sign provides information on the native prairie butterfly garden that extends along the side of the building. There, Travis keeps a hive of bees that produce honey.
While many companies think that incorporating environmentally friendly practices into their operations is too expensive, Travis says that that belief is incorrect.
"For solar energy, that initial cost is a lot, but you can work with banks or different installers to pay for it. Our first building got solar panels in 2010 and our ROI [return on investment] commenced in 2018. It's worth taking the time to investigate," he said.
Environmental stewardship is one of their values, and Chad explained how being profitable allows Solberg to support this very important value:
"We're trying to be a company that has purpose and guiding principles. We consciously make an effort to make a positive impact on our planet and we appropriate funding to make that happen. Whether that's donating a percentage of sales every year like we do with Openlands or analyzing our manufacturing processes like Travis does."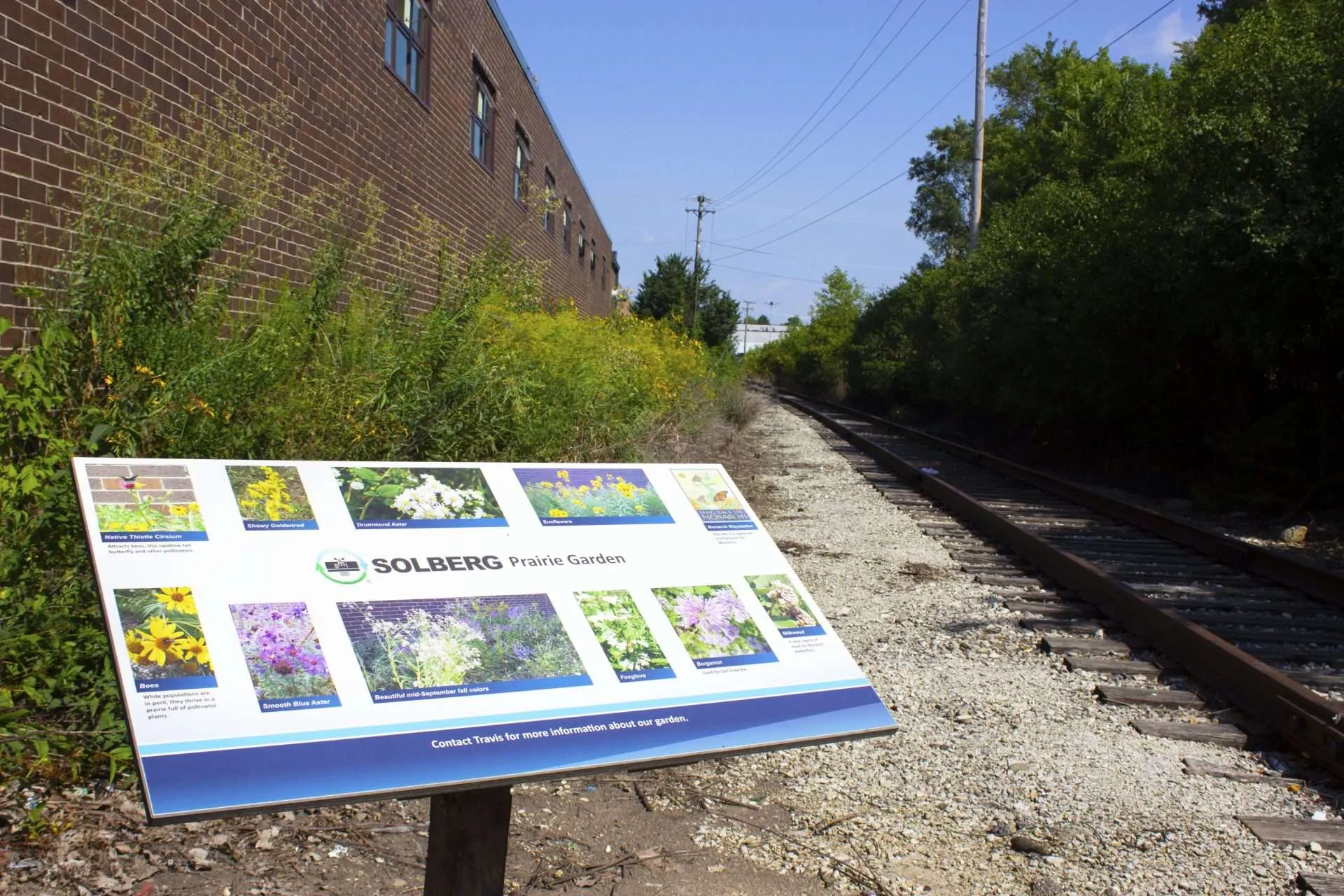 Solberg Manufacturing became an Openlands Corporate Member in 2014 and has increased their support over time. Solberg's increased support allowed for Openlands' purchase of Salsa, an advocacy platform that has been utilized to raise public awareness about campaigns including the Urban Forestry Advisory Board (UFAB) Ordinance and the Federal passage of the Land and Water Conservation Fund.
"We want to be leaders in our industry as it relates to environmental impact because it's important and we feel like other companies will and should do so as well," Chad said.
As Corporate Members, Solberg Manufacturing receives recognition for their support, including this blog post, a lunch and learn opportunity, and other ways to engage their employees in Openlands' work across the region.
Click here for more information on how to become a Corporate Member, or contact Kate Schriner, Manager of Institutional Giving, at kschriner@openlands.org.
*Cover photo of solar panels courtesy of Solberg Manufacturing