By Openlands
Before the buttons that fasten our coats and dress shirts were made from plastic, buttons were made from the shells of freshwater mussels here in the Midwest. And while most people don't give buttons a second thought, the tiny ornament is responsible for setting in motion the decimation of freshwater mussels in Illinois and surrounding states, threatening species that are crucial for maintaining water quality and ecosystem diversity in waterways. Currently, 72% of the roughly 300 species of freshwater mussels in the United States are extinct or in danger of extinction, which is why Openlands has teamed up with the Shedd Aquarium on a long-term mussel monitoring project at Hoffman Farm. The farm is one of five sites Openlands is currently working to protect in support of Hackmatack National Wildlife Refuge and is the inherited family farm of Elena Spiegelhoff, which Spiegelhoff donated to preserve the natural beauty of the area. Hoffman Farm has been preserved through a partnership between The Land Conservancy of McHenry County and Openlands. The farm spans 153 acres and sits just north or Glacial Park within Hackmatack Wildlife Refuge. Nippersink Creek, where the long-term monitoring project takes place, runs through Hoffman farm. The project seeks to understand whether reproduction and equally important, survival of all ages, is occurring within North Branch Nippersink Creek.

Beginning in the late 1800's, the banks of the Mississippi River became a destination for clammers, as the waters were teeming with mussels whose shells were used to make pearl buttons. From the banks of the Mississippi and waterways in Illinois and Iowa, a multi-million dollar industry was born. Button factories lined the Mississippi River, and entire communities thrived on the emerging industry. However, harvesting was fully unregulated, and when one stream bed was emptied, clammers simply moved on to the next. In 1913 the harvests from the Illinois River yielded almost 600 tons of shells. Historically, Chicago had a rich and diverse population of mussels: The Des Plaines River and Lake Michigan tributaries had roughly 34 species, while the Fox River had 31 and the Kankakee River and basin had 40 species. In 2012, the Illinois Natural History Survey reported 19 species of mussel in the Des Plaines River basin and the Lake Michigan tributaries in Illinois. Of these 19, only 9 were found live.

Freshwater mussels are crucial for filtering water and maintaining stream biodiversity. Mussels are also an indicator species of pollutants in waterways. Most mussels are like a brita filter for streams, which can be demonstrated by filling two aquariums with cloudy, dirty water. After 24 hours, the aquarium's water with mussels is almost entirely clear. Of course, there are exceptions, and the invasive Zebra Mussel in the Great Lakes is so overpopulated that they make the water too clear, which has increased toxic algae blooms and deprived other species of food.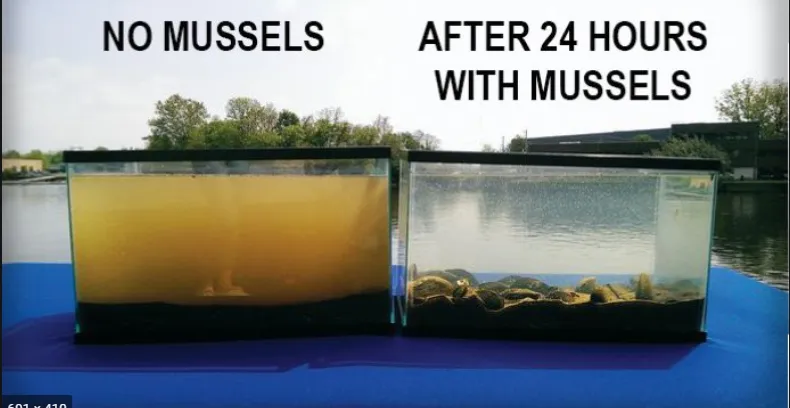 Healthy waterways are essential to the resilience of our region, which is why Openlands has been involved in monitoring mussel populations throughout the Chicago region. Openlands worked with partners to produce A Field Guide to the Freshwater Mussels of Chicago Wilderness in 2008, in order to encourage the monitoring of mussels in Chicago waterways. Now, Openlands is partnered with the Shedd Aquarium at Hoffman Farm in a long-term monitoring project. Shedd Aquarium staff set up nine monitoring sites in North Branch Nippersink Creek at Hoffman Farm in 2019. Based on the diversity of species they found at each site, they chose one area for long-term monitoring. Over a three-day period, all the live mussels in the area were caught, brought on shore to be measured, had their rings counted (similar to tree, mussels have rings that show their age), genetically sampled, then pit tagged before being put back in in the water. Pit tagging is similar to microchipping a pet and allows each mussel to be located and identified from year to year.

The main purpose of the long-term monitoring project is to monitor the survival over time of mussels in the system, including how individuals are surviving and whether reproduction is occurring. Mussels have a long lifespan that extends on average 60 years. However, while older mussels may still be abundant in streams, the young mussels may not be able to survive, resulting in a loss of the population over time.

Mussel larvae are called glochidia, which attach to fish in their early years to survive before becoming juveniles who can survive on their own. Younger mussels can be extremely sensitive to pollution. For example, fat mucket glochidia are sensitive to chloride levels and ellipse glochidia are sensitive to ammonia. So even if older mussels are surviving, younger mussels might not be able to survive because of pollutants from runoff, nearby industry, or a loss of fish hosts for glochidia.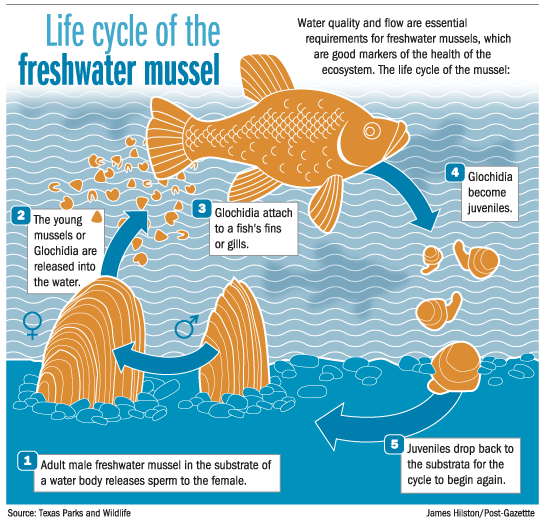 Currently, 12 different mussel species are tagged at the long-term monitoring site at Hoffman Farm. While the button industry may have been the initial antagonist of freshwater mussel loss, our modern polluting practices, like salting winter roads and using waterways as dumping sites for industries, have exacerbated the problem and posed new threats to this endangered taxa.

Through the work at Hoffman Farm, we hope to understand the survival of our local freshwater mussels and identify whether populations are holding their own at Hackmatack. The health and biodiversity of our waterways depends on the survival of these tiny powerhouses.