As we all adjust to a new normal of working from home and social distancing, it's important to stay up to date on the guidelines, and closures at some of our regions natural areas.
The CDC recommends social distancing of 6 feet or more between you and any other person while being outside. Avoid touching your face. Bring hand sanitizer with you on your walk if possible, and wash your hands as soon as you can after being outdoors. The below recommendations come from the National Recreation and Parks Association for trail users on observing social distance minimums.
There are a number of specific recommendations for advising the public to keep safe social distancing when in parks or on trails:
Follow CDC's guidance on personal hygiene prior to heading to trails — wash hands, carry hand sanitizer, do not use trails if you have symptoms, cover your mouth and nose when coughing or sneezing, etc.
Observe at all times CDC's minimum recommended social distancing of six feet from other people. Practice it and know what it looks like. Keep it as you walk, bike or hike.
Warn other trail users of your presence and as you pass to allow proper distance and step off trails to allow others to pass, keeping minimum recommended distances at all times. Signal your presence with your voice, bell or horn.
Note that trail and park users may find public restrooms closed — be prepared before you leave and time outings so that you are not dependent on public restrooms.
Bring water or drinks — public drinking fountains may be disabled and should not be used, even if operable.
Bring a suitable trash bag. Leave no trash, take everything out to protect park workers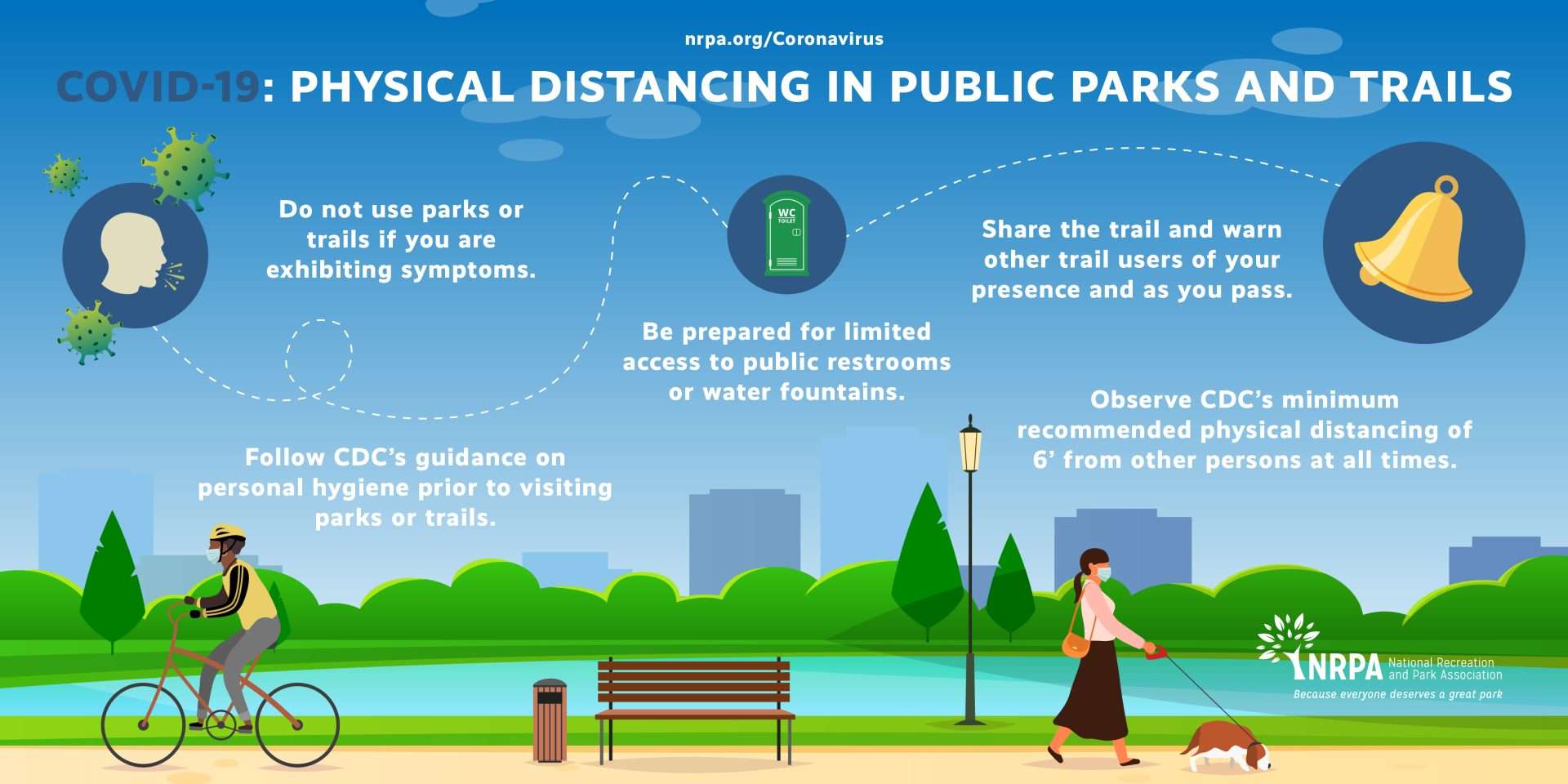 Here's a running list of our region's preserves and parks COVID-19 updates, (but click on the links for the most up to date information):
Chicago Park District – The entire Chicago lakefront and adjacent trails, parks, 606 trails, Chicago Riverwalk and Millennium Park are closed until further notice.
Forest Preserves of Cook County – Sites are open to the public while centers and facilities are closed.
Chicago Botanic Garden – Closed until April 30th.
Garfield Park Conservatory – Closed until further notice.
Morton Arboretum – Grounds are open but facilities are closed until further notice. Check their website for more details.
Lake County Forest Preserves Current Closures and Cancellations – Events and volunteering days are cancelled but preserves are currently open to the public.
Openlands Lakeshore Preserve – The preserve remains open to the public in certain areas, but the stairs and beach are closed. Please practice social distancing, and follow CDC recommended protocol.
Indiana Dunes National Park – Park is open but closed in areas due to shore erosion and facilities are closed until further notice.
Forest Preserve District of Will County – Visitor centers, permits are suspended, but areas are still open to the public.
McHenry County Conservation District – Most sites remain open at this time. Programs and events have been cancelled through April 5th.
Forest Preserve District of DuPage County – All preserve parking lots, trails and lakes are open as are off-leash dog areas, model craft fields and archery range. Restrooms are closed to the public.
Forest Preserve District of Kane County – All District buildings are closed through the end of March. All nature programs are cancelled through the end of the month, as are volunteer events and workdays. Preserves and trails are open regular hours, sunrise to sunset, each day.
Midewin National Tallgrass Prairie – Currently open.
Glacial Park, part of Hackmatack National Wildlife Refuge – Currently open, though call the visitor center for updates at (815) 678-4532.
Boone County Conservation District – Conservation areas remain open to the public but events, volunteer activities and the dog park at closed.
For allowing Illinois residents to engage in some outdoor activities, the Illinois Department of Natural Resources (IDNR) will reopen select state parks, recreation areas fish and
wildlife areas and trails beginning May 1. Here's the list of outdoors that are reopening:
Northwestern Illinois: Argyle Lake State Park, Jubilee College State Park, Lowden State Park, Morrison-Rockwood State Park, Rock Island Trail State Park, Shabbona Lake State Recreation Area.
Northeastern Illinois: Chain o' Lakes State Park, Illinois and Michigan Canal State Trail, Kankakee River State Park, Moraine Hills State Park, North Point Marina
East Central Illinois: Clinton Lake State Recreation Area, Eagle Creek State Park, Kickapoo State Park, Wolf Creek State Park
West Central Illinois: Eldon Hazlet State Recreation Area, Jim Edgar Panther Creek State Fish and Wildlife Area, Sangchris Lake State Park, Siloam Springs State Park, Washington County State Recreation Area
Southern Illinois: Fort Massac State Park, Giant City State Park, Stephen A Forbes State Recreation Area, Wayne Fitzgerrell State Recreation Area
Stay tuned for more additions and updates as they become available. You can also use Openlands Get Outside Map to responsibly explore areas in our region.