Whether it's hiking or biking, camping, kayaking, picnicing, or more, the Palos Forest Preserves have something for everyone and are one of our region's best recreational amenities. The expansive network of lakes, trails, and scenic vistas can be enjoyed at any pace and make the Palos Forest Preserves an excellent place to visit.
At 15,000 acres, the Palos Preserves in southwest Cook County are the largest concentration of preserved land in the Forest Preserves. Thanks to more than three decades of habitat restoration, they also hold some of the highest-quality natural areas in Cook County. These trails join many popular sites, such as the Little Red Schoolhouse Nature Center, Pulaski Woods, Saganashkee Slough, and Maple Lake.
We've highlighted some of the best activities in the Forest Preserves below, and you can check out all the places to visit and things to try using the Openlands Get Outside Map.
If you're a photographer or just an avid Instagrammer, bring your camera or phone and share what you find in the Forest Preserves! Tag your Instagram posts with #DiscoverYourPlace to be featured on our stream and please share with us the highlights from your adventure.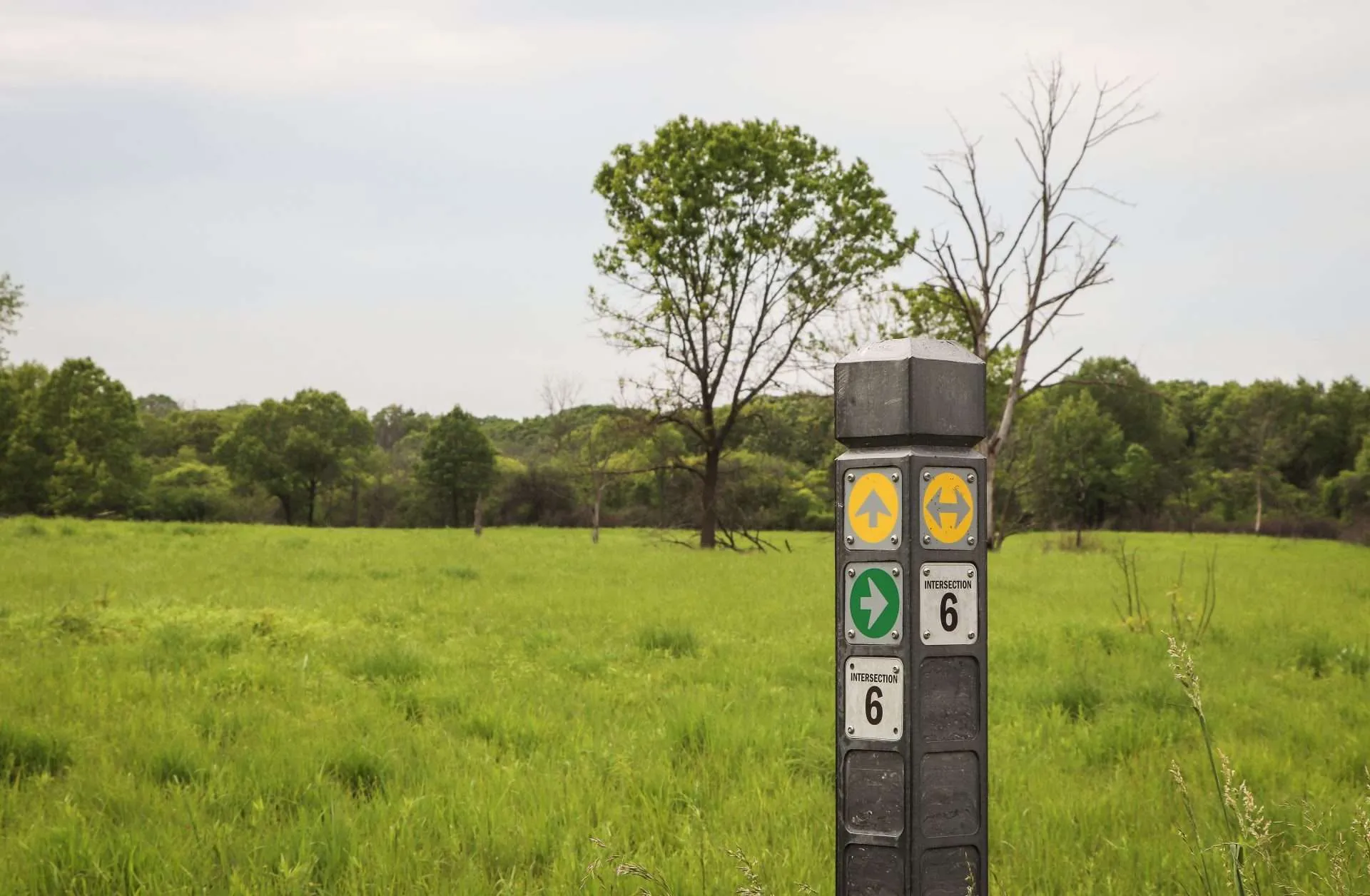 Directions and Site Info
The Palos Forest Preserves are managed by the Forest Preserves of Cook County and are located in the southwest suburbs. Parking at the Palos Forest Preserve is easy. Cook County Forest Preserve hours are daily from sunrise to sunset. There are many picnic areas, shelters, and restrooms located throughout the Palos Forest Preserves.
[googlemaps https://www.google.com/maps/embed?pb=!1m14!1m8!1m3!1d11914.125636842036!2d-87.877281!3d41.7090505!3m2!1i1024!2i768!4f13.1!3m3!1m2!1s0x0%3A0x916f1d68ffbb622!2sLittle+Red+Schoolhouse+Nature+Center!5e0!3m2!1sen!2sus!4v1561748093284!5m2!1sen!2sus&w=600&h=450]
---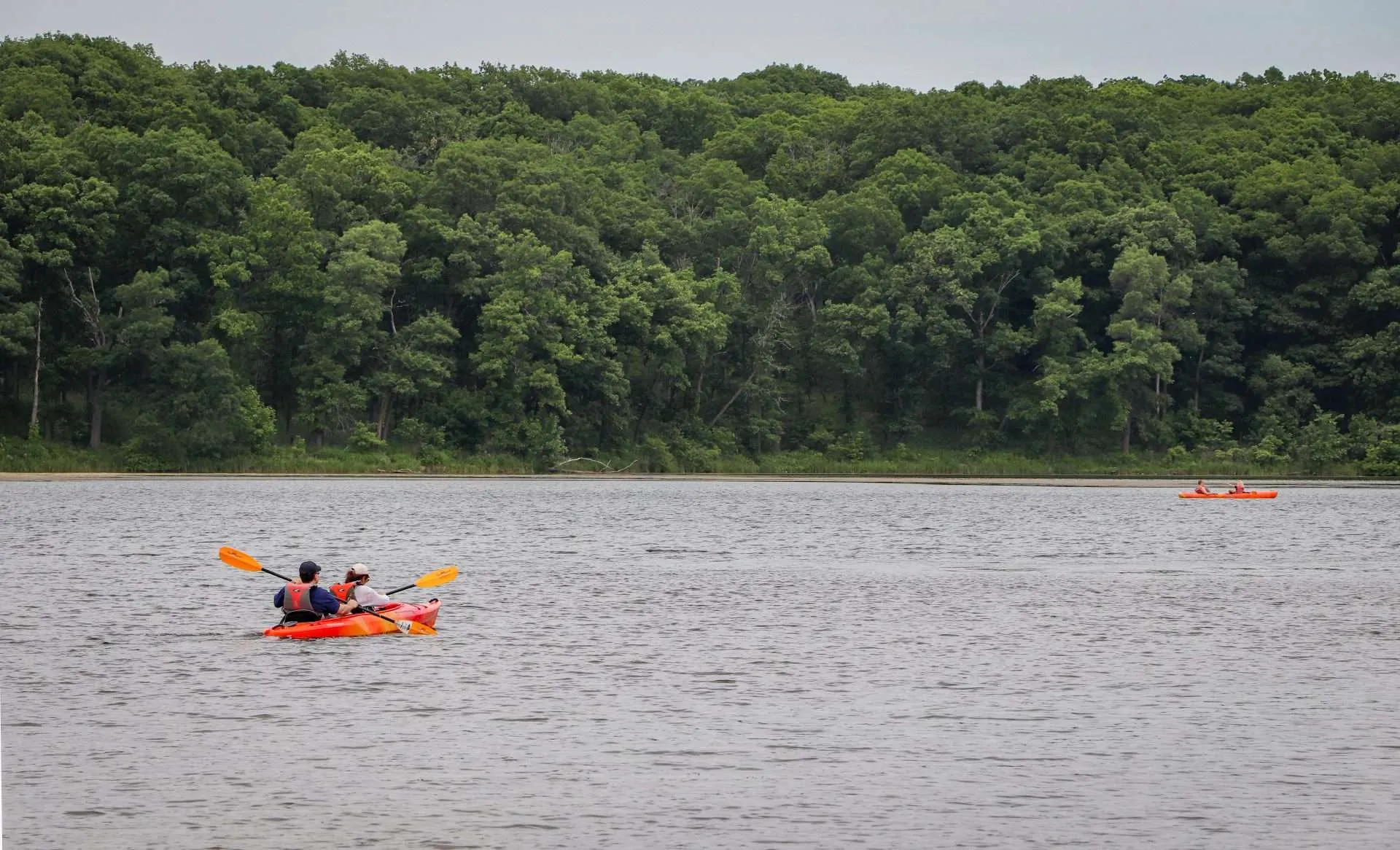 What Can You Do There?
Hiking and walking

: The Palos Forest Preserves are home to over 50 miles of trails for all purposes, especially hiking and walking. There are definitely places where you will feel in the hills far from the Chicago region, even though you're still in the suburbs. The network of trails provides a number of length and difficulty options for trail users, along with the opportunity to visit several sloughs (shallow lakes). Check out a complete trail map of the Palos system here.
Mountain biking

: Yes, you can try out mountain biking in Cook County! Pulaski Woods is popular among mountain bikers for its interesting and often exhilarating hills and turns. The official staging area for mountain biking is at Pulaski Woods South, though Wolf Road Woods links to a number of trails as well. Mountain bikers must stay on designated trails to protect the plants and animals that live throughout the preserves.
Camping

: Camp just steps from the water in the heart of the vast, hilly Palos Preserves. Camp Bullfrog Lake offers year-round camping, group activities and water-based recreation such as canoe rentals and fishing. Just around the corner from Maple Lake's boathouse and the Little Red Schoolhouse Nature Center, it's also a perfect launching pad for hiking, mountain biking, and birdwatching adventures on Palos' trails.
Canoe and kayak

: There are several options for renting canoes and kayaks in the Palos Forest Preserves: REI maintains a boathouse at Saganashkee Slough; you can rent at Maple Lake near Camp Bullfrog Lake; or you can take boats out on Tampier Slough.
Stair-climbing

: Get an intense workout climbing the stairs at Swallow Cliff Woods. Swallow Cliff Woods is best known for its dramatic "front lawn," which leads up a steep, 100-foot-tall bluff. The bluff creates one of the best sledding hills in the county and also one of its toughest and most scenic stair workouts.
Little Red Schoolhouse Nature Center

: Little Red Schoolhouse Nature Center opened in 1955, and has educated and delighted generations of families in Cook County. In 2010 a new visitor center with live animals, exhibits and more joined the old school. It's a great spot to include on your trip and it's a nice central location to start out your day in the Palos Preserves.
---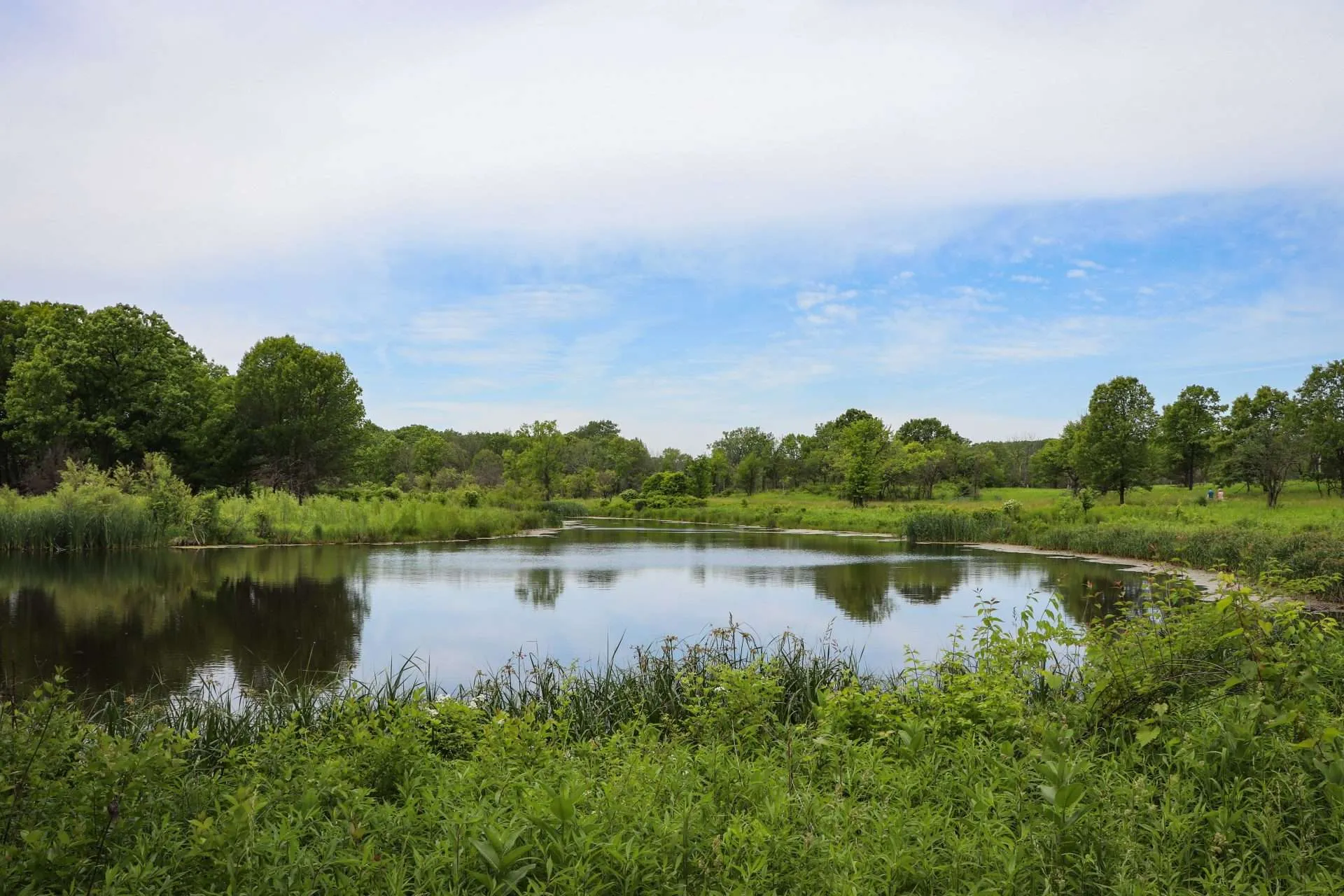 Plan Your Day in the Palos Forest Preserves
We recommend starting your day at the Little Red Schoolhouse Nature Center, located right off Willow Springs Rd. It is a good central location within the Palos system, there is ample parking, and it is really an excellent nature center, with interactive displays, many learning resources, water fountains, a gift shop, and plenty of spaces to accommodate families. Whether you're with young kids or if it's just for yourself, we strongly recommend checking it out as part of your trip.
There are a handful of short, one-mile trails around the nature center which are great for families with young kids or folks looking for shorter walks, and you get some great views overlooking Longjohn Slough. Little Red Schoolhouse is also a great place to start your day as you hit the trails in the Palos Forest Preserves. You can explore the winding yellow, black, or orange trails, or head over to Cranberry Slough Woods to see a gorgeous example of woodland restoration. Again, check out the trail map here.
You can also access some of the region's longer distance trails, including the paved Cal-Sag Trail which cross many of these preserve to the south and the paved Centennial Trail/John Husar I&M Canal Trail system to the north.
The Palos Forest Preserves really have something for everyone and they're a great place to experience nature near Chicago. Be sure to add it to your list of places to check out and enjoy your time outside!
---
Check out more of our recommendations for getting outside in the Chicago region.
Read more about our efforts to support the Forest Preserves of Cook County through the Next Century Conservation Plan.