Step in to Chicago's Garfield Park Conservatory and step back in time and to a whole different world. Between the towering trees, tropical plants, vibrant flowers, the gorgeous displays, and stunning architecture, it almost feels more like an immersive art experience than a walk through the garden.
The Conservatory is truly one of Chicago's greatest treasures: it houses one of the country's best horticultural collections and gorgeous landscaping, it is an architectural wonder with elements designed by the famous landscape architect Jens Jensen, and it is an excellent community asset. You can spend your day wandering among the collections of plants, enjoying a free guided tour or educational program, or letting your kids explore nature in their own way, making it a great spot for visitors of all ages.
The Garfield Park Conservatory is owned and operated by the Chicago Park District and is home to thousands of plant species, spread through eight different indoor gardens. In the warmer months, visitors can spend some extra time wandering the 10-acres of outdoor gardens.
There are definitely some spectacular spots in the Conservatory to snap a photo, so be sure to bring your camera or phone and share what you find. Tag your Instagram posts with #DiscoverYourPlace to be featured on our stream and please share with us the highlights from your adventure! And something to keep in mind: the Conservatory is a pretty great spot for a date.
---
[googlemaps https://www.google.com/maps/embed?pb=!1m18!1m12!1m3!1d7064.623421980344!2d-87.70653709697832!3d41.88622728179939!2m3!1f0!2f0!3f0!3m2!1i1024!2i768!4f13.1!3m3!1m2!1s0x880e32b7f3180569%3A0xd2217483684883aa!2sGarfield+Park+Conservatory!5e0!3m2!1sen!2sus!4v1544470438886&w=600&h=450]
Directions
The Garfield Park Conservatory is conveniently located right off the CTA Green Line at the Conservatory-Central Park Drive stop. Parking is also available on-site and the street address is 300 N. Central Park Ave., Chicago, IL 60624.
The Conservatory is open daily from 9am-5pm, with extended hours on Wednesday, and admission is free (there's a suggested donation at the door).
---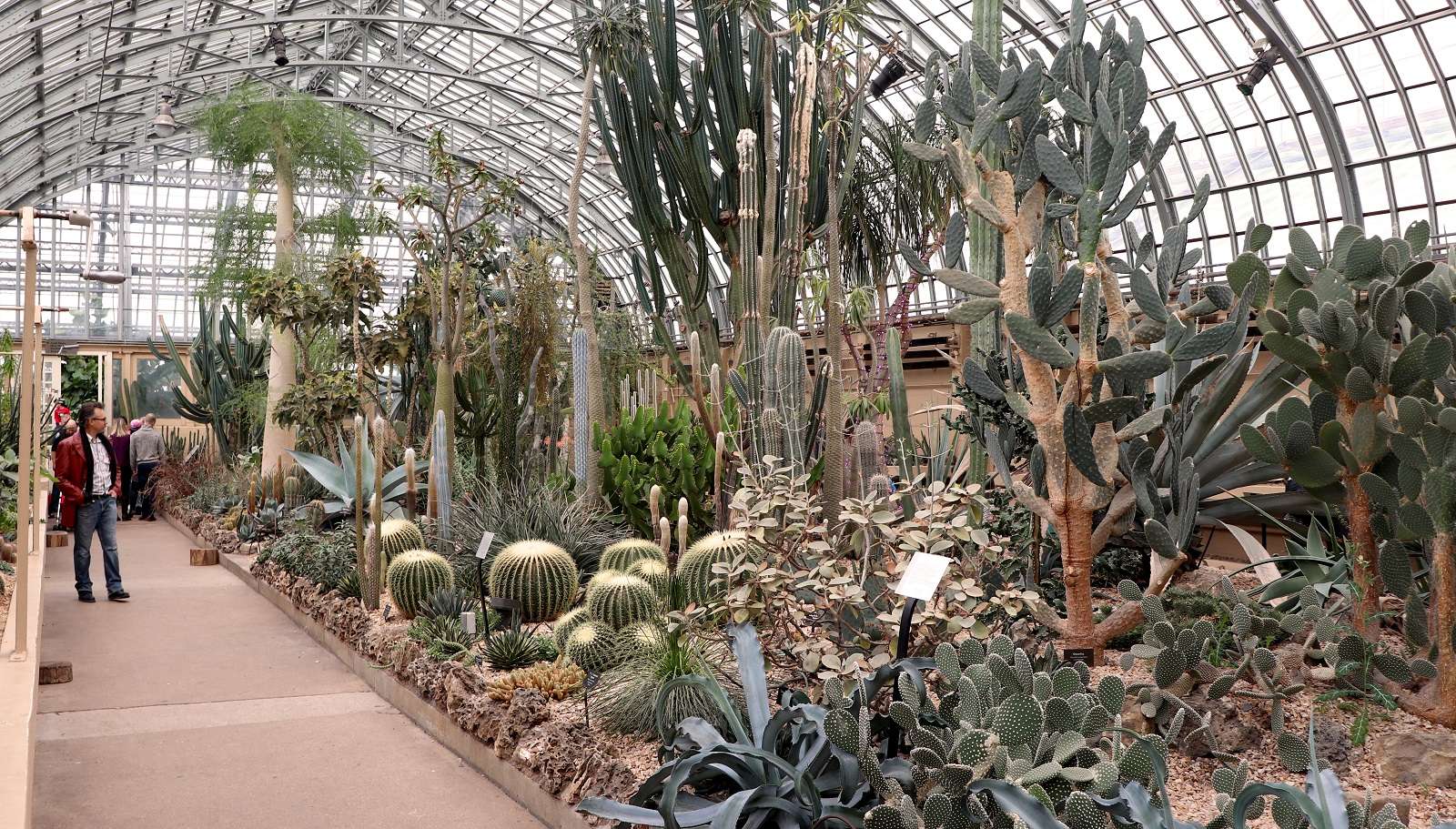 Indoor Gardens
Garfield Park Conservatory is home to eight indoor gardens, each offering a unique visitor experience. The building itself is truly a sight to see, blending landscape architecture with Prairie School style. A map of both the indoor and outdoor gardens is available here, and below are a few highlights.
Palm House

: As you enter the Conservatory, you'll find yourself in the Palm House. This is the largest room in the Conservatory, designed as an idealized tropical landscape, featuring more than 70 palms and other plants from warm habitats all around the world.
Fern Room

: Jens Jensen, who designed the Conservatory in 1906, wanted to give visitors a glimpse of what Illinois might have looked like millions of years ago. Lush ferns, rocky outcroppings and an indoor lagoon evoke the swampy landscape of prehistoric Chicago.
Desert House

: The Desert House is great. It holds one of the region's most varied collections of cacti and succulents, so if you keep any at home, definitely stop by this room. These plants owe their popularity to their spectacular and unique forms, the promise of brilliant, short-lived flowers, and their ability to withstand harsh, dry conditions.
Show House

: The historic Show House seems to recreate itself every time you visit. For instance, every winter the Conservatory holds their Holiday Flower show with new themes selected to inspire new perspectives and appreciations. You'll most likely find your way here as you wander, but it's a good spot to sit for a few minutes and take everything in.
Children's Garden

: If you're bringing your kids or a group of younger students, give them the chance to explore the Children's Garden. A giant, meandering vine with larger-than-life sized roots, seed, leaves, and flower provides opportunities for children to play while learning about plants.
---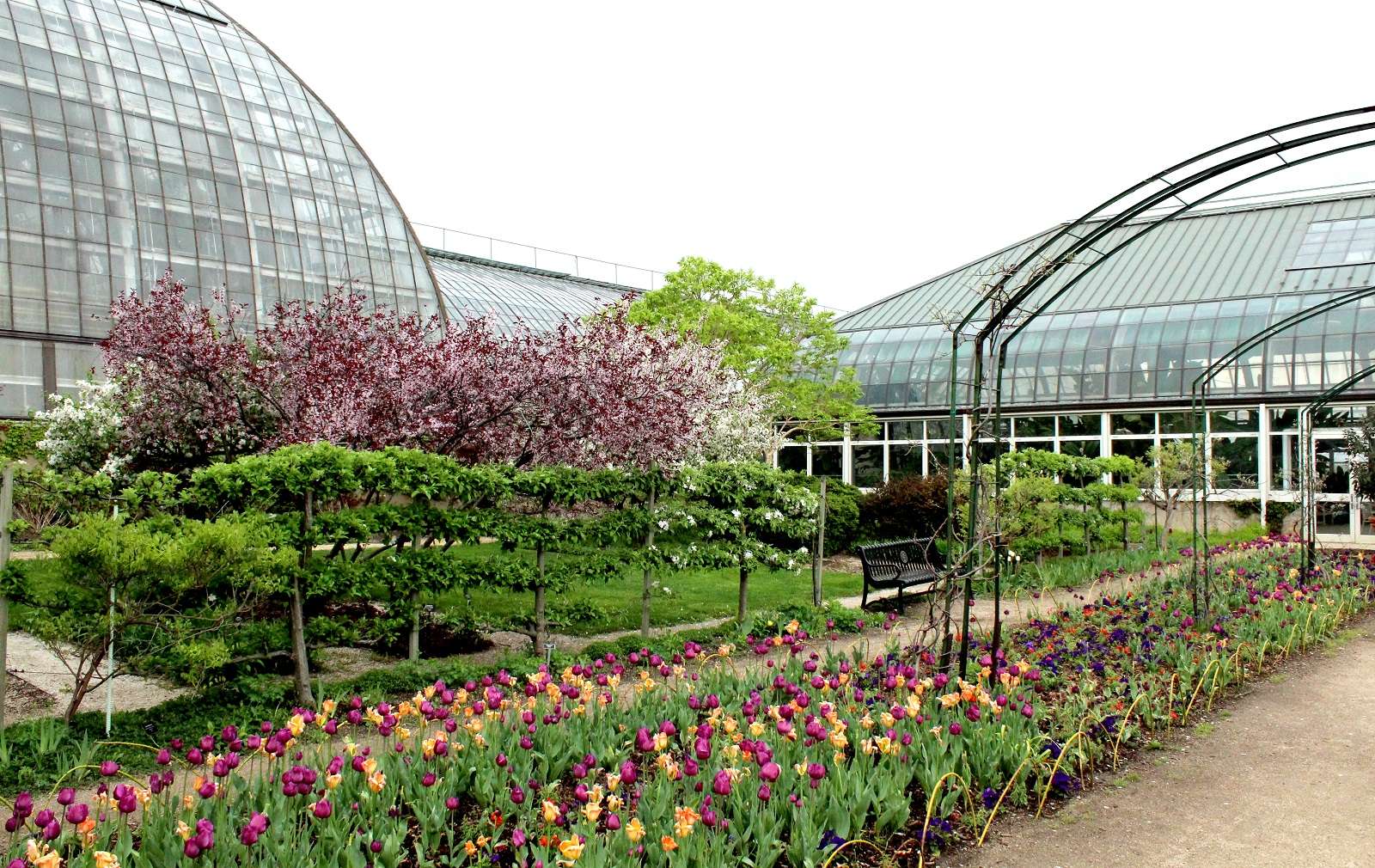 Outdoor Areas
While you should visit the Garfield Park Conservatory any time of year, you might want to consider a trip in early May. At that time, the outdoor gardens are teeming with new life. Flowering trees and shrubs along with thousands of perennials create a spectacular array of colors.
The outdoor gardens have a great variety of ways to learn about and experience the plants housed at the Conservatory. You can visit a community-run organic garden, watch a beekeeping demonstration, and enjoy quiet meditation on the Conservatory grounds.
The Monet Garden, pictured above, is an adaptation of the painter's famous gardens in Giverney, France. You can also wander the grounds an find a grove of quaking aspens, gorgeous magnolia and red bud trees, and take a short walk through the park-like (and picturesque) City Garden.
Again, if you are bringing kids or younger students, check out the Play & Grow Garden, which has some educational installations designed to help them see nature in a familiar way.
---
All told, a trip to the Garfield Park Conservatory should be on everyone's Chicago bucket list. The Chicago Park District and the Garfield Park Conservatory Alliance have been generous partners to Openlands throughout the years, and we strongly encourage you to make a trip. Not to mention, the vibrant shades of green found indoors are a welcome comfort during a Chicago winter!
For more information, visit GarfieldConservatory.org
---
Check out more of our recommendations for getting outside in the Chicago region.