Starved Rock State Park is a trek from downtown Chicago, but one that's worth making. Recently voted as the top tourist attraction in Illinois, Starved Rock is a pleasure to visit year-round, with scenic waterfalls in the warmer months and stunning icefalls in the winter. The park boasts an extensive 13-mile trail system, it's home to hundreds of old oak trees, and it is one of the best places in the Midwest to see the bald eagle population which overwinters along the Illinois River.
Starved Rock takes its name from a Native American legend: in the 1760s, Chief Pontiac of the Ottawa Tribe was killed by an Illiniwek while attending an inter-tribal council in southern Illinois. In a series of battles following the event, a band of Illiniwek sought refuge from a band of Potawatomi warriors (themselves allies of the Ottawa) atop a 125-foot sandstone butte overlooking the Illinois River. The Ottawa and Potawatomi laid seige to the rock, starving the Illiniwek above.
Stories like these are reminders that the lands protected today in our country are lands taken from the indigenous nations that lived here before us. We recognize that indigenous peoples across North America have looked to correct centuries of historical injustices by permanently protecting land through conservation – and that work extends to our home in the Midwest. Today we work to restore the land to health, to respect the land and the water, and to share these places with all people.
Enjoy your trip to Starved Rock, take some time to learn about the history of these lands, and respect that land wherever you go.
---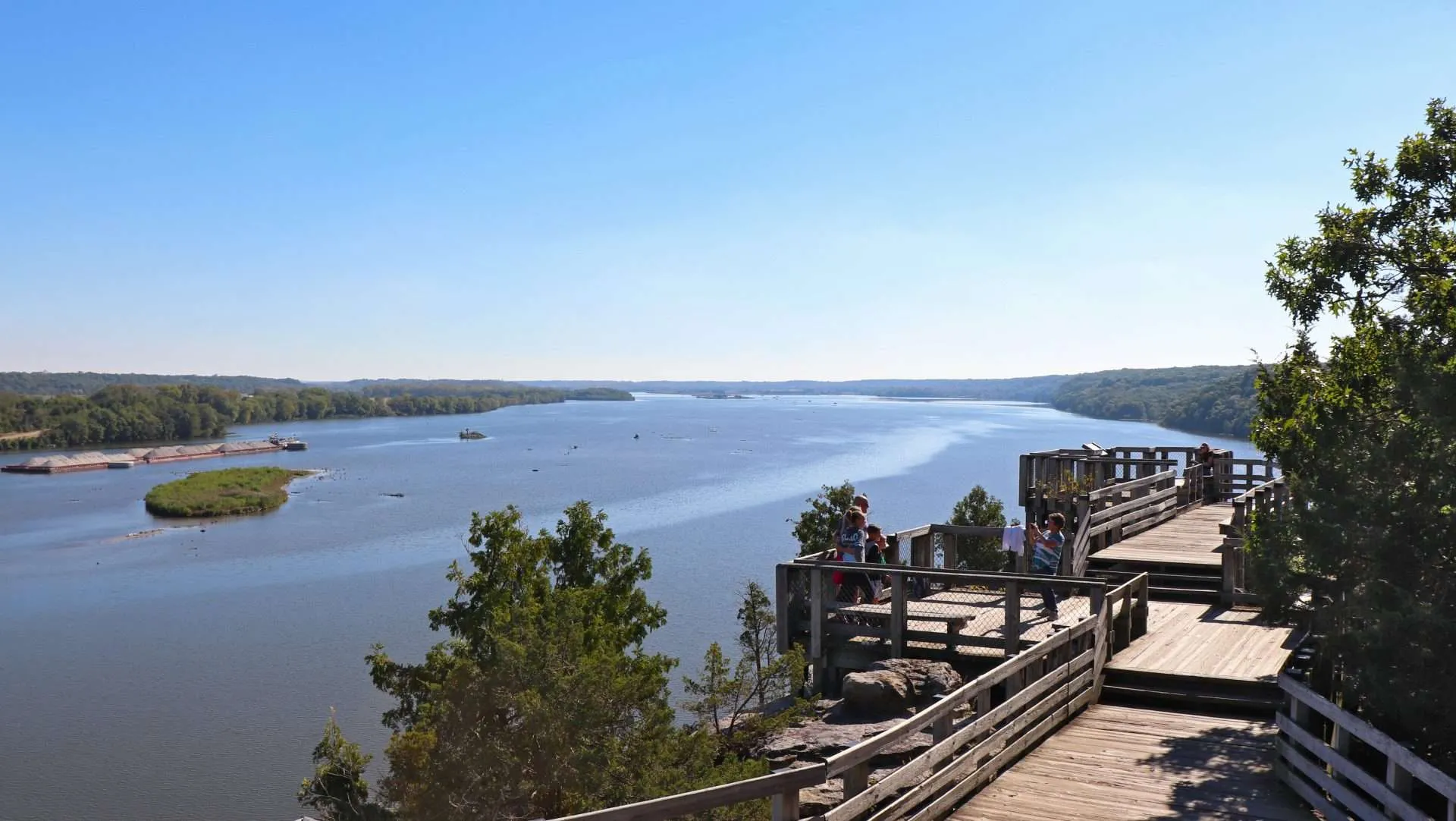 Directions and Info
Starved Rock State Park is located on IL Route 178 (E 8th Road) in Ogelsby. Exit south on I-80 at Exit 81. The entrance to the park is approximately 10 minutes from the Interstate on the south bank of the Illinois River.
Starved Rock State Park is managed by the Illinois Department of Natural Resources. The visitors center has on-site restrooms, a small museum, maps and info, picnic areas, and a cafe.
If you're heading there on a weekend, get there as early as possible. The parking lots can fill up quickly, especially during the summer months. Be sure to wear shoes or boots that both are supportive and have good traction. The canyons at Starved Rock are slick, even when dry, so be sure you have the right equipment for your day.
---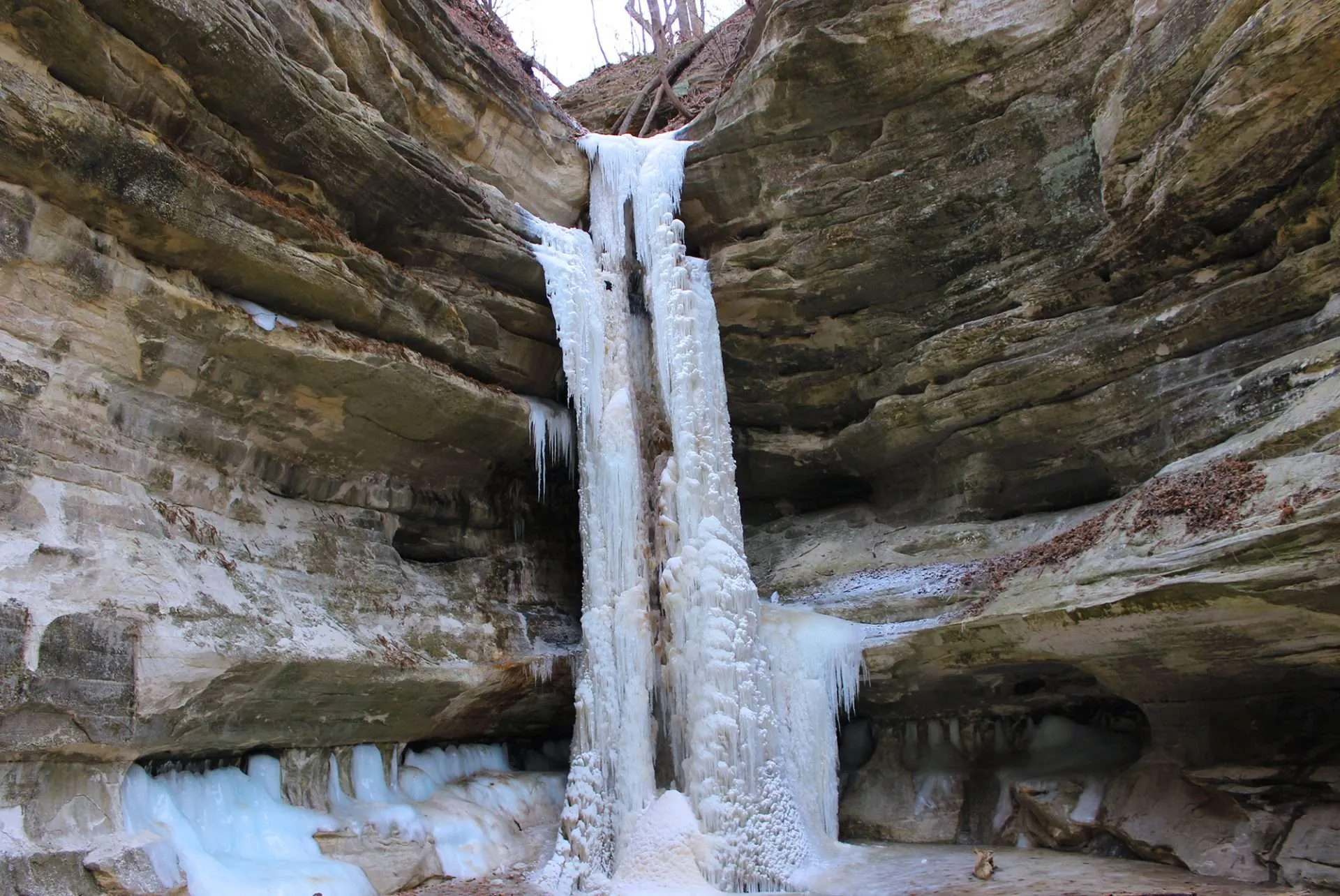 What Can You Do at Starved Rock?
Hiking

: Starved Rock boasts an extensive 13-mile trail system, with many paths either paved or elevated on a boardwalk. These trails can be muddy and there are many staircases winding through the park, so be sure to wear sturdy shoes or boots. Download a trail map.
Camping

: The Starved Rock campground has over 120 sites, complete with a supply store, electricity, and indoor plumbing in the restroom and shower facility. Weekend reservations fill up quickly, so be sure to reserve a site online. (There is also a lodge and cabins to rent.) Learn more…
Canyons

: There are 18 canyons in Starved Rock State Park, 14 of which have running waterfalls and icefalls. St. Louis (pictured above), Wildcat, and French canyons all offer spectacular scenery.
Bald Eagles

: Starved Rock is an excellent place to spot bald eagles during the winter. These eagles migrate along North America's rivers, hunting for fish in the waters below. A dam on the Illinois River located near Starved Rock keeps the river from freezing over completely in the winter, making Starved Rock an ideal winter home for these iconic birds.
Guided Tours

: The Starved Rock State Park Visitor Center offers a rich exhibit with great educational programs for all ages. There you can learn all about the exciting history and geology of this park, join a guided tour, or listen in on some of their programming. Learn more…
History

: Starved Rock is intimately tied to both the indigenous history of our region and the history of the State of Illinois. Head to Starved Rock to learn more about how the Illinois River has shaped human history through the ages.
Discover! If you're a photographer or just an avid Instagrammer, bring your camera or phone and share what you find at Starved Rock! Tag your Instagram posts with #DiscoverYourPlace to be featured on our stream and please share with us the highlights from your adventure.
---
Make a Day or Weekend of It!
Matthiessen State Park

: If you're making the trip to Starved Rock, add a stop at Matthiessen State Park. It's a phenomenal cross-section of geological history, with a 5-mile trail system, plenty of recreation opportunities, and stunning scenery. Learn more…
Buffalo Rock State Park

: This park is nearly 300-acres of woodlands and bluffs carved over the years by the Illinois River. You can pack a picnic, spend the night camping, connect to the I&M Canal Trail, and even see two bison! More info…
I&M Canal National Heritage Corridor

: One cannot overestimate the seminal role the Illinois and Michigan Canal (I&M Canal) played in the founding and early history of Chicago.  This pioneering waterway connected Lake Michigan at Chicago with the Illinois River 100 miles to the southwest at LaSalle-Peru. Today, you can explore this history in the I&M Canal National Heritage Area.
Starved Rock Lodge

: For those of you who love the outdoors and who love a warm bed, there is Starved Rock Lodge. The lodge offers a variety of accommodations for families and groups.

Explore the near-by towns

: Starved Rock is situated between the towns of Ogelsby, Ottawa, La Salle, and Peru. Outdoor recreation and eco-tourism are estimated to contribute over $25 billion to the Illinois economy, and that spending helps the communities which surround conserved lands. Grab lunch in town or spend the night in one of these towns.
---
Check out more of our recommendations for getting outside in the Chicago region.