As a new staff member at Openlands, I'd love to share with you the game changing environmental outreach happening in Chicago's urban neighborhoods. This was my first year as a volunteer with Birds in My Neighborhood® (BIMN), an Openlands' program that engages elementary school students at Chicago Public Schools that have gardens created through our Building School Gardens initiative. Birding volunteers like myself are trained as classroom 'birding' teachers and paired with wonderful schools, often in underserved areas. In three visits, we aim to open the eyes of students and teachers to the abundance of nature that exists all around them.  During the first visit, we conduct a classroom lesson with the children and provide them with their very own BIMN journals to research a bird of their choosing. During the second visit, we take our first bird walk around the school premises. The last gathering culminates with a field trip to a local nature area where we find new and interesting birds. What an amazing experience!
---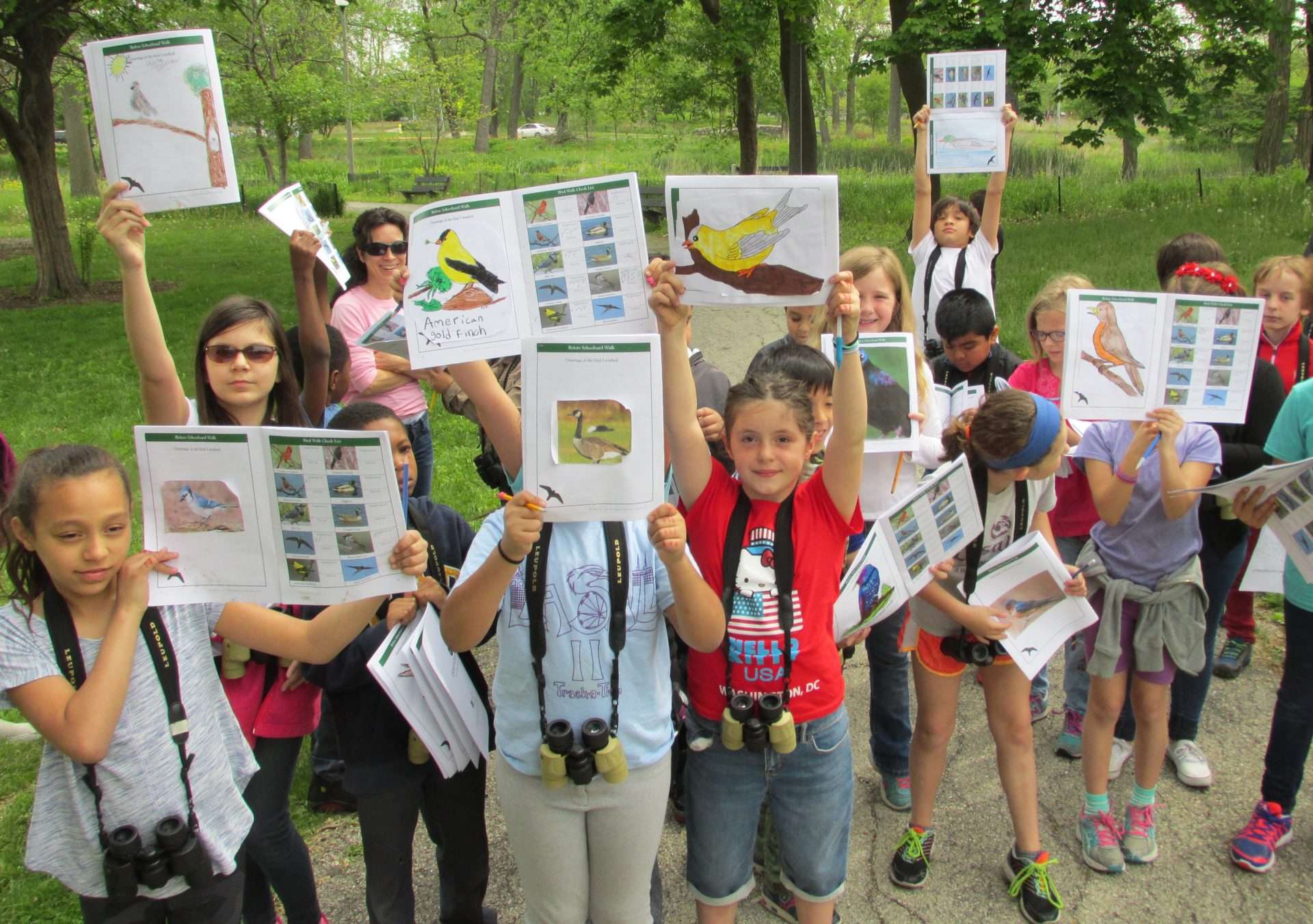 Openlands board member Dean Fischer and I were paired with Ms. Gorzen's 4th and 5th grade class at Suder Montessori Magnet Elementary School in East Garfield Park (a neighborhood on Chicago's west side.) For our first visit, we asked the class what they already knew about birds and what they would like to learn during our time together. You would be amazed at how much these kids knew! "What's another thing you know about birds?" I asked. "The male Bird of Paradise does an elaborate courtship dance for the female Bird of Paradise" one child answered, followed by a host of similar responses. At the end of our time, our students were pumped about ornithology, and excited to research their bird of choice in their new BIMN journals!
When Dean and I returned for the second visit, the kids were thrilled to see us again and eager to share their research and drawings. Ms. Gorzen happily exclaimed, "It has been a task trying to pull them away from their journals all month!" Check out this stunning piece of artwork in a students journal:
We then packed our birding check lists and quietly ventured to the school gardens to see what we could find. It was the end of April and spring migration was in full swing. A group of girls huddled around me to observe my actions. I was able to teach them how to identify birds looking at their shape, size, field marks, colors, and habitat. They caught on quickly!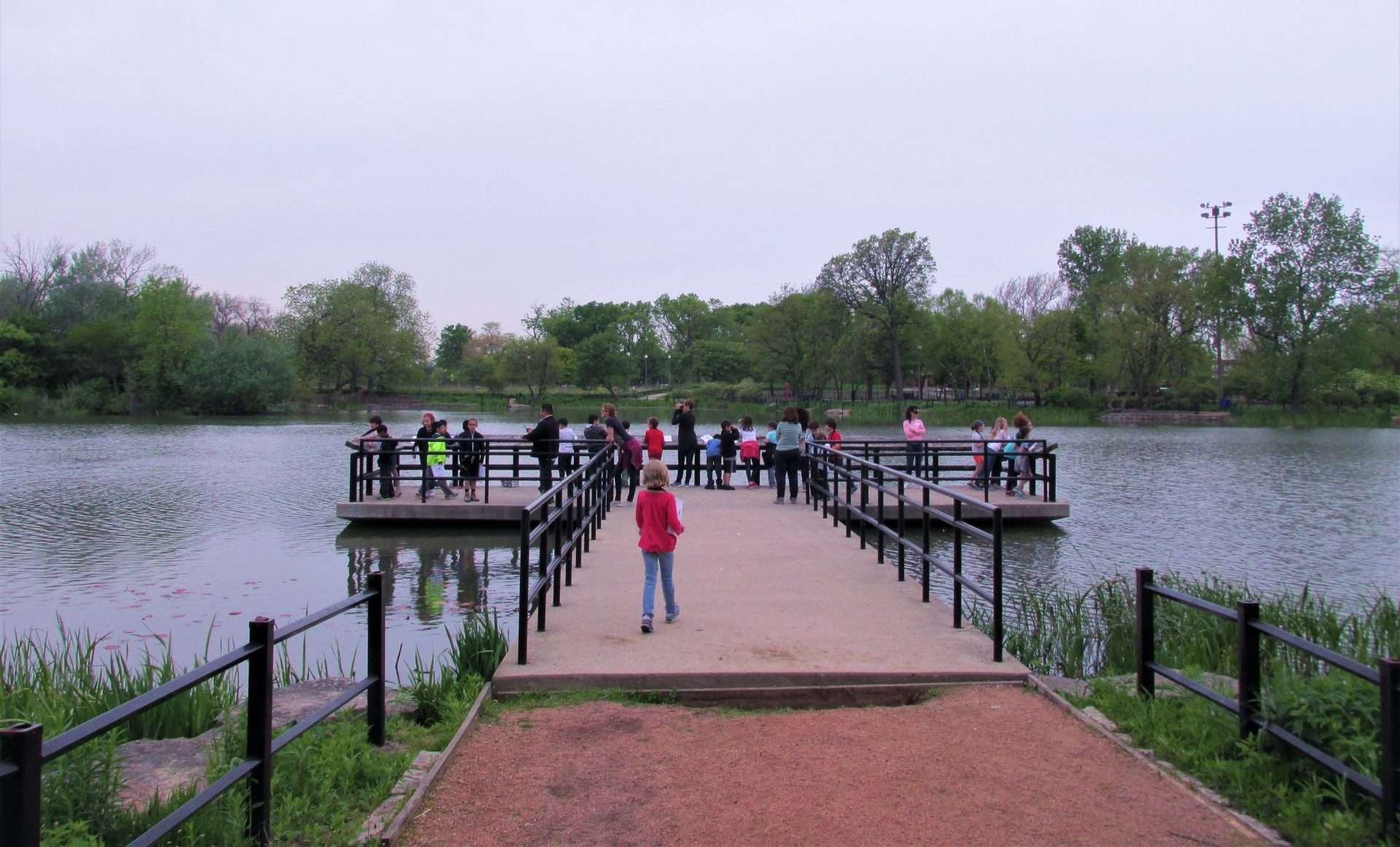 "Up there," one girl whispered. "I see a small one in the tree with black and white stripes on its head, a little yellow, and a white chin." "That's a special one that's not on our check list," I replied. "A white throated sparrow." As a parting line, Dean announced to the class, "Each of you are now 'Citizen Scientists'. Now that you know how to identify birds," he said, "you can collect data to help protect our environment. You are smart and have an awesome responsibility ahead of you." "Cool" the class responded, feeling a part of something special.
On May 28, we embarked on our final field trip to Humboldt Park.  A vibrant green space nestled within the city, Humboldt Park boasts a diverse habitat of trees, lagoons, and fields – all prime birding real estate. Our species list included Common Terns, a Black Crowned Night Heron, Barn Swallows, Chimney Swifts, Gulls, European Starlings, Red Winged Blackbirds, and more. The class stood in awe as we watched a Garter snake slide in front of us and up a fence.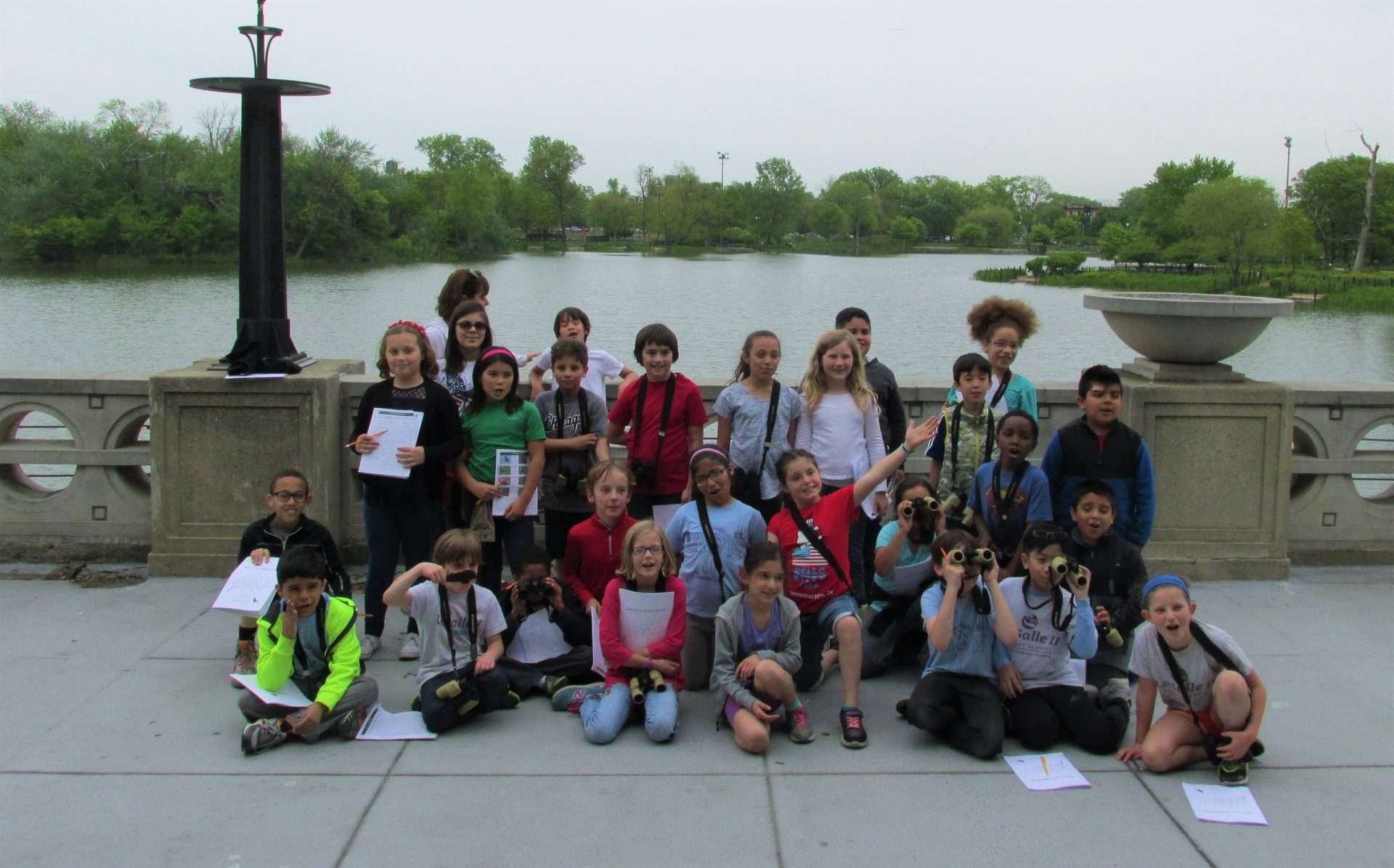 At the end of the trip, we settled in the grass for lunch, basking in the glory of our perfect spring day. A beautiful moment arose when a student, who we were told had barely spoken a few words at a time all year, burst into joyful song, amazing his teachers and peers. A volunteer from Audubon Chicago Region, our BIMN partner, took some time to flip through a Sibley's Field Guide with a child who had been diligently researching the Peregrine Falcon.
I want you to know that you make this possible. Often with underserved communities in the city, you see children hunger for nature since it is generally not within their grasp. Because of your support of Openlands' programs, we are able to feed that hunger, ignite a passion for the abundant world of nature around them, and nurture the environmental stewards of tomorrow.
"Now that I know about this park with all these trees and ponds," a young girl said at the end of our trip, "I'm going to tell my mom to bring me here. She'll tell all her friends, and they'll put it all over Facebook, and soon everyone will know about this place."
-By Tasha Lawson