In 2016, TreeKeeper Ed Zimkus noticed something peculiar happening to the trees on his block. Ed lives in West Edgewater, a typical Chicago neighborhood with countless tree-lined streets, but even when Ed became a certified TreeKeeper, he never expected to find himself in a fight to save all 13 trees on one side of the block. The following was written by TreeKeeper Ed.
---
It started in 2016, when I discovered spray-painted magenta dots at the base of many of our block's parkway trees. The dots continued for a couple of blocks and around the corner. I had no luck in getting answers from the ward office about who sprayed the dots or what they meant. No one seemed to know. I let it ride until this March, when I became alarmed at the spray-painted green stripe running down the middle of our parkway the length of the block. A couple of trees – both of them healthy – had big green X's on the trunks. It didn't look good.
Eventually I learned that the Chicago Department of Water Management is in the midst of a 10-year program to replace century-old water mains all across the city. Their goal is to replace 30 miles of water mains a year. It's a huge, expensive undertaking, and who can argue with updating the city infrastructure? If a couple of our parkway trees were going to be collateral damage, my main concern was minimizing the root damage to the remaining trees on the block. I emailed the Ward Office asking that someone from the Bureau of Forestry be consulted to help protect the remaining trees, as I had learned from the TreeKeepers training. Yet I heard nothing back until the Department of Water Management returned to our block a few weeks later. This time they marked a big green X on every single parkway tree. The supposed final word is that the devastating result of a new water main is going to be zero trees on our side of the block. No shade. No birds. No beauty.
---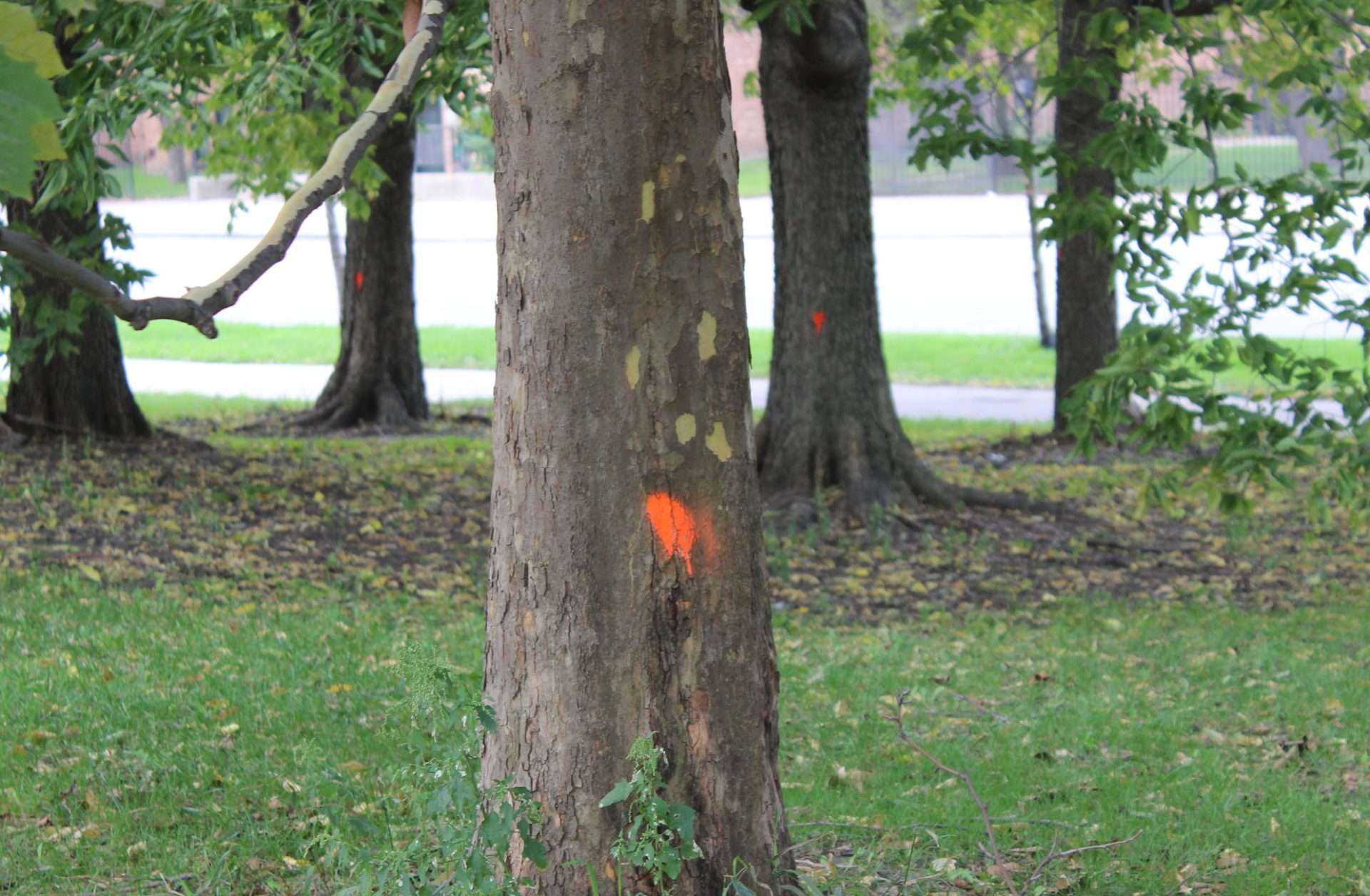 As a home-owner and tree lover, I couldn't give up so easily. The more I talked to neighbors and my Openlands connections, the more I got swept up in an activist role. I'm learning as I go, with the outcome still in question, but if trees in your neighborhood become threatened, this much I can share:
There's Strength in Numbers: Rally your neighbors to email or phone your Alderman. You can't stop the construction, but say you want them to explore every option to save as many trees as possible. I dropped off flyers on porches and posted on our neighborhood website, and the response was quite positive. This prompted our alderman to forward a letter from the water department commissioner to everyone who expressed concern.
The water commissioner said there was nothing to be done, and unfortunately the trees had to go. However, I knew enough from talking to my contacts that there are options. This led to me drafting a petition asking for a meeting with the alderman, representatives from the Chicago Department of Water Management, the Bureau of Forestry, and residents all present – preferably on site. With so much to lose, we wanted to have all our questions answered before the trees are taken down.
Start gathering knowledge and taking pictures: Document whatever helps your case. Many neighbors take their parkway trees for granted, so be sure to remind them what they stand to lose unless they speak up. Your neighborhood trees have real value as property assets. Trees sequester and store carbon by absorbing CO2, they soak up rainwater to reduce flooding, and reduce the "heat island" effect in neighborhoods, and mature trees won't be replaced for decades. Learn whatever you can about the options. (For instance, I'm trying to find out how wide a water main trench has to be.)
Understand it's all about money: The water main upgrade is so big, subcontractors outside of the city are being contracted, with low bids getting the job. The faster they make it go, the more money they make. They're not really worried about our parkway trees. Make a monetary case for the value of the trees as property assets. Removing and replacing decades-old trees is expensive. Imagine the change in cooling costs to your home. Ask about the cost of any construction options that might save the trees. (In our case, I want to know why the new water main can't be in the street instead of the parkway, like it is throughout most of the city. Aren't they just perpetuating the planting and removal of parkway trees with every future pipe issue?) Let them come back to you with costs. Don't be inflexible or angry, or you risk alienating your alderman, who may want to find a solution for all. But make noise. The city departments and contractors are all counting on apathy to make their jobs easier.
Finally, know that there is a chance we may not win, but losing is certain if we don't speak up.
---
Openlands Forestry team has planted more than 4,500 trees across the Chicago region since 2013. With the help of our TreeKeepers volunteers, we are the active stewards of Chicago's urban forest. If you are concerned about tree removals in your neighborhood, please contact TreeKeepers@Openlands.org.