The land, water, soil, and wildlife that make up our ecosystem are all intricately connected. Intentionally planting native plants, trees, and shrubs is crucial for the ecological health of the Midwest. This impact is not just important aesthetically, but also for the creation of habitat to support the diverse beneficial wildlife of our region. Plants that are not native to our area will not have the same ecological value. This is why our Lands in Harmony program has teamed up with Possibility Place, a local native plants nursery, to offer the Native Tree and Plant sale. Together, we are promoting the importance and benefits of native plants to your yard, landscape, and ecosystem at large and empowering you to help make a change. From providing beauty, privacy, and shade to increasing biodiversity and reducing flooding, native trees and shrubs are a great choice for landscaping.
Maximizing benefits from any new plant choices – native or not – will depend on finding the right fit with the soil, space, sun exposure, and surrounding plants. Acquiring plants at a young age is an economical way to incorporate them into your landscape. Make sure to take the plant's mature size and spacing into account when planting. This blog shares ten native plants that, given the right growing conditions, could make an excellent addition to a yard or landscape looking to become more sustainable and inviting for pollinators and other wildlife.
1.Swamp White Oak (Quercus bicolor)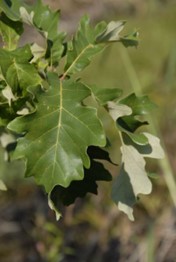 Oaks are known to be some of the best trees to plant for biodiversity and restoring native ecosystems. The oak savannah was once a common sight in Illinois, but now only exists in small patches. Swamp white oaks, as their name suggests, have the additional benefit of being suitable for wet environments like yards that flood. This plant requires full sun exposure and enough space to reach its mature size of 75 – 100 feet tall. If you want a beautiful tree in a hard to grow clay soil, look no further than the swamp white oak with orange and yellow fall colors and attractive peeling bark.
2. Musclewood (Carpinus caroliniana)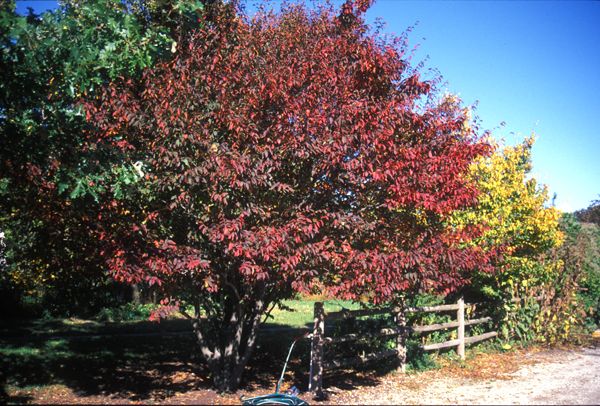 This tree works well as a privacy screen or a clipped hedge since it's commonly a low-branched, multi-trucked small tree. This tree has orange to deep red fall color.
3. Black Chokeberry (Aronia melanocarpa)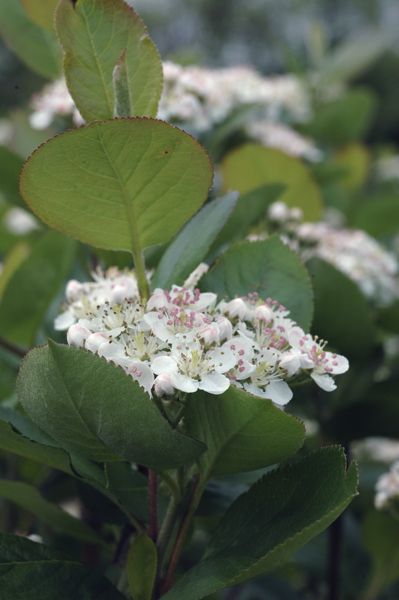 The black chokeberry is a beautiful shrub, growing 6 to 10 feet . Its ecosystem benefits make it attractive to diverse wildlife in any yard or garden. This shrub is also great for yards that flood or with any kind of soil. The black chokeberry has showy flowers that turn to deep blue-black fruits, and fall foliage in vibrant red and orange.
4.Pagoda Dogwood (Cornus alternifolia)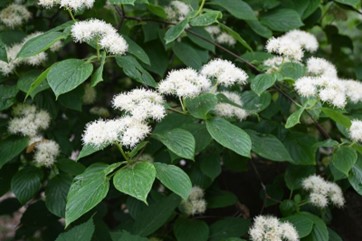 The pagoda dogwood is an attractive small tree with unique horizontal branches that paints a beautiful scene especially in the winter when the branches catch fall snow and in the spring when the tree blooms with white flowers. In autumn, the pagoda dogwood's dark green leaves will turn maroon-red. These trees are also great pollinator hotspots that will attract different types of wildlife.
5.Buttonbush (Cephalantus occidentalis)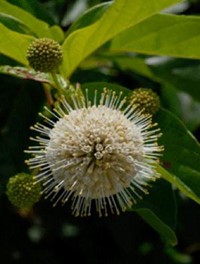 The Buttonbush is a shrub that blooms in the summer and would make a great addition to yards that flood. This shrub is named for its round and fragrant flowers that attract more than 24 species of birds and numerous butterflies. While Buttonbush grows well in good garden soil, it can also grow in standing water and would be suitable for rain gardens. You can also use this shrub as a border plant and a privacy screen.
6.Kalm's St. John's wort (Hypericum kalmianum)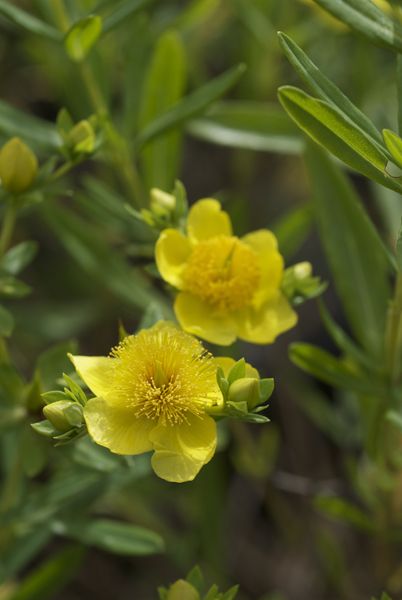 Kalm's St. John's wort is a showy, low-growing shrub. Because it reaches a maximum height of 2-3 feet, it can be planted as a low hedge or in masses in front of taller plants to create beautiful depth in the landscape and complement others in the ecosystem. Kalm's St. John's work also does very well in heavy clay soil where other plants may be difficult to establish. The flowers of this shrub bloom bright yellow in late June through July.
7 .Smooth Hydrangea (Hydrangea arborescens)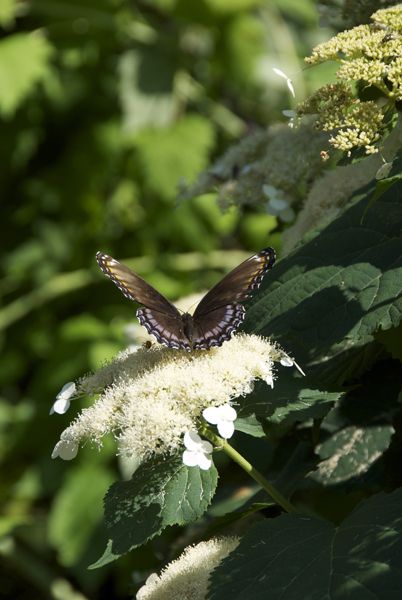 The smooth hydrangea is one of the most shade-tolerant and water-loving plants you can add to your landscape. Like many other hydrangeas, this is a showy plant with attractive blooms both as fresh flowers and in dried arrangements. The smooth hydrangea blooms from May through July with scattered flowerings through the summer into early fall. A great attraction for birds and pollinators, boosting the biodiversity of your landscape.
8.Shagbark Hickory (Carya ovata)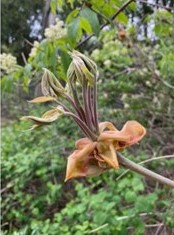 As its name implies, this magnificent tree is best known for its shaggy bark which offers interest year-round and especially during the wintertime. The crevices between the bark create unique habitats for wildlife. The shagbark hickory nuts are an added and delicious bonus for people and wildlife. This long-living tree grows between 40 – 75 feet tall and has an average lifespan of around 200 years,with some producing seeds until they are 300.
9.Bur Oak (Quercus macrocarpa)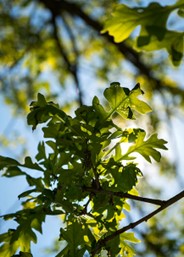 The bur oak is the iconic "Prairie Oak". This tree is very tolerant of clay soils and can grow 75 – 100 feet tall, with even wider branching! Due to its massive branches and textured bark, it is also a symbol of strength. Bur oaks' acorns are very attractive for birds and small mammals.
10. American Filbert (Corylus americana)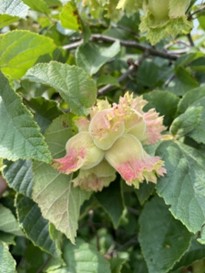 The American filbert, also called hazelnut, is a favorite shrub that grows between 6 to 8 feet tall and is tolerant of clay soil and shade. The nuts are highly desirable by wildlife and people. Growing three or more of these bushes will increase nut production. Fall colors are vibrant oranges and reds.
Native trees and shrubs play a large role in restoring and preserving our ecosystem and wildlife habitat. Apart from providing valuable ecosystem services, they can be elegant and beautiful additions to your landscape. If you live in Lake County, Illinois, our Lands in Harmony team is here to offer consultations and help you select the right native plants to use in your landscape. Visit our Openlands Native Tree and Plant sale to view the latest stock availability and get these trees and shrubs delivered, hassle-free, to your door.