The most recent report released by the Intergovernmental Panel on Climate Change warns that the effects of climate change are already worse than previously expected. The new report is dire and found that droughts and heat waves are killing off trees and corals, sea-level rise is driving people out of their homes, and deforestation is harming ecosystems and killing animal species. The report, Climate Change 2022: Impacts, Adaptation, and Vulnerability states that greenhouse gas emissions have increased temperatures by 1.1 degrees Celsius, which is already causing extreme adverse impacts at a faster rate than scientists expected.
The reality of climate change is scary, and while we can no longer turn a blind eye to the reality of it and proceed as normal, it is also important that we find ways to maintain hope and take action that empowers us and connects us to nature. Without a doubt, in order to reverse course, countries and governments need to take urgent action to drive policies that curb emissions from the transportation and energy sectors, which are the biggest sources of emissions due to the burning of fossil fuels. In the United States, passing legislation like the Build Back Better Act and America the Beautiful initiative, which would preserve 30% of US Lands and Waters by 2030, is essential to avert a future where the planet is uninhabitable.
While we cannot undo the effects of climate change already taking place on an individual level we can employ nature-based solutions in our region to support our local ecosystem and mitigate the worst effects of extreme weather. Planting native plants are one of the most immediate and easiest actions you can take to support wildlife and mitigate the effects of climate change on your property and in our region.
Planting native gardens are part of a movement called "rewilding," which is a conservation effort focused on restoring biodiversity and ecosystem health by stepping back and allowing natural processes to occur, and encouraging wild plants and insects. Native grasses have deep roots that make them drought-resistant, reduce soil erosion and flooding, filter pollutants from groundwater, and increase rainwater infiltration. They also remove carbon from the atmosphere and store it in their roots. In contrast, lawns increase stormwater runoff and are the worst plant choice for carbon sequestration.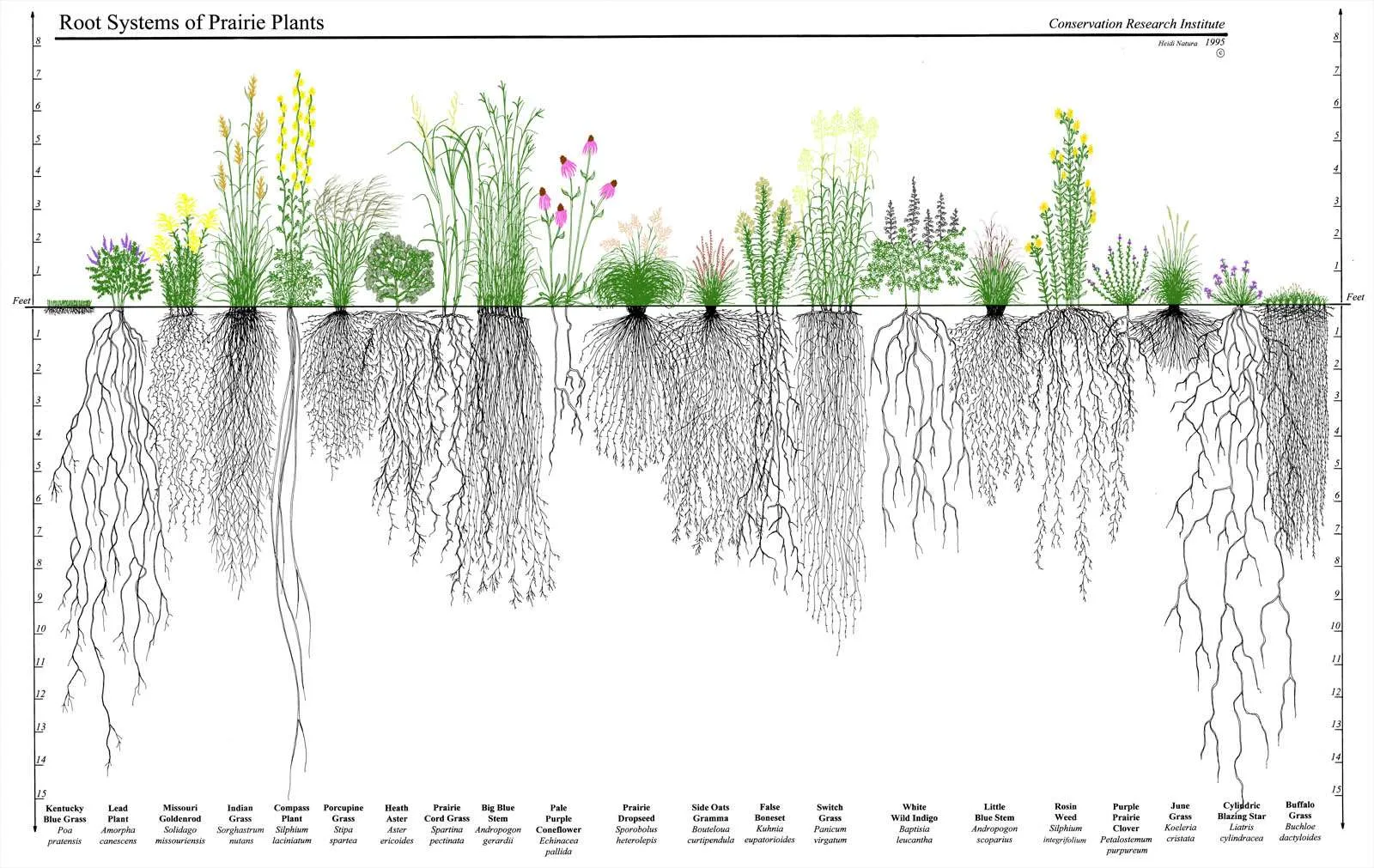 Native gardens also play an essential role in our food web by providing wildlife with habitat and pollinators, like birds, bees, and hummingbirds, with food. Pollinators are vital to maintaining healthy ecosystems, as they are essential for plant reproduction, and produce genetic diversity in the plants they pollinate.
Incorporating native trees and plants into your garden is one aspect of the process of rewilding, and you can choose from a wide array of them through the Openlands Native Tree and Plant Sale. While all native plants have a positive impact on the environment, Openlands' Landscape Ecologist Mary Fortmann has selected ten trees, flowers, and grasses that have an especially powerful effect and can help make your property more resilient to flooding, drought, soil erosion, and more. Check out the list below then head over to the sale to make your purchases! Supplies are limited and will be restocked throughout the year, so if any of the species listed are out of stock, be sure to check back soon!
Indian grass
Native grasses have deep roots that make them drought-resistant, reduce soil erosion and flooding, filter pollutants from groundwater, and increase rainwater infiltration. Indian grass is excellent for prairie restoration and stands 6 to 7 feet tall! However, it can be aggressive from seed and should not be planted in small gardens with limited space. Indian grass is excellent for fixing soil erosion.
Switchgrass
Switchgrass is a beautiful grass at all times, but it really comes into its own in late summer into winter. This grass turns a lovely shade of yellow and orange is can function great as a natural fence. Switchgrass loves moist areas, so if you live in a flood plain this grass is a great option for your property.
Hickories
Hickories are a tree in the walnut family that bear fruit. Many of the American hickory species are native to the Chicago area and provide all the carbon sequestration and water absorption benefits of trees while also providing shade and air filtration. (currently out of stock)
Milkweeds
Milkweed is a climate and pollinator superstar, as it has deep roots that sequester carbon and rainwater, and provides habitat and food to the Monarch butterfly.
Ninebark
Ninebark blooms pink to white in June in umbel-like clusters. Exfoliating bark exposes a cinnamon-brown inner bark. Great in shrub borders. This is a very durable large shrub.
Little Blue Stem
Little Blue Stem is one of the most well-known of all prairie grasses. It has a beautiful color, height, and durability, and its beauty makes it a great ornamental plant. In nature, you'll find it on well-drained sites of all kinds from sand and gravel soils to the tops of mesic hill prairie sites. In the garden, it will do fine on most sites that are not too wet.
Hackberry
Hackberry is a Chicago-area native and a sturdy, tolerant shade tree for parkways, parks, and other large areas. Its fleshy, purple-brown berries ripen in late summer and persist through winter. (currently out of stock)
Lead plant
Lead Plant has a deep branching root system good for erosion control and is easy to grow in any sunny well-drained site. As with many native plants, the lead plant is drought tolerant.
Asters
Asters provide a beautiful pop of color in the native plant garden. Often paired with goldenrod, asters provide food for pollinators, and even after they have faded they continue to provide food and overwintering habitat for insects and wildlife.
Oaks
Trees in general, but Oak Trees specifically, are climate warriors. They remove carbon dioxide from the air, store carbon in the trees and soil, and release oxygen into the atmosphere. Oak trees are a keystone species that supports more life than any other tree in our region, providing habitat and food to more than 500 species. (currently out of stock)