The Open Land Art and Fact Team (O.L.A.F.T) was created in partnership with artist Doug Fogelson to highlight and expose the tensions between the natural world and human impact. Established during Fogelson's 2015-2016 residency with Openlands, O.L.A.F.T. took photographs and collected man-made as well as organic samples at several of our restoration sites.
The aim for this collaboration was to discern human impact and imprint on the land through small changes and remnants. Neither Fogelson nor Openlands wanted to simply photograph pristine landscapes, nor was the intention to show mass human destruction.
The result was a pseudo-science effort documenting human interaction with the landscapes of northeast Illinois, and those findings of O.L.A.F.T. are now on display at the Hyde Park Art Center until December 10, 2017. A panel discussion with Fogelson will accompany the exhibit on November 30 (more information below).
About O.L.A.F.T.
O.L.A.F.T. was designed around the concept of the Anthropocene, the era of geological history in which human activity is the dominant influence on the earth and climate. During this time, it is even more vital to experience open spaces and continue to build a connection with the land, promoting further protection of natural spaces.
This effort spanned from 2015 to 2016, and team members visited eight of Openlands' restoration sites in the greater Chicago region including the Openlands Lakeshore Preserve, Deer Grove East, Hackmatack National Wildlife Refuge, Hadley Valley Preserve, Messenger Woods, Midewin National Tallgrass Prairie, Tinley Creek-Bartel Grassland, and Eggers Grove at Wolf Lake.
Samples and artifacts were collected from each of the sites and sorted into two categories: man-made and organic. This categorization highlights the dichotomies in the human mind regarding open spaces. Land is often seen either as untouched by society or belonging exclusively to man. The vision of this initiative is to show how human presence impacts nature, but also how the natural world around us impacts our urban environments.
O.L.A.F.T. hopes that this work inspires conversation about conservation, asking visitors to see themselves within nature and to envision the possibility of reinventing, or shifting the discourse on human relationships with the land.
---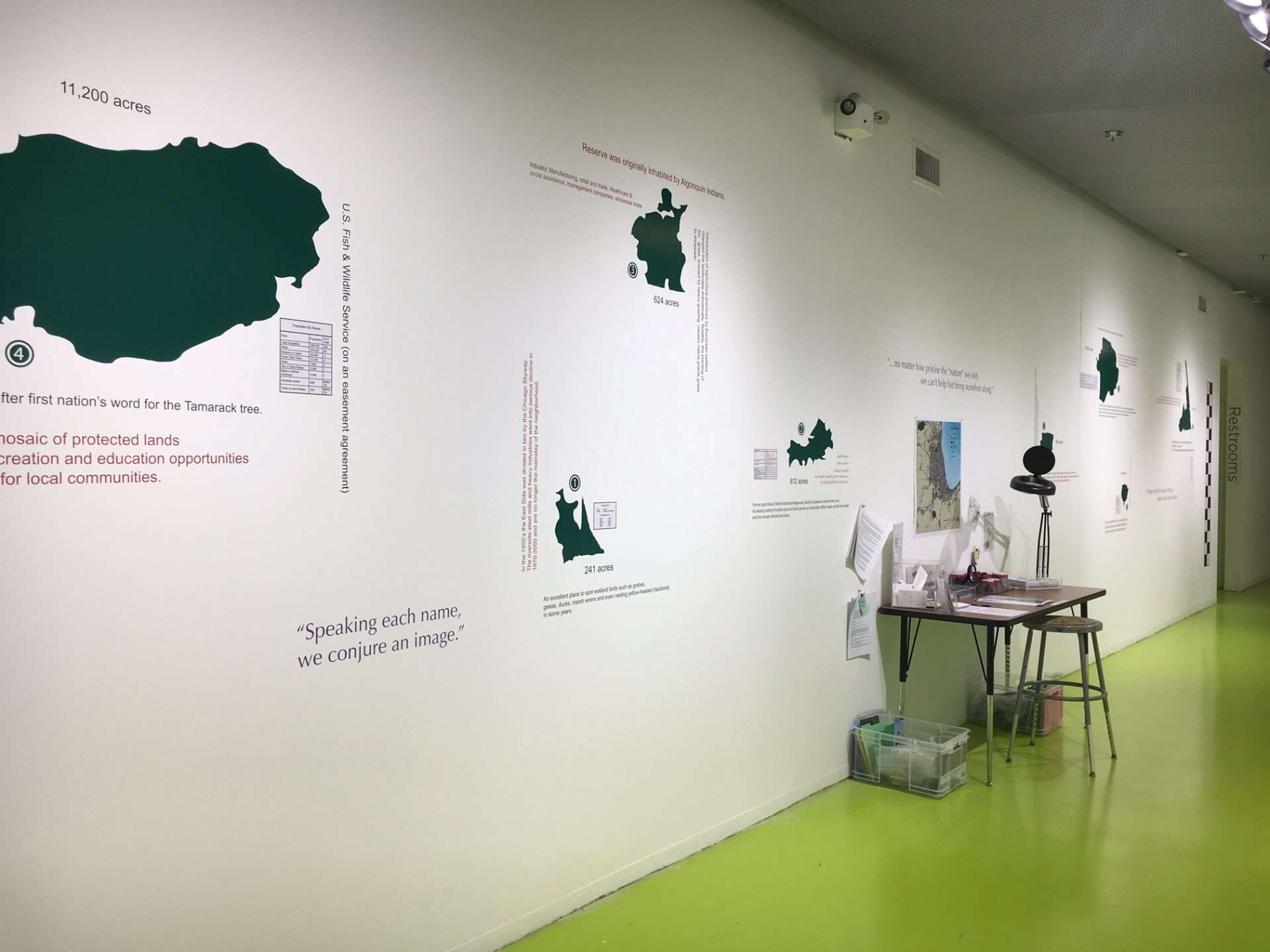 Exhibition and Panel Discussion
A large desk has been installed with a map depicting sites that were visited. The public can interact with the installation through photographs, research, and found objects sealed in plastic bags.
On Thursday, November 30, you can join Fogelson and several members of Openlands staff for a panel discussion of the exhibit. Finding Ourselves in Nature will discuss the work of O.L.A.F.T. in more detail. The free event is open to the public and runs from 6-8pm at the Hyde Park Arts Center (5020 S. Cornell Ave, Chicago).
---
Doug Fogelson studied art and photography at The School of the Art Institute of Chicago and Columbia College Chicago. His photographic manipulations are included in notable public and private collections such as The J. Paul Getty Center, The Museum of Contemporary Photography, The Cleveland Clinic and exhibited with esteemed galleries. He has been recognized by publications including Art News, Photo District News, Art Forum, and AfterImage. Doug Fogelson founded Front Forty Press, an award-winning independent fine art publishing company, and has taught in the Photography Department of The School of the Art Institute of Chicago. He is an advocate for the fine arts and ecological sustainability.
O.L.A.F.T team members included Doug Fogelson, Jennifer Bronson, Connie Tan, Mary McCloskey, Jarred Gastreich, Courtney Kehrmann, and Anthony Lachus.
---
Openlands believes art in our open spaces gives voice to landscapes and offers a unique perspective to appreciate nature. You can explore this interaction further by visiting the Openlands Lakeshore Preserve.